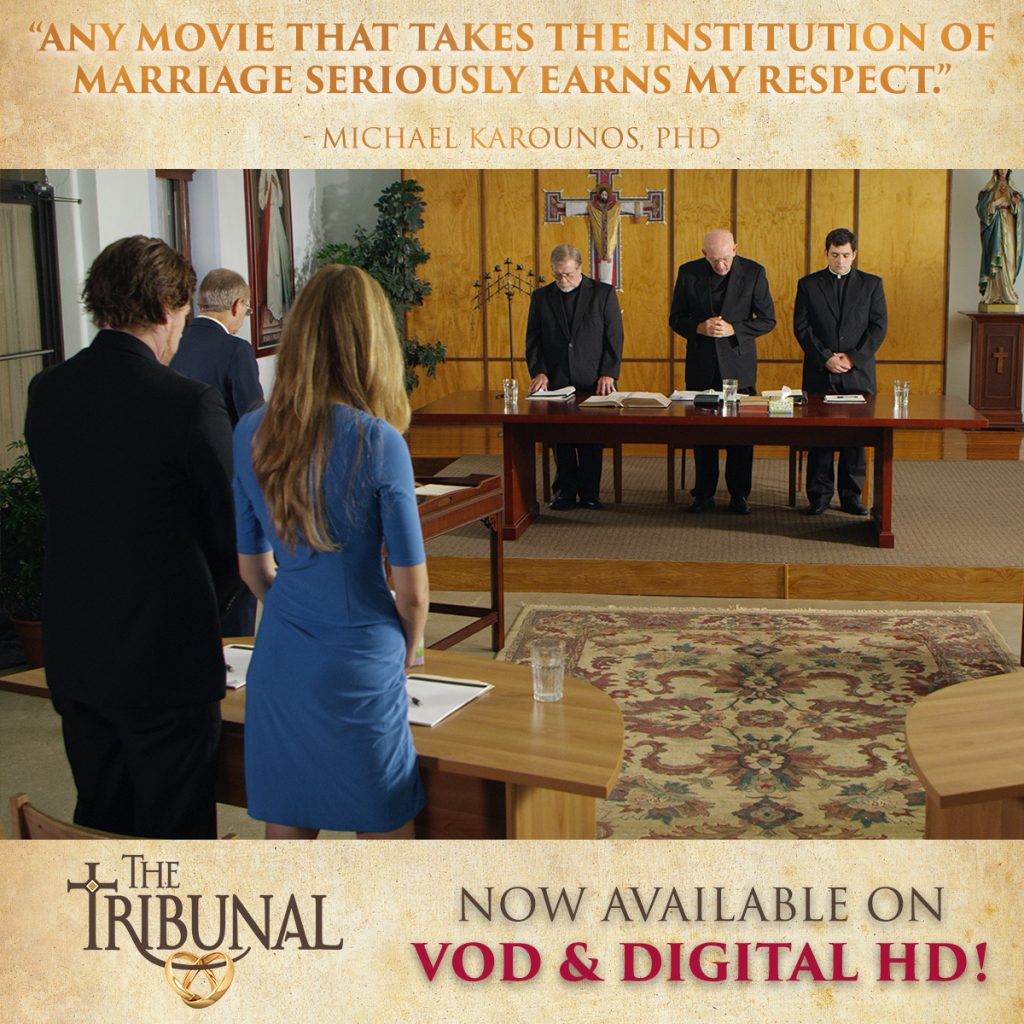 While I've watched more than my fair share of Law & Order reruns, it never occurred to me to think of the annulment process in dramatic terms. That changed with my recent screening of The Tribunal.  The film was released this summer on a variety of streaming formats, including Amazon, iTunes and YouTube.
You probably shouldn't go into your viewing of this film expecting to find a documentary on the annulment process. It is rather the imaginative story of three souls, locked together in twisted relationships and complimentary faith journeys. Today, I'm happy to share my recent interview with filmmaker Mike Mergler, the writer and Executive Producer of "The Tribunal" and the founder of St. Michael Movies.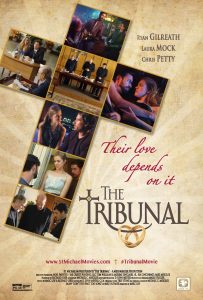 Synopsis
The stakes are much higher than life or death in The Tribunal, a courtroom drama set in a Catholic Marriage Tribunal. On the surface, it appears that the struggle between Tony and Joe, two best friends who both love Emily, hinges on Joe obtaining an annulment of his first marriage, so Emily, a devout Catholic, can marry him. Only Tony can testify to the truth and make the annulment a reality for Joe, but Tony still loves Emily, his ex-girlfriend. In reality, the struggle is for the souls of all three. Tony has been trying to come back to God because he wants Emily, and his heart tells him he has to be the best man he can be for her. Joe doesn't run as spiritually or emotionally deep as Tony, but he loves Emily, too, and he wants to do the right thing.  Both Tony and Joe have to decide if they will make the sacrifice necessary to love Emily. She, in turn, must decide whether she truly loves Joe or Tony. As they each fight for whom they love, the Tribunal slowly answers the ever-present question hanging over the proceedings, "What does God want?" Why it matters to these three is the reason it matters to every person. Our souls will not rest until they rest in the arms of the Lord.
Movie Trailer:
"The Tribunal" Trailer from St Michael Movies on Vimeo.
Interview:
Q: Thank you for taking the time to share with my readers about your recent release The Tribunal. Please briefly introduce yourself and tell us a bit about St. Michael Movies.
I'm Mike Mergler, the writer and Executive Producer of "The Tribunal." St. Michael Movies is a Christian production company that adheres to the teachings of the Catholic Faith. Our parent, St. Michael Records, Inc., a 501(c)(3) Catholic charity, produced musical CD's and novels, which eventually morphed into moviemaking, to have a greater impact on people. We are part of the "New Evangelization" that John Paul II spoke of.
Q: What inspired The Tribunal and what motivated you to tell this story, in this way, at this time?
There are more people than ever who are alienated from the Church and whose souls are in jeopardy because of their marital situation. Long before Pope Francis made annulments a front-burner issue, I was trying to encourage people I knew to return to our faith through the tribunal process. There are people I dearly love who are in grave danger.
Q: What kind of research and production work went into making this film as accurate to the annulment process and to the other faith aspects as possible? Please briefly discuss the note you include on this process at the end of the credits.
I just responded to a priest who hadn't seen the movie but who took me to task because he'd heard it was inaccurate. But I spent 3 years researching the project to try and make it as canonically correct as possible in how the decision is determined. People seem to assume that it's some kind of documentary, but it's no more a documentary about the annulment process than "A Few Good Men" is about courts-martial. Most annulments happen in a maze of affidavits, but several dioceses actually have open court where people face each other as part of the healing process. We based the film on those dioceses with open court and then took dramatic license to tell a love story about self-sacrifice. The note at the end of the credits tells people this is not how a normal tribunal process works in most dioceses and encourages them to speak with someone in their parish or diocese about their particular situation.
Q: While this is a film about relationships, at its heart it is truly a film about our relationship with Christ. How would you hope that viewers of any relationship status will be inspired to see it as a springboard to more deeply consider their own faith journey?
The actions of the main characters challenge us to love others as Jesus loves us. It shows us what Jesus calls us to be. It translates well into real action that anyone can relate to, regardless of their relationship status.
Q: How did making this film impact you personally? Can you share any stories from the set about others who were inspired or impacted?
12 years ago I was working on a script about traveling on the road with comedian Red Skelton (I used to be a concert promoter) when the characters in a scene I was writing hijacked the story and took off into "The Tribunal." The characters are alive in my head and have a mind of their own. I just follow them and write down what they say. I guess you might say that the impact on me personally is that writing and making a movie gives me a legitimacy that makes it less likely they will throw me into an asylum.
As for those who helped make the movie, we never asked anyone about their faith life or required anyone to pass a litmus test. We figured if the Holy Spirit called them to work on the film, we were good with that. We ended up hearing numerous stories about members of the cast and crew who experienced a spiritual event during filming that pushed them closer to God. And one of our lead actors, Laura Mock, said this was "the story of her life" and it confirmed she was doing the right thing.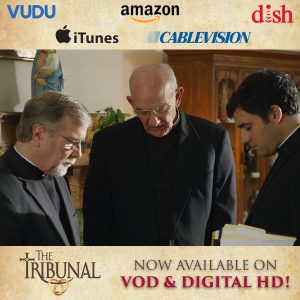 Q: At your website, you offer a helpful discussion guide to accompany the film. Why was this created and how do you hope it can advance people's interaction with the content?
We always planned a discussion guide to accompany the film so prayer groups and Bible Study groups would have something to follow. The movie is meant to produce discussion about love, chastity, self-sacrifice and obedience to God, and the study guide helps keep the viewer focused on the questions posed in the film.
Q: The end of the film seems to hint at a story that is as yet untold. Will we see more from these characters?
"The Tribunal" is actually the first of 3 movies, a "Tribunal Trilogy" as it were. The second film is called "Promises to Keep" and has different characters than the first film, but the third film is entitled "Return To The Tribunal" with the cast from the first film reprising their roles in an unexpected way. Then everyone will know the whole story. The glue that holds the trilogy together is the need for an annulment for someone in each film, but it impacts the story differently in each case.
Q: What is the biggest message you hope people take away from The Tribunal?
Come Home. If you knew how much God wants you back you would burst into tears.
Q: Do you have any additional thoughts or comments you'd like to share with us?
Yes, I like to think of our movies as little love letters from God. And to be passed around.
To read a full review of The Tribunal visit Catholic News Service. Find viewing options and learn more about the film at St. Michael Movies.
The Catholic News Service classification for The Tribunal is A-III — adults. The Motion Picture Association of America rating is PG-13 — parents strongly cautioned. Some material may be inappropriate for children under 13.