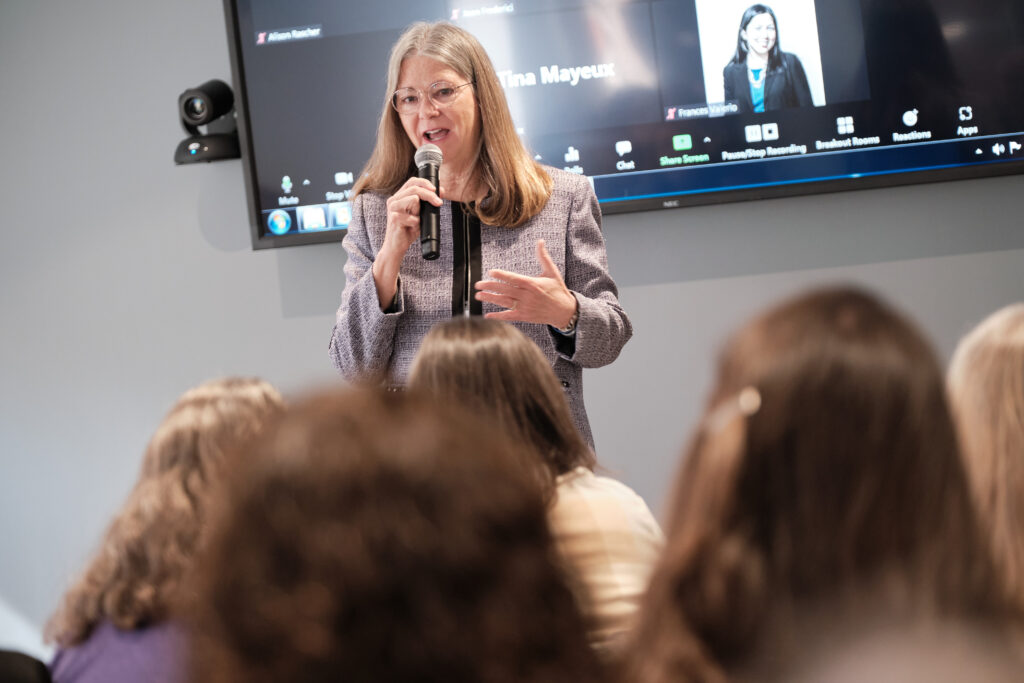 Lisa Hendey is excited about the potential of speaking with your group, parish, or organization. She is available to present to your group — large or small — on a variety of topics including Catholic faith and family life, women's issues, New Media and Internet Safety issues, and personal productivity topics. Lisa brings an upbeat style and tempo to her talks, blending her "real world" experience and energy with a compelling commitment to sharing her faith with others. Her presentations can be tailored to your specific theme to ensure that your participants receive the greatest possible intellectual and spiritual outcomes.
For a complete speaker's package, including a letter of Good Standing and audio samples, contact Lisa at lisahendey@gmail.com.
View a schedule of Lisa's upcoming and archived speaking events.
Lisa frequently includes multimedia features in her talks, but can also speak in a more simple and intimate setting as well. Whenever applicable, PDF versions of her talks will freely be made available to your participants at no charge.
Domiciled in the Archdiocese of Los Angeles and has received authorization and permission to speak both within and outside California.
Lisa Hendey is a proud member of the elite Catholic Speakers Organization, CatholicSpeakers.com.
Endorsements for Lisa Hendey:
Recent participants at Lisa's presentations have said the following:
"When we booked Lisa as the keynote speaker for our annual Los Angeles brunch event to benefit our Norbertine Sisters, we knew she was going to deliver an excellent talk. We did not, however, anticipate the extent to which Lisa personally invests herself in the subject matter and the audience to which she has been entrusted. This is the secret to Lisa's popularity and influence as a modern evangelist. She is all in.  As we had requested, Lisa addressed with clarity and impact the importance of the cloistered religious vocation and its context in a contemporary world, drawing on her own recent visit to the Norbertine monastery in advance of the event. From the moment she arrived at the door until she said her last goodbye, Lisa was fully present to the people that surrounded her, reaching out to guests she'd never met and staying late to be accessible to the many guests who wanted to meet her after they'd heard her powerful testimony.  Lisa is a dream keynote speaker whose enduring charm seems to spring from a genuine love for her faith and for the people she encounters in her vibrant ministry." Committee for the Nobertine Sisters' Los Angeles Event
"Lisa Hendey was amazing to work with! After my students read her book "A Sign of the Carved Cross" they were excited to check out the other books in her series, and then when I told them they would actually get to talk with the author they were over the moon! Ms Hendey made it so easy for me as a teacher and very relatable for the students when we Zoomed with each other! She went over how a book becomes published, how she gets her ideas, relating our Catholic identity to the process, and so much more! Thank you!" Jenna Corson, St. Louis Academy, New Haven, IN (November 2023)
I enjoyed Lisa's talk on Meeting Jesus in the Desert. She was engaging and friendly. As a speaker, she was slow and clear. In other words, easy to hear and understand. Her words and images gave a warm meditative time. I would like to hear more from her. (Kay) She broadened my ideas about the Desert. She had so many images and I loved the meditation. (Maxie) It really fit into Lent. I really needed it. She was so down to earth. (Mary) Parishioners at St. Maximilian Kolbe, The University Series, Westlake, CA (February 2023)
"Lisa's talk appealed to women of all ages and stages of life. Her heartfelt stories and encouragement helped everyone learn to see themselves as truly saints in the making!" Sr. Stephanie Gabriel Tracy, IHM, Director of Evangelization and Religious Education, Saint James Parish, Savannah, GA (January 2023)
"Lisa is an incredible speaker! She is humble, authentic, evocative, and a great storyteller. Everyone in the room learned something new and at the same time felt as if they had been her friend their whole lives." Rosie Chinea Shawver, MDiv, Executive Director, Catholic Association of Latino Leaders, Los Angeles, CA (January 2023)
"Thank you so much for the amazing visit yesterday! The students really enjoyed it and now they all want to become saints and authors!" Katie Jantzer, 1st and 2nd-grade teacher, Sacred Heart Catholic School,
Medford, Oregon (December 2022)
"Lisa Hendey is a gifted author who shared her joy of writing with our students. She has a warm personality that connects with the students. The students enjoyed asking questions about her books and the writing process. Our school is grateful to Lisa for her visit and for encouraging our students to be Saints in the Making! God Bless Lisa." Maureen Vick, Principal, St. Timothy's Catholic School, Mesa, AZ (November 2022)
"If you want a speaker who has a personal relationship with Jesus, understands the hearts of women of all ages, and has a touching message to share, Lisa Hendey would be a great choice. Lisa is one of those salt of the earth messengers who is gifted with the ability to walk with compassion, uplift the spirit and give practical ideas about how to come closer to God and serve others." Mary Lou Kranenburg, St. Piux X Women's Retreat Chair, Klamath Falls, OR (October 2022)
"Lisa's presentation to our Diocesan school librarian association was insightful and provided many great strategies for us to use when encouraging storytelling in our students. Lisa also discussed how we can revitalize and inspire our evangelization efforts within our school community by looking at the lives of saintly and scriptural storytellers. We are so grateful for Lisa's time and generosity in discussing these topics with us." Ms. Elizabeth Rayhel, School Library Media Specialist, Triangle, VA (May 2022)
"The 1:38 Women's Conference in Erie, Pennsylvania, was blessed to have Lisa Hendy speak at our conference. Lisa is passionate and joy-filled when she talks about her Catholic faith, and in sharing this passion, she inspires others. She is a true example of a Godly wife, mother, and friend. There is a calmness about her that I personally found intriguing and aspire to have in my life every day. Thank you, Lisa, for sharing your personal life stories of faith, as well as the lives of the saints that have inspired you!" Mary Therese Craig, Chairperson of the 1:38 Women's Conference, Erie, Pennsylvania (March 2022)
"Lisa speaks to the heart of what it means to be a Catholic parent. From the moment of meeting her, Lisa feels like a friend. Following her presentation, many parents in attendance commented on how approachable Lisa was and what great information she shared. Lisa's talks are inspiring yet down-to-earth. We are already looking forward to having her come to speak to our community again in the future!" Michelle Knapp, Principal, Immaculate Conception Catholic School, Dardenne Prairie, Missouri (February 2022)
"It was so great to have Lisa speak at our school. She was so flexible and understanding when we needed to change our plans and format for her presentation due to bad weather. Lisa's presentation was perfect for the families in our school community and left the audience wanting more. Not only was Lisa friendly, open, and honest about her family and faith, she was also an inspiration. It was truly a pleasure meeting Lisa and I am blessed to know her." Pam Scarborough, President HSO, Immaculate Conception Catholic School, Dardenne Prairie, Missouri (February 2022)
"Lisa connected right away with our group and impressed upon us that, like the Saints she writes about, we all have a story in Jesus Christ. The ladies were edified and encouraged by Lisa's sincerity and steadfastness." Lara Cartaya, Mothers' Prayer Group, St. Lawrence Catholic Church, Tampa, FL (February 2022)
"I purchased the book I'm A Saint in The Making by Lisa Hendey for my 2nd-grade religious education students as a Christmas gift. Lisa graciously offered to spend time with my students during class at St. Patrick's Church in Lake Forest, Illinois. What an honor it was for the students to meet Ms. Hendey and be able to ask her questions. This is a book you can read over and over, the message throughout encourages caring, goodness, kindness and many other qualities we all want to aspire to have and share with others." Chris P., Second Grade Catechist, St. Patrick's Catholic Community, Lake Forest, IL (February 2022)
"Lisa Hendey is a speaker who will hold your attention. Her keynote presentation on discipleship energized the room and brought us all closer to Christ. I would hire her again." Mary Anne Sambo, St. Thomas Aquinas Catholic Church Women's Retreat, Avondale, AZ (February 2022)
"Mrs. Hendey's virtual school visit was the highlight of our trimester. She did so much more than talk about her books – she interacted with our students and engaged them in themes that not only align with our faith, but also inspire all of us to be saints in the making each day. We hope to have her back again every year!" Mrs. Amy L. Lutter, M.L.I.S., Library Media Specialist, Saint Timothy Catholic School, Chantilly, VA (November 2021)
"Just finished our virtual retreat with Lisa – what a huge hit! We purchased "I'm a Saint in the Making" for all of our 62 2nd Graders in Sacramental Preparation. Lisa was our "featured guest" at our virtual retreat and the parents and children loved every minute of it. As for the book, I had wonderful feedback from families and children from all over the world that they were so happy to see saints featured in this book from everywhere. The favorite part of the retreat? Lisa taking questions! The kids and parents loved it!" Margaret Dwyer Hogan, Director Faith Formation, Holy Cross & Immaculate Conception Churches, Easton, MA (May 2021)
"If you are looking for a meaningful, relatable, faith-inspired speaker and event, I highly recommend Lisa M Hendey, Founder of CatholicMom.com as well as author, producer, host, and presenter. During Read Across America Week at Saint Olaf Catholic School, Ms. Hendey provided our students with a captivating and interactive presentation showcasing one of her latest books, "I am a Saint in the Making." Ms. Hendey deeply cares about her work and as an accomplished writer, leader, and person of faith has many experiences which she translates into engaging presentations for groups of all ages. Ms. Hendey provided our faculty and staff a creative and personalized mini-retreat. It is noteworthy that she took the time to discover our school personality, mission, and philosophy, weaving them into the retreat. She creatively melded both her book and pieces from her presentation to students, with our school goals and ideals, guiding staff to places of emotional and spiritual growth during a difficult pandemic year. My staff and I were blessed and uplifted by our time together. It was a week we will not soon forget." Simon R H McFall, Principal of Saint Olaf Catholic School, Bountiful, UT (March 2021)
"Sacred Heart elementary students had the privilege of joining Lisa on a virtual faith retreat. The retreat was based on Lisa's book I Am God's Storyteller and the message was that we all are God's storyteller and we must spread His word. Lisa was fantastic with the students in the "ask an author any question" segment. She has a kind and gentle demeanor
with the students and they loved her." Karen Ballhorn, Vice Principal, Sacred Heart School, Wetaskiwin, Alberta, Canada (March 2021)
"It was a joy to have Lisa join our class. She joined my classroom last year and my former students loved hearing her speak. This year she did not disappoint and the third graders were very engaged and she does a wonderful job bringing the Catholic faith into her presentation and inspiring students to be saints in the making. I am looking forward to her speaking to my future 3rd graders next year." Ms. K, 3rd Grade Teacher, St. Helena Catholic School, (March 2021)
"Lisa Hendey virtually visited our K-2nd grade students and read I'm a Saint in the Making. The visit was very interactive and engaging as well and instructional. Lisa left our students wanting to know more about how to live like a saint and the teachers all commented that they continued the saint discussion' after the visit." Patricia O'Donnell, M.Ed., M.S., Principal, St. Patrick School, Malvern, PA (February 2021)
"I came upon Lisa Hendey's Chime Traveler book series and decided to give one to each of my 2nd graders as a Christmas gift. After contacting her, she quickly responded and offered to personally autograph each copy! She also volunteered to "zoom" into my class and give a presentation on the saints! My class was captivated! They love the Chime Traveler books-and her slides on the saints were perfect, relatable, and personal. The Chime Traveler series is a little mystery, a little adventure, saints we know and love with characters my students can relate to. Lisa has a huge fan club in my 2nd-grade class! And pen pals for life! She is a wonderful role-model and a reminder of how we are all saints in the making! Thank you, again, Lisa!" Christine Bennett, 2nd-grade teacher, St. John Paul II Catholic School, St. John Paul II Catholic School, Southern Pines, NC (January 2021)
"Second grade had the most memorable Friday! Mrs. Hendey joined our class, read "I'm a Saint in the Making," she asked questions, and answered several student questions! She was a hit! We had the greatest time with her! We have been enjoying the Chime Travelers series and I look forward to her visiting with us in person! This was definitely a 5 STAR event!" Lisa S., 2nd Grade Teacher, Los Angeles, CA (December 2020)
"Lisa explains better than I can how we are all saints-in-the-making. Her enthusiasm in reading the book and answering questions reinforces what I say to the children, but she explains it better!" Nancy F., Catechist, St. Mary's Church Religious Education, Morgantown, WV (December 2020)
"Lisa Hendey is a great author who speaks the truth about our Catholic Faith. It was one year ago when she told me that she was very excited that she was going to be writing a children's storybook after writing her chime chapter books and my 5-year-old students were pumped to learn how they can grow closer to God by being kind to others. A big thank you for spending time with my students in MN and what a blessing social media can do for us during a time when it seems that life can be difficult. May the Lord continue to bless the work you do for our children and the community. Pax." Maria Zownirowycz, Kindergarten Teacher, Carondelet Catholic School, Minneapolis, MN (November 2020)
"We were blessed to have Lisa Hendey share her latest book, "I'm a Saint in the Making", with the children and Catechists of our parish.
This book serves as a great tool to introduce kids to the lives of saints. It empowers kids to expand their own holiness, by giving them simple, tangible ways to share God's love with everyone they meet. Her reading was endearing, as she shared the beautiful illustrations by Katie Broussard along with the story. The kids were engaged and enjoyed being able to ask her questions afterward. "I'm a Saint in the Making" is a fabulous addition to our parish library." Angelique Hebert, Administrator of Faith Formation, St. James Church, Chatham, NY (November 2020)
"Lisa came to our one-room Sunday School on Zoom this Fall and successfully engaged children from preschool to 7th grade (and adults, too!) with her book, "I am God's Storyteller" and discussion. She welcomed each of our children and their unique personalities and perspectives and helped them deepen their understanding of their roles as Christians in telling God's stories. She inspired children to find their own ways to tell God's stories ranging from play dough sculptures to guitar playing and singing. We highly recommend using Lisa as a resource in Christian education programs." Kim, June, Cory, and Hannah from Conesville UM Chapel Church Sunday School, Gilboa, NY (September 2020)
"Lisa Hendey's presentation on Teaching Sacraments Through the Art of Storytelling provided simple but compelling perspectives on the place of stories in our Faith Formation strategies along with practical ways to help children hear stories about Jesus – and to tell their own. Our leaders were engaged and intrigued by her approach." Katie Dawson, Director of Parish Evangelization and Faith Formation, Diocese of Orange, CA (September 2020)
"Lisa came to visit my sophomore Sacraments class to speak with them about a project they're working on where they have to create children's storybooks and a parent resource. Not only did she speak wonderfully about her own experiences as a parent and an author, she really encouraged my students to use their own gifts and talents for the betterment of the Church! I am so grateful for the gifts that Lisa brings to her speaking engagements, and I cannot wait to have her back for another one!" Jared Anderson, Theology Teacher, St. Mary's Academy, Inglewood, CA (May 2020)
"I first met Lisa Hendey after a presentation she gave to teachers of The San Francisco Archdiocese about being a saint in the modern age. I was so inspired by her message and wisdom and was elated that she spoke with me after and told me about her Chime Travelers series. I integrated her Chime Travelers books into the students' religious studies. My students love how much they relate to the book's characters and enjoy learning about the saints through Hendey's captivating storytelling. We were so honored when she took the time to come to our school to meet our class! She spoke about the importance of saints, being a role model, and lead a question and answer session where she took the time to answer questions from EVERY SINGLE student in my class! Lisa Hendey gave my students hope, a sense of responsibility in a world where they sometimes feel so small, and purpose. She reminded them their voices and their perspectives are important, because we are all God's storytellers, and everyone has a story worth telling. Forever grateful and looking forward to planning another visit!" Ms. Kristen Lang, 4th Grade Teacher, St. Anselm School in Marin County, CA (March 2020)
"Our event for the Les Anges Council of Marymount High School was an inspired day YES! filled with Lisa's message of love and hope straight from her heart that was warmly received and appreciated by everyone. We all felt blessed after our time with Lisa." Linda Wenglikowski, Event Coordinator, Marymount High School, Los Angeles, CA (February 2020)
"We were so thrilled to have Lisa visit with our Pre K through junior high students at St. Patrick's School in Wadsworth, IL and were amazed at the wide range of topics she effortlessly covered. From storytelling and social media to the call to sainthood and the Chime Traveler books, Lisa was truly gifted at reaching kids of all ages and making it a very special day. The students were ecstatic to meet, as one put it, 'a real, live author!!' Lisa's talk for parents was an amazing bonus and well-received by all in attendance!" Christine Marry, St. Patrick's School, Wadsworth, IL (January 2020)
"Lisa is an absolute treasure! She spoke to our Ministry of Mothers in an intimate setting at our church's parish hall during Advent. Her talk was both relevant and relatable. She also spent time before and after her talk speaking one-on-one with our members. By the end of the meeting, it almost felt as if she were a long-time member of our ministry, given the warmth and sense of familiarity she exuded. Highly recommend!" Cynthia Kurose, Chairmom, Ministry of Mothers, St. Gregory the Great Catholic Church, San Diego, CA (December 2019)
"Lisa is a light who shines goodness and God's love wherever she goes. I consider our
parish blessed to have such a well-regarded speaker and modern religious thinker
in our midst. We started planning the details of Lisa's presentation for our new
Parent Talk Series just a few months before the event. Lisa's a pro through and
through. Her organization, thoughtfulness, and preparation stood out and made the
whole planning process easy and stress-free. On the day of the talk, Lisa made a
point to introduce herself individually to all the attendees which made such a
difference in how the group received her and her message of love. It's obvious that
she lives what she speaks. Lisa tailored her presentation to our group of moms and
dads so that it was personal, relatable, and topical, perfectly complemented with her
natural humor. The world would be a better place if we could implement just a few
of Lisa's suggestions for building a relationship with God and our communities both
small and large." Monique Mamikunian, President, PWC (Parents Working for Children), St. Paul the Apostle, Los Angeles, CA (October 2019)
"Lisa Hendey began working with me on her presentation notes as soon as I booked her for our event (almost a year in advance). Her presentation was far from "canned" because she used videos from current events to make her points. Her Powerpoint slides were easy to follow. Our retreat was our 30th annual so we have had a myriad of wonderful speakers before Lisa. Lisa stood out in terms of her availability, hospitality, willingness to be flexible to make her talks fit our schedule, and humility. I would not hesitate to call upon Lisa Hendey to be a presenter for a retreat, a parish talk, a business luncheon, a work retreat, talk show or television host. She has the personality you are looking for." Beverly Rossio, Chairperson, San Rafael Women's Retreat, San Diego, CA (October 2019)
"Lisa Hendey's presentation was both inspirational and profound. She is down to earth and "real" which makes people connect with her immediately. Her message is one of hope and joy which is sorely lacking in our world today. She weaves humor, sensitivity, and compassion into every story and remark. As a speaker and presenter, she truly is the whole package! We look forward to having her return to our Diocese in the near future." Andrea D. Hoisl, Director of the Office of Faith Events, Diocese of Norwich, CT (April 2019)
For a full recap of Lisa's recent speaking mission in Australia, including multiple endorsements from venue hosts, click here.
"It was such a blessing to do a virtual visit with Lisa! She was very interactive, organized, and so much fun to visit with! Our 2nd and 3rd graders LOVED it–so did our teachers, parents, and administration. It was so awesome how the students left the visit excited to write, to read, and, most importantly, to be saints! Thank you, Lisa for inspiring us all!" Suzanne Krumpelman, Librarian/Media Specialist, St. Joseph Catholic School, Fayetteville, AR (February 2019)
"Lisa was our guest speaker at a recent St. Cecilia Mom's Group meeting. It was a beautiful morning, as we all felt so blessed to have Lisa with us. Through her heartful presentation, she connected with all the participants with her relatable style and wit. I would absolutely recommend Lisa as a speaker or presenter!" Cherie Lato, Chairperson, St. Cecilia's Mom's Group, Tustin, CA (February 2019)
"Thank you so very much for the wonderful experience of our day retreat with you. Our participants enjoyed the day very much and at the same time, learned a great deal. The retreat exceeded our expectations and I would wholeheartedly recommend you as a presenter. Our members felt welcomed and connected because of your gracious style of presenting. I especially appreciated your sensitivity to our particular needs and your ability to adapt your presentation to our situation. We will be talking about The Grace of Yes for a long time to come. Our thanks and prayers for your ministry go with you." Deanna Driscoll, Spiritual Minister, Ministers of Presence Guild for Catholic Charities, Fresno, CA (January 2019)
"Saints-in-the making was an excellent Virtual Author conversation. Third-grade students from Epiphany loved reading about St. Kateri and are encouraged to be a saint in the making by praying to God, helping the poor, and being kind. They look forward to setting good examples in the New Year as role models and prayer warriors just like the saints!" Ms. Maria Zownirowycz, Third Grade Teacher, Epiphany Catholic School, Coon Rapids, MN (January 2019)
"Lisa is an absolute treasure to share with your school community. She adapted her presentations to reach all of our K-5 students appropriately. Lisa helped us walk through what it means for us to live as saints. She inspired my 3rd graders to become writers themselves and encouraged them to start writing now. Lisa is a true delight to know and blessing to anyone she comes in contact with." Mrs. Katrina Bingham, Third Grade Teacher, Nativity Faith & Reason, Broomfield CO (January 2019)
"I enjoyed Lisa's organized and down to earth presentation of "The Grace of Yes: Putting Faith First". As a mother of 3 boys, I appreciated her practical applications for creating a sacred space and to preach God's word with our "YES" in the various tasks we are called to do, even the mundane everyday tasks. Would love to have her back again." GM, Fall Facilitator WINGS, St. Martin of Porres (December 2018)
"Lisa presented at our Archdiocesan Digital Communication Conference on the general topic and on social media specifically. She tailored her talk perfectly to our needs, situating the reason we do this – evangelization – in our daily reality of time, budget, and available expertise. The feedback has been overwhelmingly positive, and we're excited about the impact this will have for our parishes and schools. I recommend Lisa without hesitation. We are blessed that we were able to have her in the Archdiocese." Jan Potts, Assistant Director of Communications, Archdiocese of San Francisco (March 2018)
"Sometimes it's hard to say yes in the midst of the storms of life. This retreat came at a time where I needed a bridge to help keep walking and Lisa's retreat was just that! Lisa's vulnerability in sharing her life and testimony was beautiful and relatable." Christin, Grace of Yes Retreat Participant, Los Angeles, CA (October 2018)
"Lisa brought her "Yes of Grace" retreat to our parish and filled our hearts with love, spiritual goodness, and warmth. Her genuine and fresh presentation was very enlightening, spiritual and meaningful. Lisa is a very refreshing, down-to-earth woman whose message hits home in so many ways. We thoroughly enjoyed Lisa's presentation. She left all of us wanting more!" Stephanie Meier, St. Elizabeth Seton Catholic Church, Carmel, IN (September 2018)
"Lisa, it was a pleasure to both spend time and work with you. Your presentation was very professional, relatable and faith building! In the spirit of a true minister, you were able to customize your presentation to our community. Thank you for blessing us with your gifts and making this women's retreat a success!" Dawn Maurath, Coordinator of Adult Faith Formation, Light of the World Catholic Church, Littleton, CO (June 2018)
"Lisa was warm, delightful and engaging at the 2018 Columbus Catholic Women's Conference. It was an honor to host her at our event with 3000 sisters in Christ gathered together. Her beautiful words resonated in our hearts. She joyfully shared her deep faith, love of Christ, and most importantly her heart. Thank you, Lisa, for your 'yes' and for encouraging us to 'Be Brave!'" Michele Faehnle, Co-Director Columbus Catholic Women's Conference (February 2018) – Audio archive
"Lisa Hendey is a true professional and a pleasure to work with. Lisa took the time to get to know the women of Columbus through her own research and in getting to know the leadership team. She delivered a compassionate talk that seemed to speak to each one of the women on an individual basis. I highly recommend Lisa for your next conference or event." Julie Naporano, Co-Director Columbus Catholic Women's Conference
"Mrs. Hendey visited St. Patrick School in Washington, IL and spoke to 3 different age groupings of students. Each presentation had the same core message, but each was delivered according to the age group present. She easily adjusted to each grade level and the knowledge the students had of the topics. What I liked the most was how each presentation included active participation from the students. Eager hands were raised to interact with Mrs. Hendey. Her responses were driven by the dialogue that she received from the students. Her genuine interest in the topic, whether the faith aspect or the writing aspect, was picked up by the students. I would definitely recommend Mrs. Hendey and the Chime Travelers series. Thanks, Mrs. Hendey for a wonderful morning for our students!" Muriel Graham, St. Patrick Catholic School, Washington IL
"What a wonderful day – our parish women felt blessed to have Lisa with us. As she presented the eight virtues for generous living, we felt how genuine and human she was. Here was someone who was walking the same walk we were, not someone just telling us how we should live our lives. Throughout the course of the retreat, she connected with the participants on a personal level. Lisa modeled the virtues of generous living that our retreat centered around and reaffirmed for us that God has called us all to generous living. Lisa was so easy to work with in the preparation stages of the retreat and while she was here. She was open to ideas and helpful with suggestions to make the day work for our parish women. We are thankful for the days she spent with us and would love to have her back in the future." Muriel Graham, retreat organizer, St. Patrick Catholic Church, Washington, IL
"Lisa did an amazing job as the keynote presenter at our annual Diocesan Women's Conference. She has a very conversational and down-to-earth style of presenting that weaves together personal story with the faith. I have received many comments from the women who attended that they were personally challenged to go deeper in their faith and impacted by the words Lisa shared. Through the planning for the conference, it was very easy to communicate with her. She received our talking points well and went above and beyond to incorporate them into her presentations. Lisa is sharp, flexible, humble, and most importantly a woman of intense faith. It was a pleasure to work with her." Daniel Whitehouse, Director of Programs and Support, Center for Marriage, Family, and Life, Catholic Diocese of Richmond (November 2017)
"Lisa was the keynote speaker for our semi-annual Parish Leadership Network seminar. The Parish Leadership Network is a consortium of 10 of the larger parishes of the Archdiocese of Los Angeles who meet regularly with a keynote speaker to hear and be trained in the latest technologies and trends in the Catholic world. Lisa was able to give us great insight in to the domestic church and understand the needs, wants and desires of families to grow spiritually and to be embraced by the church and parish communities. Our attendees appreciated her "down to earth" examples and style, and I appreciated her wit and humor. I wholeheartedly recommend Lisa as a speaker, presenter, retreat leader for any group that is interested in embracing contemporary technology and using it to build up parish life and the life of the church." Dr. Dale Sieverding, Director of Worship and Producer of Special Events at St. Monica Catholic Community, Santa Monica, CA (May 2017)
"What a pleasure it is to give you a strong endorsement. I am still receiving congratulatory comments from our Legatus chapter members. Your presentation was spectacular! You are both articulate and moving, and a magnificent and amazing soldier for Christ! May the Lord continue to bless you in your Catholic/Christian evangelism around the world." Paul, Program Coordinator, Legatus Orange County, CA (February 2017)
"Lisa is not only a knowledgeable, faith filled presenter, but also very entertaining. We laughed, we cried, but most importantly we shared our spiritual journey. None of us wanted the evening to end." Cathy, American Martyrs Church Sisterhood Committee, Manhattan Beach, CA (April 2017)
"Lisa, Thanks for the marvelous talk on Crafting the Non-fiction proposal at the Catholic Writer's Guild On-line Conference. Your enthusiasm and knowledge of the publishing world from an author and editor's perspective was very helpful for first-time authors and offers a solid plan to the art of becoming published. By the time you were finished talking, I was preparing my proposal." Karen, Catholic Writers Guild (February 2017)
"My eighth grade students became inspired to work harder on their saint stop motion projects after speaking via Skype with Lisa. Since we are on the east coast, she sacrificed her personal time to wake early and speak about her passion for writing and witnessing to the Catholic faith." Ms. Marianne Green, Eight Grade Teacher Holy Trinity Trinity Catholic School, Washington DC (February 2017)
"After reading Lisa Hendey's book, The Grace of Yes, one of the women from our retreat team said, " this is the woman we need as the speaker a this years Women's Retreat." From the first contact I had with Lisa, I agreed. She was the perfect fit for our Women's Retreat. Lisa's retreat, The Grace of Yes Eight Virtues for Generous Living, was truly a blessing! The ladies who attended the retreat expressed to me that they received many graces from the day. I am grateful to Lisa for bringing her Spirit filled retreat to St Kateri Parish! I would highly recommend Lisa as a speaker at your next event." Linda Hecker, St. Kateri Parish, Santa Clarita, CA (November 2016)
"I am thrilled to recommend Lisa Hendey as a speaker on women's issues, based on my experience with her leading a day-long women's conference based on her book The Grace of Yes: 8 Virtues for Generous Living. She has a very warm soul and kind, motherly heart, as demonstrated by her actions both during and outside of the conference. From the beginning, Lisa was easy to work with from a logistical perspective, always willing to go with the flow, even driving herself around the diocese during her time here. I was most impressed though by her masterful adaptation of her talks during the conference, keeping us on schedule down to the very minute I had planned. Not only did she receive unanimous praise for her presentations on the feedback cards, but multiple attendees took the time afterwards to send texts and emails about what a great day it was. I recommend her without reservation" Anne Marie Dust, In Her Cherished Heart Women's Conference, Springfield, IL (September 2016)
Dear Lisa,

Thank you so much for speaking at our Mother's Day Brunch at St. Irenaeus Parish in Cypress CA last Saturday. Your presentation and inspiring words were so heartfelt. They were very well received from our mothers and guests. We've had so many compliments and positive feedback. I have to share them with you. Comments such as…

"I really liked how Lisa personalized her talk."
"Saturday was such a beautiful day for me! It was perfect and just what I needed at this time in my life!"
"Lisa's words really touched my heart."
"Lisa gave me ideas that I can use to help me grow stronger in my prayer life."
"My daughter has been away from the Church for several years and she took notes while Lisa was speaking, especially the scripture passages. I'm so hopeful for her to return to her faith."
"My daughter put "CatholicMom.com" in her bookmarks on her phone, Yay!"
"I loved Lisa's references to the Saints. I want to read up on them more now."

Lisa, it was a pleasure working with you from the beginning to the end. You helped make coordinating this event so much easier than I anticipated. I wish you all the best in your future as you evangelize to so many and help others to do the same. May God continue to bless you abundantly! Thank you for sharing your many gifts with the women of St. Irenaeus Parish.

With prayers and gratitude,

Kathy Loch
Event Coordinator
St. Irenaeus Catholic Church
Cypress CA
"St. Paul Inside the Walls was privileged to welcome Lisa Hendey to our "Speaking of Faith" initiative where Fr. Paul Manning interviews people from different walks of life to examine how faith intersects with life. While Lisa is generally known for her work as the founder of CatholicMom.com, her depth of lived faith and commitment to Jesus through saying YES to Him along the way revealed a fascinating life and a testament to God's grace. The staff and those who encountered Lisa the few days she was here were deeply impacted and left wanting more!" Allen F. Wright, Academic Dean for Evangelization St. Paul Inside the Walls, Madison, NJ
"Lisa's authenticity makes her a joy to host, and an excellent speaker. It is obvious that she sees her writing and speaking as a ministry, and we were truly blessed to have her." Joe Weyers, Associate Director of Youth and Young Adult, Diocese of Evansville
"I'm honored to endorse Lisa Hendey and for her gifted and dynamic speaking ability. St. Agatha parish and school was blessed to have Lisa speak both to the women of our parish about the Grace of Yes and then to the students about her Chime Travelers series. She was engaging and down to earth yet brought across important messages to both groups. Everyone adored her and said the morning was "thoroughly enjoyable," "grace filled" and a "delightful time spent together hearing about knowing, loving and serving God through our daily yes." The students were ecstatic to have a real author visit and she did a fabulous job of keeping them focused by asking questions and encouraging them to become storytellers. I would highly recommend her for an event for your parish, school or Catholic Women's Conference!" Michele Faehnle, St. Agatha School Catholic Identity Chair, Columbus Catholic Women's Conference Co-Chair
"It is obvious from the many speaker endorsements that Lisa is a gifted speaker who connects well with a wide variety of audiences. I didn't doubt when we booked Lisa for our second annual "Be It Done!" Catholic Women's Retreat, that Lisa would do a wonderful job. What surprised me though was Lisa's kindness and humility. As we set up for the retreat on theFriday preceding the event, there was nothing that Lisa wouldn't do to help! She carted tables and chairs from one building to another and was engaging in conversations with not only the women helping but with some of the youth who were there helping as well. Lisa was incredibly easy to work with during the planning stage and always expressed that she was honored to be working with our group. She is much aware of the demands that planning events such as ours put on people and she supported me and faithfully prayed for our retreat. Lisa IS an excellent communicator but more importantly, she is a lover of people and definitely lives the life of a dedicated apostle. Thank you, Lisa!" Lori Massa, "Be It Done" Conference Chairperson, Elkhart, IN
"The first grade class of St. Jude School in Elyria, OH was blessed to have had the opportunity to meet with Lisa! She was gracious enough to meet with us on short notice through Skype. Lisa encouraged the children to be storytellers and saints. What a fabulous goal to work towards!! The children were excited to learn about how Lisa developed the concept and characters in her series. I would recommend this series for all families and classrooms!" Mrs. Steffany Congelio, First Grade Teacher, St. Jude School, Elyria, OH
"What an amazing and blessed opportunity my second grade class experienced today! We spoke with the author of the "Chime Traveler" series, Lisa Hendey, who shared her love of writing and reading to the students. She was fabulous answering our questions and discussing her writing experiences with everyone!" Mrs. Lisa Scaltrito, Second Grade Teacher, St. Anastasia Catholic School, Los Angeles, CA
"Saint Gabriel Media was delighted to work with Lisa Hendey for the Arise: Good Things Radio Women's Retreat. Not only was Lisa fantastic to work with, but she also super-served this event by promoting it on her social media platforms. This was a helpful and generous marketing boost for us. The decades of service to Catholic families is evidenced in Lisa's ability to reach the hearts of the women in the audience. As a workshop leader, Lisa spoke with grace and sincerity. With a storehouse of wisdom to share, she left everyone in the audience wanting more. From her tenderness in listening to women share their stories; to her tenacity in motivating ladies to care for themselves, Lisa delivered an unforgettable testimony. Best of all, Lisa understands what it takes to make a successful event. She spent time with the attendees, and was genuinely engaged in helping make the weekend a beautiful experience for all." Brooke Taylor, Arise Retreat Chair and Host of Good Things Radio
"We were so blessed to have Lisa with us for our diocesan conference. Her books and her talks spoke to every woman there, from age 15-85, about generously living in the yes's and the no's of fulfilling God's plan for our Vocations. Lisa wasn't "just another speaker." It felt like she was "one of us" and every one at the conference left feeling renewed and strengthened. That's grace." Julie, Chair Diocese of Sioux City "Grace of Yes" Women's Retreat
"Lisa Hendey is a gifted speaker, knowledgeable in her areas of expertise; compassionate to the challenges of parenthood today, and passionate about her discipleship in helping Catholic's parent their children with integrity in a highly secular culture. However, what sets Lisa apart as a speaker is her authenticity as a trusted resource, friend and fellow disciple in Jesus Christ." Deacon Errol Kissinger, Director of Religious Education, St. Dominic's Church, Benicia
"Lisa's talk was enjoyed by everyone who attended our Parish Speaker Series at St. Joseph's. We heard many positive comments from those who attended. The images, stories and quotes shared emphasized the various virtues Lisa discussed. God's abundant blessings on you and the evangelization of our Catholic faith to all you encounter." St. Joseph's Catholic Community, Capitola, CA
"After reading The Secret of the Shamrock our second grade class invited Lisa Hendey for an Author Visit. She arrived on-time, was well-prepared, and connected one-on-one with the students. During her 45-minute presentation, she kept the students engaged, grew their understanding of the beauty of our Catholic faith, and shared the joy of writing. Now the students can't wait to read the next book in her Chime Traveler series." Mrs. Wendy Revell, Our Lady of Perpetual Help School, Clovis, CA
"Lisa Hendey was a presenter at the 2015 National Catholic Youth Conference in Indianapolis, IN in November. Lisa's presentation was on Social Media and Teens. As a youth minister and a parent who will be getting his daughter a cell phone this Christmas, I found her presentation to be exactly on the mark for me professionally and personally. I would highly recommend Lisa for speaking opportunities to assist families in this area of high interest for parents. I want to make sure my daughter is well rounded and responsible with her communication which will serve her well in life. Thanks Lisa for the valuable resources, and websites." Chris, Director of Youth Ministry
"The kids were so pleased after our Skype visit with Mrs. Hendey. She really listened and tried to personally connect with each student as they took turns asking her questions. Best of all she encouraged their love of reading and their ability to write their own stories. We will definitely ask her back to visit with another group of St. Croix Catholic Chime Traveler's in the future!" Kim, St. Croix Catholic School, Minnesota
"I so enjoyed Lisa Hendey's presentation at the National Catholic Youth Convention in 2015. Her honesty and common sense approaches in trying to address out current needs as parents in this online era was both direct and refreshing." Kathy, Parent, Ohio
"Lisa Hendey's authentic delivery allows her audience to feel ease and comfort on the quest for spiritual growth. Her genuine gift of connection and compassion supports women of all ages and stages to feel empowered to live a more virtuous life. Lisa received rave reviews from our attendees and we highly recommend her as a keynote speaker." Women of Wonder Conference Steering Committee, St. Michael the Archangel, Cary, NC
"It is with great honor that I provide this endorsement for Lisa Hendey. Not only is Lisa a solidly Catholic and genuinely thoughtful speaker, she is as down-to-earth and authentically kind as ever a person could be. Lisa will always affectionately be known as the honorary Godmother of the Catholic Women Rejoice conference, and rightly so! It is in no small part because of the grace and generosity of Lisa's multiple "yeses" during the event's embryonic planning stages that I had the courage to jump into producing the endeavor in the first place. Lisa provided priceless insight and encouragement that went above and beyond that of a typical speaker, and for her unparalleled support, I am forever grateful. In fact, things went so well our first year, the organizers invited Lisa back for our highly successful third year (2014). I encourage anyone who has not already done so to be blessed by Lisa's work at CatholicMom.com, inspired by her many books (including the recently-published "The Grace of Yes"), and encouraged by her steadfast devotion to Mother Church. Lisa Hendey is, without a doubt, an important contributor in the New Evangelization, and consistently works to bring about the Kingdom of God by utilizing the talents with which God has gifted her. I wholeheartedly recommend Lisa Hendey without reservation." Heather Renshaw, Founder of Catholic Women Rejoice, Portland, OR
"I thought Lisa's talk" Selfies and Souls" at the Archdiocese of Los Angeles Religious Education Congress was really fantastic. As a mom, and employee of the church, I found the information very helpful in sharing with my child and the youth in our parish. I am not a "tech" person and things were explained in a way that even this old mom could understand. :)" Colleen B., Parish Administrative Assistant
"Hi Lisa, I cannot begin to tell you how much our ladies enjoyed our evening together!! You were so "real" with all of us and touched on so many things that we were on our minds…it was a true blessing and a gift!! We were definitely surrounded by the Holy Spirit and embraced by our Father as we shared our Sisterhood in Christ!!! Thank You, again, for this wonderful opportunity!!" Leona, Bible Study Group Leader
"Lisa came to the TASTE Program in Laurel, Maryland in the Fall of 2014. It was hard to chose a topic from the many excellent choices available. Her topic was Nurturing a Catholic Mom's Heart, Mind, Body and Soul. Our group consists of many women from 60 parishes who vary in age from 24 years old – 87 years old and everyone left filled with happy hearts, knowing that they were loved by Jesus! Not everyone was a mother and some were widowed but all were fed! A well rounded talk with a speaker who has sincerely committed her life to the Lord. Following her talk she autographed her books and the line was quite long. She is not only an excellent speaker but a wonderful author as well. What a treat! Thank You Lisa! God Bless You." Marian Frentz TASTE Program Coordinator
"Lisa empowers her audience to own the social media she brings to life for them. She demonstrates how knowledgeable she is and shows participants that they can step up and 'make it happen' for their parish, youth group, or ministry. Foremost, Lisa Hendy is sincere and dedicated to our Catholic faith. She brings faith and ministry new energy with her professionalism, credentials, vigor, and genuine interest in her listeners." Michelle, University of Dallas Ministry Conference, Irving, TX
"Lisa's talk on Social Media very helpful. It was lively and engaging and gave this Grandma a "you-can-do- this" attitude towards all the new media out there. As social media evolves, it's encouraging to have a go-to person and website (CatholicMom.com's "Tech Talk") to help me learn what might work for my apostolates. Thank you, Lisa!" Julia, St. Elizabeth Ann Seton, Keller, TX
"Lisa Hendey was a breath of fresh air. She makes theology fun and bubbly! This lovely woman shows us that Saints don't have to be stodgy! With her creative game of Catholic Jeopardy, which she calls Catholic Certainty (isn't it great we can be so sure in our faith), we were comforted by the Saints who are there for us. Whether we knew the answers or learned a great deal on Saturday, Lisa showed us that there is great wisdom to be found in the lives of the Saints. We cannot leave them in the background of our lives (and our web browsers). We must reach out to them, learn from them and use them as inspiration to get through this world. And guess what, it can be really fun! Go learn about the Saints and then share them with others! Talk about Saints with your girlfriends. Think of ways the Saints can help you get through your daily life. They're always there, ready to hear your prayers and to pray for you as well." SJ, Catholic Women Rejoice
"Lisa was a delight to work with. Her presentation was tailor made to fit the theme and audience at our women's conference, and her very presence brought a warmth and joy that the day would have lacked without her. She was so available to each of the 300 women in attendance, whether it was to sign a book, offer advice, or just to say hello. Her "realness" was refreshing and inspired us to discover how we can hear God's call and become saints." LF, Women's Conference, Vancouver, WA
"Lisa Hendey is a warm, down-to-earth and inspiring speaker who has a particular talent for making it seem like she is speaking to you alone and not the masses. Her recent keynote presentation on "Perseverance" at our annual live conference in Schaumburg, Illinois was inspiring, candid, humorous and edifying. I highly recommend her as a speaker on any topic!" Ellen Gable Hrkach, President, Catholic Writers Guild
"Lisa is always one of our most popular presenters at the Catholic Marketing Network. She's a real pro that understands her audience and always crafts a presentation that is both entertaining and informative." Alan Napleton, President, Catholic Marketing Network
"Lisa was fabulous for our annual Women's Retreat in Julian, CA. So many attendees said "she was speaking directly to me all weekend!" She's practical, funny, emotional, inspiring, God-filled! Very easy to work with, was everything we hoped and MORE! Definitely one of the best speakers we've ever had! She appeals to all ages, backgrounds and hearts. A better fit couldn't be found!" Kesa H., Chairperson, Whispering Winds Women's Retreat, Julian, CA
"Lisa Hendey spoke at the Diocesan Women's Conference in Venice, Florida. She shared her wealth of knowledge as a mother, Catholic and child of God. Her balance of spirituality, motherhood, business savvy technology and simple examples of how to live were an amazing gift to the woman that day." Angela Exner, Family Life Coordinator, Diocese of Venice
"Lisa, I just finished reviewing our evaluations from our Dynamic Women of Faith conference in Toronto, Canada. Page after page, every single participant loved your presentation. Here are just some of the things participants said, "Very inspiring, loved the modern outlook on the saints, funny, very encouraging, wished we had more time, very informative, down to earth and practical…" Lisa, the list goes on and on. You are obviously a seasoned speaker, who is not only professional, but fully loyal to the Magesterium of the Catholic Church. I will never forget your talk at the Calling ALL Girls event for high school students the night before. There wasn't a dry eye in the house! I just can't wait to read your new book, The Grace of Yes! It was delightful to work with a speaker who was flexible, accommodating, calm and so very reassuring. Lisa, your love, dedication, humility, hard work and trail blazing travel schedule certainly has left me inspired. You leave no stone unturned to help bring souls closer to Christ. We were blessed to have you and would love to have you back!" Dorothy Pilarski, Founder, Dynamic Women of Faith, Toronto, ON
"Lisa's faith and love for Catholic families was truly evident in her talk at Holy Spirit Catholic Church. Her calling as an evangelizer and public speaker helped make this not only an informative night but one that was spiritually uplifting. Holy Spirit Catholic Church would like to thank Lisa for her talk and her dedication to spreading the Gospel message." T.T., Director of Religious Education, Holy Spirit Catholic Church, Fresno, CA
"Lisa Hendey had just the right message for the new year. We asked her to speak to our Catholic professional group on productivity and spirituality. Lisa combined practical organizational tools and personal experience for a much-needed motivational prod. Her heartfelt lessons from Rwanda will not be forgotten." J.M., President, Catholic Professional and Business Group, Reno, Nevada
"Lisa Hendey came to speak to our military spouse, Catholic Women of the Chapel group. Lisa was able to relate her journey in the Catholic faith to the unique challenges that military spouses experience. She helped us realize, the faith journey is not perfect and every journey is different, but it is your journey. We studied the Handbook for Catholic Moms and we were thrilled to meet the amazing soul that wrote this book! Our group found a friend and mentor in Lisa, which has touched all of our lives. Words cannot express how much our group enjoyed Lisa's visit. We hope to see her again in the future." Fort Ord Mother's Group, Fort Ord, California
"Thanks again for gracing our community with your lovely presence. I noticed the women were spellbound as you shared your wonderfully wise insights and deep faith. Keep up the good work!" Fr. T., Pastor, California
"The Women of St. Jude group at St. Jude parish in Peoria, Illinois had the great pleasure of having Lisa Hendey Skyping with us. We were very excited to hear all she had to share with us on Advent! She was such a warm and generous speaker. We had almost 50 women attend from young mothers to grandmothers. She was very helpful and informative on ways to not only help our Advent Season be less stressful, but also how to help women of our parish gain the same stress free Advent Season. We can't wait to invite her back and see what else she has to offer! Thank you Lisa! It was truly a pleasure to have you join us!" St. Jude Parish, Peoria, Illinois
"Our parish recognized our Holy Father's call to use new media to evangelize, communicate and connect with our parishioners. To pursue this more fully, we petitioned Lisa Hendey to share her expertise. Lisa didn't just talk about what was good to do, but also showed us why it was good and how to do it. She lives with a joy and a passion for the faith evident in how she speaks, which is warm and engaging. In the often intimidating world of the Internet, Lisa offered the authenticity we cherish and foster in our own parish relationships, and she inspired confidence to make our dreams a reality through new media. We truly see her as a pioneer of this new forum for sharing the Gospel, and feel blessed to have had her help in blazing trails in our own parish family." Jennifer H., Holy Spirit Church, Fresno, California
"As a panelist on a digital roundtable discussion on 'Parishes, New Media, and the New Evangelization,' Lisa Hendey was able to offer a unique perspective with practical suggestions for parishes to realistically embrace all forms of new media including websites and social networks. Lisa's many years of experience using digital platforms to do evangelization both as the creator and editor of CatholicMom.com and as the webmaster and consultant for her parish and diocese equip her with an expertise that any parish interested in learning new media would thoroughly enjoy." Jared Dees, Digital Publishing Specialist, Ave Maria Press
"Thank you so much for spending time with us via technology last week. Our mothers' group felt like you could be sitting right next to us! You connected with us and our vocations as mothers in such a very real way. Your books have truly nurtured our hearts, minds, bodies, and souls! They have inspired beautiful faith sharing in our group. The saints have been wonderful "companions on the journey"! Their stories, wisdom, traditions, and scripture for the week seem to touch us exactly where we are at that given moment. God is so good! Thank you for sharing these holy men and women with us! We look forward to continuing in the books when we gather next fall. All of the moms expressed their hope that you come visit us again next year! May God bless you and your family and the work He has chosen for you. Your light shines so freely ~ you are a walking, breathing, talking, writing, touching example of being Christ present in the world." Mary Kay, MACH 1 Women's Ministry, Fargo, ND
"Being the mother of three children, it is hard to imagine my path to sainthood when I feel like I lose it half the time amidst all the screaming and fighting. I loved hearing Lisa speak about how we are all on the path to sainthood, and that the women who have been canonized are exactly like the rest of us. The little things we do in our lives matter, even if it may not seem like it at the time. I want to remember in everything I do, I am making my own path to God. I may see others around me and think, "Gee, if I could only be like her, I would be more saintly." In reality, only God knows what is on her heart, and only God knows what is on my heart. I can be a saint too. I just need to set my eyes on God in all that I do." Michelle, Ladies of Our Lady, Denver, CO
"Our Catholic moms group in Waco, Texas has been blessed by Lisa Hendey as we've read and studied two of her books. Not only have her books provided our mothers with guidance and support, but Lisa herself has generously spoken to our group twice via Skype to tell us more about the process and person behind her books. We have been truly enriched by Lisa's comments and answers to our questions, and she serves as an honest and down-to-earth role model for all Catholic mothers. Thank you Lisa!" Emily, Moms Group, Waco, TX
Just wanted to say that O Radiant Dawn was one of the best webinars I've listened to.
Lisa is a wealth of knowledge and information. Diane, Director of Faith Formation
"I had the privilege to hear Lisa speak last Saturday at the Catholic Women Rejoice Conference in Portland, Oregon. Her talk on the saints that inspire her was wonderful. Her knowledge of the saints is inspiring. I especially enjoyed hearing her speak about the uncanonized saints in our lives and our personal journey to become a saint. Lisa is not only a very talented author and speaker but a sweet, genuine Catholic Mom like us all. I made a new friend and saint in my life last Saturday!" Toni, Catholic Women Rejoice, Portland, OR
"Lisa's enthusiastic faith shone through during her talk at the Catholic Women Rejoice! conference. When she said that we were 'saints in the making', we knew that she genuinely and fervently believed it." Rhonda, Catholic Women Rejoice, Portland, OR
"You should know three things about a presentation by Lisa Hendey. One, be prepared to learn. She'll cover a variety of new tools that'll get even the skeptic excited about social media. Two, she's got a great teaching and speaking style that'll help calm the fears of social media newbies. Three, she's super creative, always using social media tools in interesting ways. When she wanted to know what engagement means, she tapped her Twitter network and put together an great video." ~ Andrew Nelson, multimedia reporter, Catholic Media Conference 2012
"Loved Lisa Hendey's CMC12 workshop "Building Engagement through Social Media." It was inspiring, empowering and fun! The Catholic Mom helped this Catholic editor get 'engaged'." Roxanne King, Editor, Denver Catholic Register
"Lisa, What a delight it was to have you at our homeschool conference! You have an amazing ability to make people at ease, even when talking about some tough subjects like our kids' safety online. Everyone at the conference had such glowing things to say about you. Thank you for sharing this time with us." ~Dianna, Kansas City Conference for Catholic Homeschoolers
"I walked into my first Lisa Hendey experience somewhat bored with the workshop offerings at a national conference. Her title caught my attention. It was on social media. I thought hmmm…. this could be interesting. I was wrong. It not only could have been, but it was and I was sorry to see the time end. I spoke to Lisa that day (in November of 2010) and began campaigning to get her to my diocese. She embodies all that you would want in a speaker for your parish, deanery or diocese groups. We recently had our Biennial convention in the Diocese of Rockford Illinois in April of 2012. Lisa's sessions were everything I remembered and more. She spoke on social media and then in a longer session on being a catholic woman in todays world. How to make it work. How to stay faithful, How to keep your faith when all around you are loosing yours. I can't wait to get to another session with her. I wish she were closer than California." Sherry Spinelli, President Aurora Deanery CCW 1st Vice President Rockford DCCW
"…and as a formal review of your speaking engagement, it was more than I ever imagined. You made both talks so personal to our group and got the audience involved in the subject. We received many positive comments on our evaluations and your books sold out at our Convention. One of our Priests that was present at your Social Media topic is hoping we will be open to using social media more. I have used a few examples of Saints when I speak to someone having a problem, and I tell them to Pray to a certain Saint and they appreciate the thoughtfulness." H, Diocesan Council of Catholic Women
"Lisa Hendey's talk with our women's group was very encouraging and supportive of our vocation as Ctholic Moms." Kay Kociuba, St. Paul's Parish WINGS group, Wellesley, MA
"Our annual church tea had all but died off in attendance until we made a change this year and invited a local speaker, Lisa Hendey. Our tickets flew out the door until we sold out the event. After her interactive talk and presentation, I heard over and over how nice the tea was and how much the ladies enjoyed Lisa's words on caring for ourselves. Lisa is so organized and easy to work with, we would love to have her back to speak again!" Gail S., Anglican Church Women's Organization, Central California
"I enjoyed listening to Lisa very much. She has a way of bringing her audience right in and is so knowledgeable on her topics that it made me want to read more in her books. Thanks for coming to our Conference." Bev, President, Diocesan Council of Catholic Women
"It was such an honor for our Book Club in Tennessee to meet the author of our current book, Lisa Hendey, via Skype on the evening of our meeting. Lisa was so real and down-to-earth with us, and it was such a pleasure to have her input on our discussions. This book is a wonderful resource with a wealth of information that I can refer to time and time again. It covers all the areas of my life that I can focus on to be the best wife and mother that I can be, heart, mind, body, and soul. The personal stories of the author and all the contributors really spoke to me and helped me to feel that I am not alone on this journey." Kimberly, Tennessee Mom's Group
"Lisa Hendey went to our parish St. Joachim Catholic Church here in Madera, California in January, 2010 and gave an inspiring talk about the Movie 13th Day the Miracles at Fatima. "Awe-inspiring" and "well prepared" are just but two of the many comments our parishioners of 350+ who watch the movie commented on her presentation. Her mastery of the movie with her devotion to our Lady was really enriching to our parishioners. Her enthusiasm and good-spirited personality was contagious that evening as she shared to us what the real devotion to our Lady is all about." Fr. Rafael Lavilla, St. Joachim's Parish, Madera, CA
"Nearly 100 club members and guests were informed and enriched by our speaker, Lisa Hendey as she shared personal and professional insights and testimony on her faith path that now includes establishing websites and writing books focused for Catholic moms but finding praise from many other groups. Lisa weaved an entertaining presentation with appropriate visuals. Club members also appreciated her message of embracing technology and that social media is a great tool, if used properly." Fresno Catholic & Professional Business Club – President Pat Ogle
"When our book club finished our Skype call with you last night, we all said, "Wow, she's a 'real' Mom." We were unsure of what to expect from our call, but were pleased to have such an insightful discussion with you. We appreciated your genuine understanding of our challenges in our vocation as mothers and welcomed your best practices. Your book is written in a digestible format for busy moms and very relative to our day to day lives. Thank you for writing this book!" Amy, Mom's Book Group
"Lisa Hendey was a guest speaker for our church's Women's Spring Tea. She provided a very personal, contemporary and encouraging message to our group and all the comments that I received were very positive and thankful for her presentation. She engaged the audience and gave us questions and time to ponder some of the important parts of her talk. It was a delight to have her speak with us and she was very approachable and happy to talk with any of the women, after the formal presentation. As an organizer for the event, she was wonderful to work with and a blessing in every way!!" Patty S., St. Columba's Church, Fresno, CA
"Thank you so much for Skyping with our group tonight! We had such a great time talking with you. Our ladies have really enjoyed your book this semester … Thank you again for taking the time out of your busy schedule to chat with our little group here in Texas!" Megan, St. Jerome Catholic Church, Waco, TX
"Thank you for inspiring me to start a social networking site for our Young Adult Ministry. You had so many wonderful ideas & sites to help us expand and share our faith with other young Catholic adults!"
"Lisa was very well organized with her visuals. She was a pleasure to listen to and provided great information."
"Very good pace, to the point, good multi-media, timely – awesome!"
"Our parish needs her to come speak to the Newman Club. Excellent quality and delivery of presentation."
Lisa's speaking on a variety of faith, family, new media, personal productivity, technology and evangelization topics.
For a complete speaker's package, including a letter from Bishop Armando X. Ochoa and audio samples, contact Lisa at lisahendey@gmail.com.
Lisa Hendey speaking at Catholic Formation and Leadership Conference – Sponsored by the Archdiocese of San Antonio – October 12-13, 2012 – San Antonio, TX
Reel to Reel's Coverage of the Diocese of Springfield Catholic Women's Conference, April 26, 2014