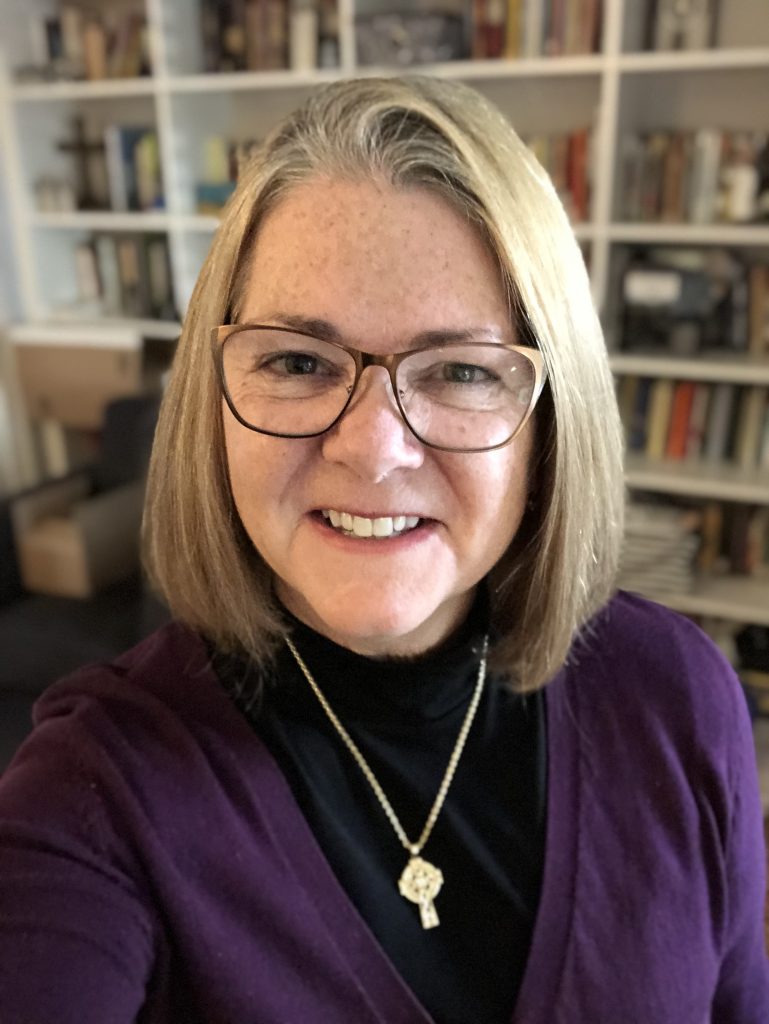 Lisa would love to make a virtual or in-person author visit to your classroom, parish, book club or group or speak at your next event! To invite Lisa to speak or visit, use the form below to get the conversation started. For more information on Lisa's speaking for "grown-ups" visit her website here.
Author Visits:
Lisa loves to connect with young readers and share her joy for storytelling and the saints. Author visits are typically 20-30 minutes in duration, arranged at your convenience and tailored to meet the needs of your group. Author visits can be either in person or virtual (by Skype or Facetime) Some of the topics covered in an age-appropriate tone and style include:
Writing and the publication process
The saints and how we are each a "saint in the making"
The need for children to serve the world around them, starting in their own homes, schools, and communities
The joy of storytelling and an encouragement for children to share their own stories in writing, art, music and even play
For more information complete the form below or connect with Lisa Hendey by email to lisa@catholicmom.com.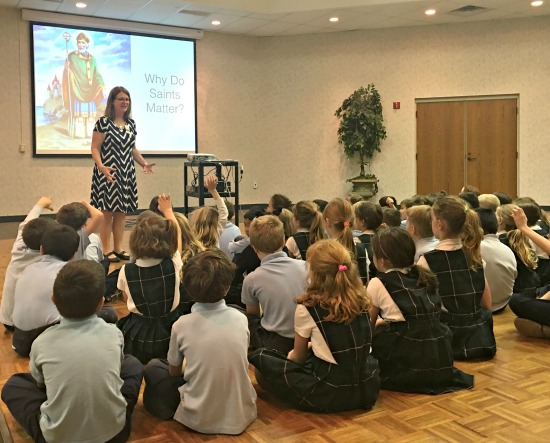 What Teachers and Group Leaders Say:
"Lisa came to visit my sophomore Sacraments class to speak with them about a project they're working on where they have to create children's storybooks and a parent resource. Not only did she speak wonderfully about her own experiences as a parent and an author, she really encouraged my students to use their own gifts and talents for the betterment of the Church! I am so grateful for the gifts that Lisa brings to her speaking engagements, and I cannot wait to have her back for another one!" Jared Anderson, Theology Teacher, St. Mary's Academy, Inglewood, CA (May 2020)

"I first met Lisa Hendey after a presentation she gave to teachers of The San Francisco Archdiocese about being a saint in the modern age. I was so inspired by her message and wisdom and was elated that she spoke with me after and told me about her Chime Travelers series. I integrated her Chime Travelers books into the students' religious studies. My students love how much they relate to the book's characters and enjoy learning about the saints through Hendey's captivating storytelling. We were so honored when she took the time to come to our school to meet our class! She spoke about the importance of saints, being a role model, and lead a question and answer session where she took the time to answer questions from EVERY SINGLE student in my class! Lisa Hendey gave my students hope, a sense of responsibility in a world where they sometimes feel so small, and purpose. She reminded them their voices and their perspectives are important, because we are all God's storytellers, and everyone has a story worth telling. Forever grateful and looking forward to planning another visit!" Ms. Kristen Lang, 4th Grade Teacher, St. Anselm School, Marin County, CA (March 2020)

"It was such a blessing to do a virtual visit with Lisa! She was very interactive, organized, and so much fun to visit with! Our 2nd and 3rd graders LOVED it–so did our teachers, parents, and administration. It was so awesome how the students left the visit excited to write, to read, and, most importantly, to be saints! Thank you, Lisa for inspiring us all!" Suzanne Krumpelman, Librarian/Media Specialist, St. Joseph Catholic School, Fayetteville, AR

"Saints-in-the making was an excellent Virtual Author conversation. Third grade students from Epiphany loved reading about St. Kateri and are encouraged to be a saint in the making by praying to God, helping the poor, and being kind. They look forward to setting good examples in the New Year as role models and prayer warriors just like the saints!" Ms. Maria Zownirowycz, Third Grade Teacher, Epiphany Catholic School, Coon Rapids, MN

"Lisa is an absolute treasure to share with your school community. She adapted her presentations to reach all of our K-5 students appropriately. Lisa helped us walk through what it means for us to live as saints. She inspired my 3rd graders to become writers themselves and encouraged them to start writing now. Lisa is a true delight to know and blessing to anyone she comes in contact with." Mrs. Katrina Bingham, Third Grade Teacher, Nativity Faith & Reason, Broomfield CO

"It was delightful to hear Lisa Hendey express her faith through her love of storytelling. In sharing her experiences as a writer, the students were able to see that they are capable of creating great works too. Lisa Hendey's Chime Travelers Series have simple, yet powerful messages for children. They teach about virtues and allow children to understand the lives of saints and connect with them on their level." Mrs. Ana Lisa Renteria, Fourth Grade Teacher and Vice Principal, Saint Anne School, Santa Monica, California

"Lisa Hendey's Chime Travelers Series is a must have in a every home! It was a delight to read the entire series with my daughter. She just couldn't put the books down before bedtime! The books taught us about creativity and the adventures of traveling in time, the importance of the saints and the significance of prayer. We can't wait for more adventures from the Chime Travelers Series!" Isabel A., Catholic School Parent

"We were delighted to have Lisa Hendey speak to the 1st through 4th graders at our school. She was an engaging speaker who kept the student's interest throughout her presentation. The students were especially excited to meet an author whose books they were familiar with–Chime Travelers books are quite popular at our school library! What we appreciated most was that the children's faith was enriched through her visit." Kelly Meineke, Librarian, St. Michael School, Worthington OH

"Mrs. Hendey visited St. Patrick School in Washington, IL and spoke to 3 different age groupings of students. Each presentation had the same core message, but each was delivered according to the age group present. She easily adjusted to each grade level and the knowledge the students had of the topics. What I liked the most was how each presentation included active participation from the students. Eager hands were raised to interact with Mrs. Hendey. Her responses were driven by the dialogue that she received from the students. Her genuine interest in the topic, whether the faith aspect or the writing aspect, was picked up by the students. I would definitely recommend Mrs. Hendey and the Chime Travelers series. Thanks, Mrs. Hendey for a wonderful morning for our students!" Muriel Graham, St. Patrick Catholic School, Washington IL

"What an amazing and blessed opportunity my second grade class experienced today! We spoke with the author of the "Chime Traveler" series, Lisa Hendey, who shared her love of writing and reading to the students. She was fabulous answering our questions and discussing her writing experiences with everyone!" Mrs. Lisa Scaltrito, Second Grade Teacher, St. Anastasia Catholic School, Los Angeles, CA

"I heard about the Chime Traveler books through a friend of mine. When I was chatting with our school board president one day I mentioned them and she bought and donated the books to our library. I read The Secret of the Shamrock and loved it. Our whole school was able to Skype with Lisa (with our fourth grade class coming up with pre-made questions) at an assembly and I have heard how much the children enjoyed the experience. I have had several of the children ask about checking the books out of the library and someone always seems to have one out. Guess I better get more copies." Anita Rader, Librarian, Most Precious Blood Catholic School, Fort Wayne, IN

"My eighth grade students became inspired to work harder on their saint stop motion projects after speaking via Skype with Lisa. Since we are on the east coast, she sacrificed her personal time to wake early and speak about her passion for writing and witnessing to the Catholic faith." Ms. Marianne Green, Eight Grade Teacher Holy Trinity Trinity Catholic School, Washington DC

"So appreciative of Lisa Hendey and her work with the Catholic youth! My students loved getting to ask her questions about our favorite read aloud series Chime Travelers. Lisa inspired my students to become their own story tellers while on their journey to heaven." Ms. Annalise Moffitt, Third Grade Teacher, Sacred Heart of Jesus Catholic School, Shawnee, KS

"After having read The Secret of the Shamrock, our second graders skyped with Lisa Hendey. Her time with them was spent encouraging them to read, tell stories, and get to know the saints. It was a beautiful experience to see her so joyfully interact with the children, to listen intently, and inspire them to become saints." Miss April Justen, 2nd Grade Teacher, Epiphany Catholic School, Coon Rapids, MN

"For anyone who has read the Chime Travelers Series, I highly recommend you invite Lisa Hendey into your classroom for an author visit! Ms. Hendey conducts an interactive conversation with the class, through Skype or Face Time. My students were responding to all her questions, thoughts and ideas. At the end, they asked her some very inquisitive questions! We would love to have her back again!!" Melanie Csorba, Third Grade Teacher, San Juan del Rio Catholic School, St. John's, FL

Lisa with Third Grade Chime Travelers at Xavier Elementary

"Our school was so very fortunate to have author Lisa Hendey visit in person and share her story. Lisa inspired our students to work towards being a saint and to start writing their own story. Students and teachers alike enjoyed her presentation. My second graders now have a new favorite series ~The Chime Traveler Kids." Mrs. Mary Whitman, Second Grade Teacher, Xavier Elementary School, Appleton, WI

"My daughter expressed interest in reading a book with her friends. I immediately thought it would be great to have a book club for a Chime Traveler's book. It was so easy to plan and schedule. We invited a handful of my daughter's friends. We gave them a link to Amazon so they could order the books (even better that the book icon Amazon Prime so it came in 2 days!) and then set a date to meet. All of the girls read the book ahead of time. I used the questions in the back of the book to facilitate the conversation. The girls talked and shared about the book and had a great time. A couple other moms provided the snack so all I had to do was prepare for the questions. To make it even better, Lisa Hendey Skyped in for our second book club meeting. The girls found it fascinating to meet the author. They were so excited to be able to ask Lisa questions about her writing process and Lisa's love of the Saints. What a gift Lisa gave us!" Maggie, Book Club Host, Nashville, TN

"Our school was so blessed to have Lisa Hendey come and speak with us. My third grade students were captivated by her presentation on the Saints. She shared her love for reading and writing with us while embracing our Catholic identity. She involved the students in her presentation and was an extreme pleasure to meet. I just started reading Lisa's new series the Chime Travelers with my class. The children are very excited and can not wait for me to read more!" Kristie Tolliver, Cathedral School, Springfield, IL

"The first grade class of St. Jude School in Elyria, OH was blessed to have had the opportunity to meet with Lisa! She was gracious enough to meet with us on short notice through Skype. Lisa encouraged the children to be storytellers and saints. What a fabulous goal to work towards!! The children were excited to learn about how Lisa developed the concept and characters in her series. I would recommend this series for all families and classrooms!" Mrs. Steffany Congelio, First Grade Teacher, St. Jude School, Elyria, OH

"After reading The Secret of the Shamrock our second grade class invited Lisa Hendey for an Author Visit. She arrived on-time, was well-prepared, and connected one-on-one with the students. During her 45-minute presentation, she kept the students engaged, grew their understanding of the beauty of our Catholic faith, and shared the joy of writing. Now the students can't wait to read the next book in her Chime Traveler series." Mrs. Wendy Revell, Our Lady of Perpetual Help School, Clovis, CA

Lisa enjoys a virtual author visit with third grade students at Cathedral School.

"Cathedral School was blessed to have a "real life author" at our school today. My class of 5th grade through 8th grade at our school had a wonderful opportunity along with all the students at our school. The group of middle junior high classes truly had a passion and a yearning for more as Lisa spoke to the group about her passion of reading and writing. I think she related to many students on the gift of expressing your ideas onto paper. She used her gift that God gave her to write books. So many students this age struggle to find an identity. She not only encouraged them, but shared her dreams and the continued success of her writing with them. I think the passion helped foster the ability to these middle school students that anything is possible. The looks on the students faces along with the continued questions from them expressed their enthusiasm. In addition, the students hope she can come back again next time on her travels through Illinois. Perhaps we can be the inspiration for her next book, because she inspired us to write. I'm personally looking forward to reading her books with my class." Molly Murphy, Cathedral School, Springfield, IL