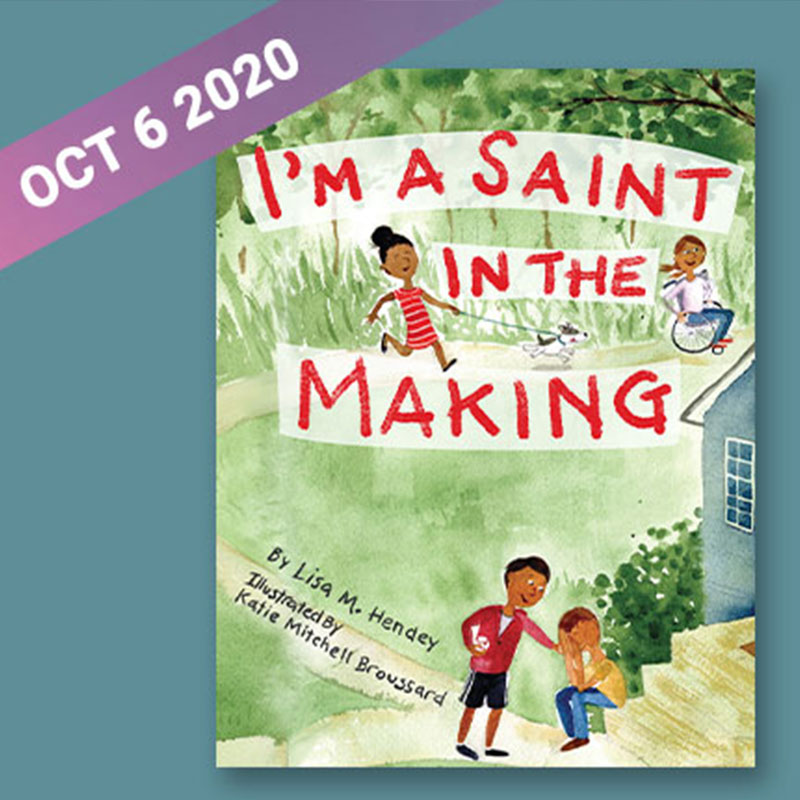 I log into my little blog world and note that in the blink of an eye, a whole month has gone by since the last time that I posted one of these updates. How could that be? Pandemic life is complex: days seem both endlessly long and also too short to accomplish all that's on my plate.
Honestly, the biggest news of the last month is the release of our new book I'm a Saint in the Making. If you follow me on social media, you're probably a bit saturated by now with news of this work. But releasing a book is a huge endeavor for authors even in the most normal of times. Doing so during times like these when our speaking events are canceled, many of our sales outlets are closed, and most importantly when our readers are facing major life challenges with health and family finances can be particularly challenging.
Even though it's a little work and intended for children, so much time and effort have gone into the creation of this book. So to hold it in my hands for the first time and to begin to share it publicly with family and friends is a great joy. Here's a small video we made that captures a bit of that excitement:
Since the book released on October 6, I've had so much fun appearing on social media and radio to spread the word. On launch day, illustrator Katie Broussard and I did a quick Facebook live to savor the moment together:
If you'd like to check out any of the radio interviews, you can find some of those links here. With every opportunity to talk about the book, I find myself more convicted about the message we're striving to share here – that although we are imperfect, each of us has been uniquely equipped by God to live as "saints in the making". We do this by sharing our gifts and offering the love instilled in each of us with those in our homes and communities. In these days when economic strife, political vitriol, and painful health conditions cause so much hardship, I believe that now more than ever we need to remind ourselves that we have a mission.
What's exciting you this month? @LisaHendey shares about the initial launch of her new book I'm a Saint in the Making. #SaintInTheMaking from @ParacletePress
Click To Tweet
This morning, I was delighted to receive a message from a friend in Ireland that her book had arrived. When I opened Instagram, I found my friend George on his mom's Instagram story reading the book during his distance learning. Moments like these are an author's "pay" for the hours we pour into not only writing a book but also talking about it after the fact to get the word out. Self-promotion tops my list of things I hate to do. But I continue to take any opportunity to share I'm a Saint in the Making because I feel so proud of what Paraclete Press has enabled Katie and I to create.
This book was written for children, but also for the grown-ups who love them and will hopefully share the book with them. If you'd like to support this work, I hope you'll consider ordering a copy of the book at Paraclete Press, Amazon, Barnes & Noble, or your local retailer for your family, church, local library, or favorite classroom. If you already have the book, please leave us a review on Amazon to help the book's visibility and impact.
Thank you for your ongoing support for this work, but most especially for your prayers and for walking this journey with me!
A question for you: What are you excited about this month?