As I sit in my office dressed in my favorite walking shoes and itching for the crunch of a few miles under my still-sore feet, I feel the need to put something… anything… into writing about how I am feeling following the experience of just having walked The Notre Dame Trail.
For those who don't follow me on social media, you may have missed this particular adventure, since I endeavored to go "blog free" during my 13 day, 320 mile pilgrimage. My fellow pilgrims, a core group of thirty-two souls who have now become family, inspired me to unplug as much as possible as together we retraced the steps of the Father Edward Sorin, C.S.C. and his companions as they journeyed from Vincennes, Indiana northward to what is now known as The University of Notre Dame. The occasion which prompted our journey–undertaken on foot, by bicycle, and aboard an "oxcart"–is the 175th anniversary of my alma mater.
When I inquired in October of 2016 about being a "core pilgrim", there is no question that I could not have anticipated what this journey would be. When I committed to my training and spiritual preparation in January of 2017, paying my pilgrim fee and signing various forms to affirm my intentions, I had a more informed perspective but was still wildly naive.
All I knew back then is that I needed to walk, and to pray.
A lot.
In truth, my version of "The Trail" began long before our August 13 launch from Vincennes. Week-by-week, in typical "Type A" fashion, I covered my prescribed training mileage as best I could, watching the tallies mount. I "trained" in our lovely new Southern California neighborhoods, hiking and biking from Santa Monica to Venice Beach (and back, and back again), around UCLA, in the Hollywood Hills, and in many other picturesque venues. But my training also happened in far-flung venues like India, Shanghai, and Michigan City, Indiana.
I walked, and I prayed.
A lot.
Over the course of the last ten months, many knots untangled themselves in my life and in my heart along The Trail. I asked God big questions. And while I never audibly "heard" God's voice over the sound of my size eleven sneakers pounding the pavement, God's obvious presence in many very complex situations confirmed that he was along The Trail with me.
At some point, I will likely write about "The Trail", those thirteen days of intense physical, spiritual and emotional "wow-ness". I want to capture the memories before they float away in the ether of my busyness.
But today, all I can write about is how I can't write. I believe this sense of mourning I feel is common to my fellow pilgrims. I can tell from the action on our GroupMe account that our Core hearts hurt even more than our feet do. We miss the mutual love, commitment, and faith that propelled us over miles and miles of hot asphalt and rocky farm roads through oh-so-many corn fields. We may have each had a different reason for taking up The Trail, but along the miles, we found and fell in love with a common sense of drive and purpose. We carried each other forward, sometimes literally, with a bond that truly feels impossible to describe.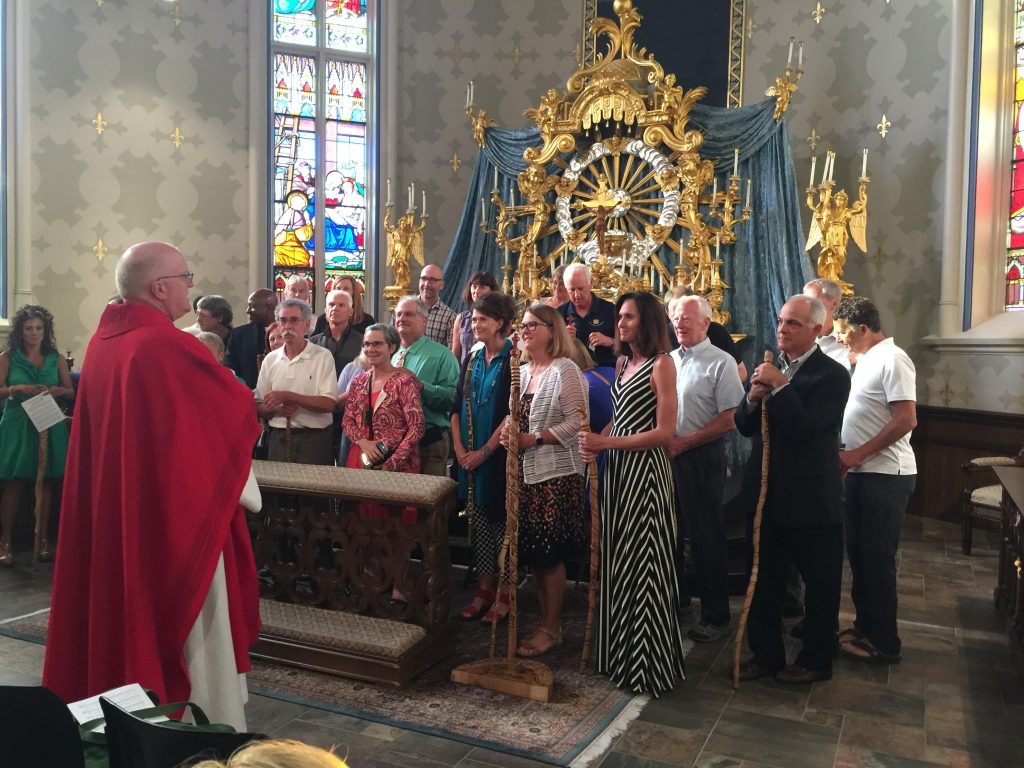 On the eve of our very last day of The Trail, we Core pilgrims were each presented with a special walking stick and offered a special pilgrims' blessing. We carried these sticks proudly across our last three miles of the pilgrimage, holding them with reverence as we stepped upon the grounds Father Sorin had cultivated, praying alongside his gravesite and at Our Lady's grotto. In a final act of pilgrimage, we deposited stones (signifying the prayer intentions we had carried with us across Indiana) before a replica of the Log Chapel that was Sorin's first shelter at Notre Dame. There wasn't really a "finish line", but for me, that moment of letting go of my stone marked an "end" of sorts. I may have left my physical stone on that pile with its peers, but the intentions the stone signified are etched in my heart. My walking stick with its uniquely carved markings of The Trail provides a tangible reminder that while "The Notre Dame Trail" may officially have ended with our homecoming to campus last Saturday, my personal Trail is really just getting started.
As we were lingering over our goodbyes in anticipation of our arrival to campus last week, I remarked to a friend that we Core thirty-two were just a little bit like Jesus' disciples after his death and prior to their knowledge of his resurrection. Missing their savior–their friend–the disciples' instinct had been to run, to hide, and perhaps to cling to one another. But ultimately we know the end of their stories: Christ came to them, emboldened them, and commissioned them, sending them to the far corners of the world to tell his story in the context of their own stories. The eleven didn't get to stay clustered together for life. Despite how surely bonded they must have felt to one another, Jesus broke them apart, sending each of them along their own Trails to make known his love.
I'm not calling us core pilgrims "disciples" or proclaiming our saintliness. If you could meet us, you'd know that we each came to The Trail seeking our own answers and solutions and peace. A common love for Our Lady and her University bonded us quickly and hard. But we each had to realize over our last few hours together that our mission territories are disparate and far flung. For as many answers as we found along The Trail, new questions were placed into our hearts. Saying goodbye hurt us Core 32 then, and five days later still the pain still tugs at my gut.
So I've decided that it's ok that all I want to do this week is take long baths, read a book (about walking!), snuggle with my husband inside my house, and walk.
For the record, my feet hurt a little bit when I lace up my now-laundered, Trail-weary shoes. The first few steps send a dull pain through my toes and into my calves. But before long, the forward motion of my strides erases those ailments and I can mentally replace the palm trees around me for miles and miles of corn and soybeans. My mind stills and my heart is open to the whispers from God that can't be heard when I am plugged in and turned on, busy crossing important things off my lists.
So this week, I will rest. But I will also walk and pray.
And so The Trail continues.
For a full and very beautiful description of The Notre Dame Trail, I invite you to visit the blog posts penned by my fellow Core pilgrim Tim Deenihan and to view video coverage by WNDU and a lovely gallery of Trail images.