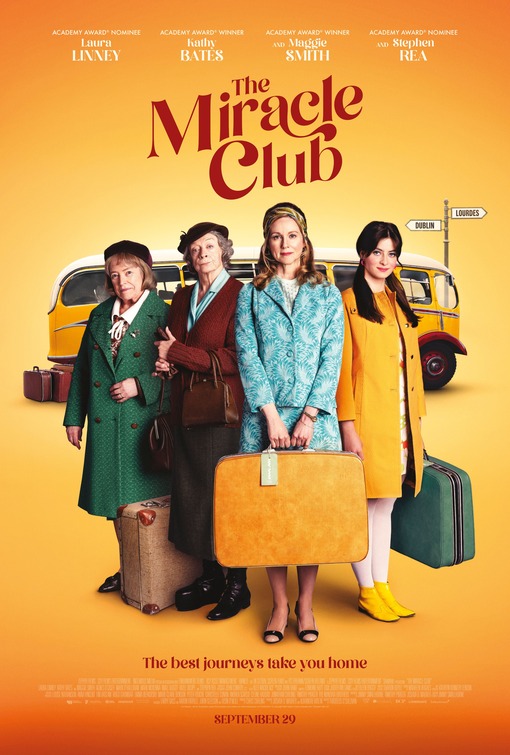 Looking back at my blog, I noted that my last movie review was published on January 31 and was all about a miraculous occurrence that happened to a very special young man and his community. It feels fitting that I'd jump back in with The Miracle Club for my foray into films. Now open in theaters, this feel-good story is not precisely what you'd expect when you hear that the plot revolves around four friends on a pilgrimage to Lourdes. If you're mentally conjuring sticky sweet imagery and overly pious preachiness, you're missing the point of this star-studded story.
Synopsis:
Set in 1967, THE MIRACLE CLUB follows the story of three generations of close friends, Lily (Maggie Smith), Eileen (Kathy Bates), and Dolly (Agnes O'Casey) of Ballygar, a hard-knocks community in Dublin, who have one tantalizing dream: to win a pilgrimage to the sacred French town of Lourdes, that place of miracles that draws millions of visitors each year. When the chance to win presents itself, the women seize it. However, just before their trip, their old friend Chrissie (Laura Linney) arrives in Ballygar for her mother's funeral, dampening their good mood and well-laid plans. The women set out on the journey that they hope will change their lives, with Chrissie, a skeptical traveler, joining in place of her mother. The glamour and sophistication of Chrissie, who has just returned from a nearly 40-year exile in the United States, are not her only distancing traits: Old wounds are reopened along the way, forcing the women to confront their pasts even as they travel in search of a miracle.

Courtesy of Sony Pictures
I'm embarrassed to say that when I took a trip to the sacred site of the Sanctuary of Lourdes in the 1980s with my parents during my study abroad year, I was so uninterested in the place that I didn't even set foot in its famous baths. I recall lighting a candle at the Grotto and souvenir shopping with Mom and Daddy. I recall the late-night sing-along that happened in the hotel bar. And I remember saying, "No thanks" when presented with the option of entering the baths. My heart breaks now at that opportunity I missed.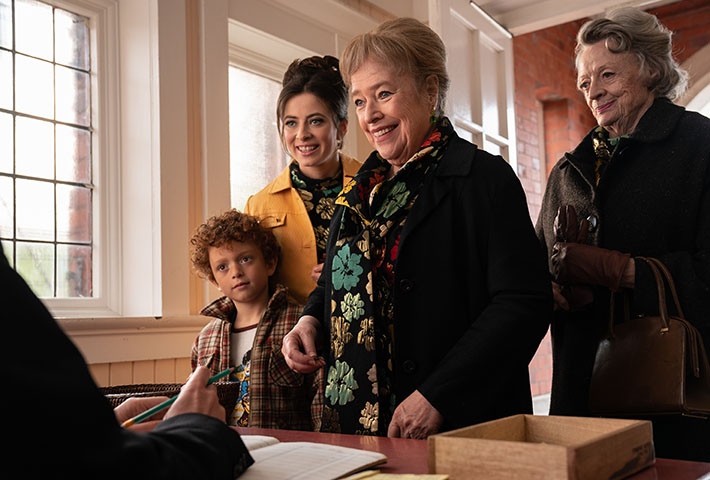 So with this distant memory, I sat down this week to screen The Miracle Club. I expected to love the film solely based on its cast:
Chrissie (Laura Linney) – Banished to the US, Chrissie begrudgingly returns home to bury her recently deceased mother
Lily Fox (Dame Maggie Smith) – Others may think her desire is to have her leg healed, but Lily carries a dark burden with her to Lourdes
Eileen Dunne (Kathy Bates) – With a recently discovered lump in her breast, Eileen is more trusting of a Marian miracle than a trip to the doctor
Dolly (Agnes O'Casey) – A mother who would do anything to help her child, Dolly inspired the "club's" trip to Lourdes with her hope for a cure for her little boy
Up front, I want to dispel the myth that The Miracle Club is only a movie for "church ladies". The film's male lead, Fr. Dermot Byrne (Mark O'Halloran) doesn't offer any promises in leading his flock on pilgrimage. His pastoral care is quiet and compassionate. His actions speak louder than his words, somehow convincing Chrissie to set aside her deeply held scars and claim her mother's spot on the pilgrimage. Like many who will love this film, Chrissie is not religious. But her deep spirituality, her compassionate approach to others, and her willing spirit have been forged from years of hurt. She has a heart open to what may happen. It is this openness–Chrissie's willingness to seek and offer reconciliation and the depth of her care for others–that drives this story.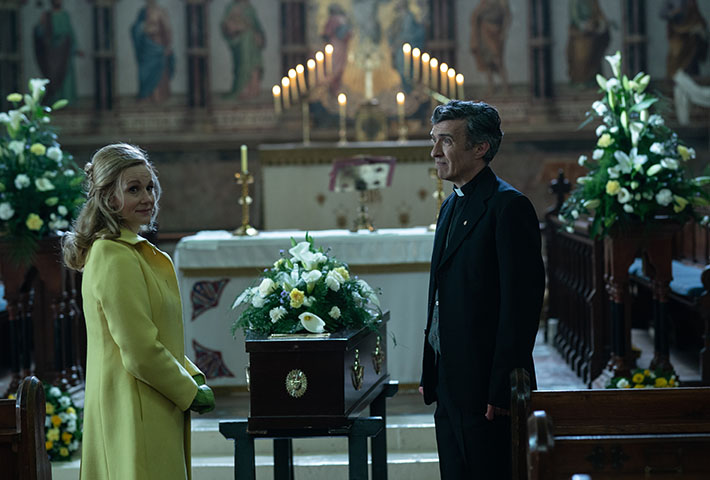 I'm partial to Irish priests, having been raised in the faith by one myself. When Eileen faces a crisis of faith on the trip after having her hopes dashed by the commercialism of Lourdes and her own experience of the baths, it's Father's line to her that for me points to the true message of this movie:
"You don't come to Lourdes for a miracle… You come for the strength to go on when there is no miracle."

Father Dermot Byrne, The Miracle Club
Without spoiling the film, I'll say that I do believe a few "miracles" do occur for the "club" along the way to Lourdes, in the shadow of those flickering flames at the Grotto, and especially when the pilgrims return home. But the miracles may not be the ones we expect. That's the interesting thing about miracles.
In my own healthcare journey these past six months, I have received miracles that have touched me deeply. I still live with the cancer we're working to banish from my body, but my insides have been changed profoundly by the love and support of those around me. Perhaps it's this hope that predisposes me to see the deep grace–and yes the "miracles" too–that can and do happen not only in this loveable film but in the everyday world around us.
The Miracle Club is rated PG-13 for thematic elements and some language