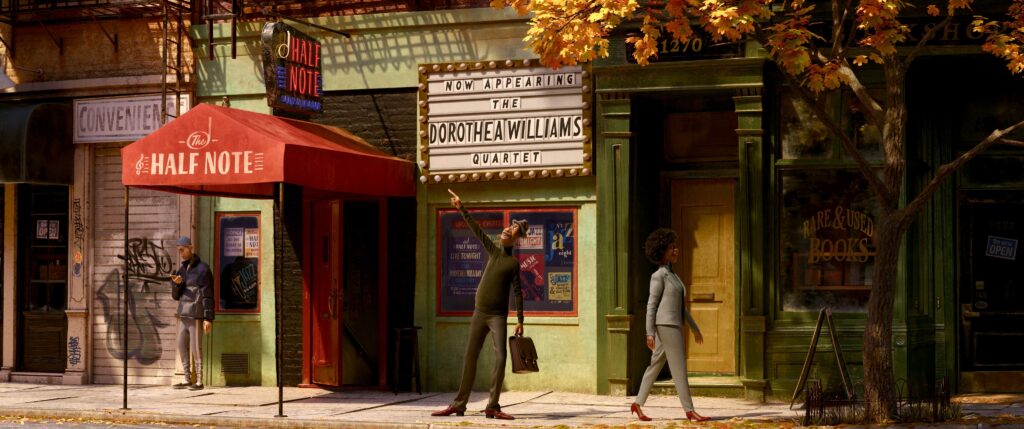 It's an interesting notion to ponder the concept of what makes a person unique, a one-of-a-kind being with absolutely individual characteristics, and a singular impact on the world around us. In a very real sense, this singularity of purpose and passion is very much at the heart of Disney and Pixar's animated film "Soul", launching this Christmas on Disney+.
Synopsis:
What is it that makes you…YOU? Pixar Animation Studios' all-new feature film "Soul" introduces Joe Gardner (voice of Jamie Foxx) – a middle-school band teacher who gets the chance of a lifetime to play at the best jazz club in town. But one small misstep takes him from the streets of New York City to The Great Before – a fantastical place where new souls get their personalities, quirks and interests before they go to Earth. Determined to return to his life, Joe teams up with a precocious soul, 22 (voice of Tina Fey), who has never understood the appeal of the human experience. As Joe desperately tries to show 22 what's great about living, he may just discover the answers to some of life's most important questions. Directed by Academy Award® winner Pete Docter ("Inside Out," "Up"), co-directed by Kemp Powers ("One Night in Miami") and produced by Academy Award nominee Dana Murray, p.g.a. (Pixar short "Lou").

Source: Disney+
If you plan to sit down with young children on Christmas or during the holidays and enjoy "Soul", you may find yourself needing to pause along the way to explain a thing or two. At the most basic level, the film follows the life (and perhaps almost death) of Joe Gardner, a struggling jazz artist whose accidental trip into the afterlife causes all kinds of philosophical adventures. For children, the eye-candy-esque animation that is Pixar's trademark and a few very funny moments, plus a truly quirky cat character, may indeed be enough to capture their interest.
But for the most part, "Soul" is a film for grown-ups about the very essence of what "growing up" really means. It's not really a spoiler to state that poor jazzy Joe meets his earthly demise early in the film, right after realizing his lifelong dream of gigging with jazz legend Dorthea Williams, who is played with divalicious aplomb by Angela Bassett. Immediately before his big break, Joe's just earned a long-time-coming full-time spot at the middle school where he's been teaching band to non-interested adolescents on a part-time basis. That job's benefit and pension may be Joe's mom Libba's (Phylicia Rashad) life goal for her son. But Joe himself still longs for life as a full-time jazz great.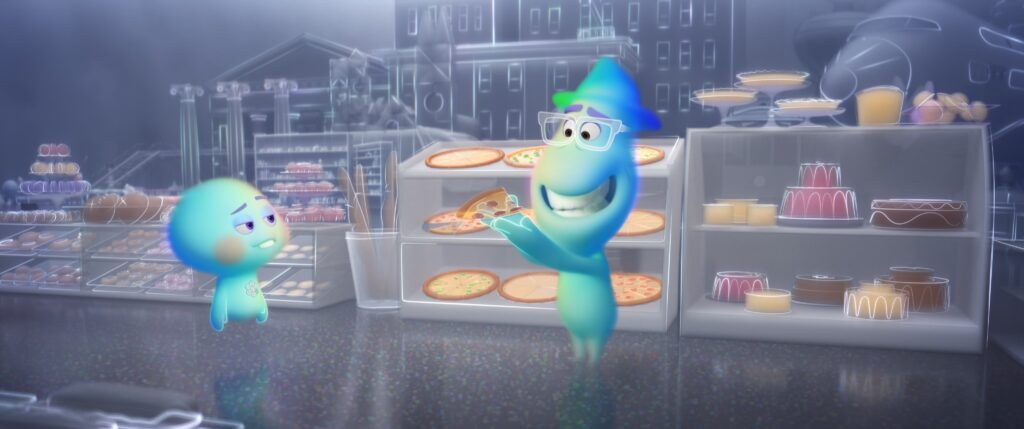 When Joe finds himself on an escalator to the "Great Beyond" and figures out the implications of proceeding toward the big bright light with countless other disembodied spirits, he decides to make a break for it and eventually ends up in the "Great Before", a spot where souls are uniquely equipped for life on earth. This is where things get a bit confusing. Entertaining, if you count in Tina Fey's turn as Joe's prodigy "22", but also confusing. Rather than try to explain this segment of what is anything but a straightforward plot-line, I think I'll just share a few of the things I took away from my screening.
At the top of that list for me is the very important concept that every life matters, that every life is unique even from the moment of conception, and that every life has an impact. Long before they are "born", 22 and her fellow souls are being groomed to make their way through life. I was also quite moved by a conversion of heart that helps Joe's mom Libba finally accept that her son's passion is perhaps his destiny despite her desires for a more stable existence that will help Joe not face the same challenges his musical father did. Finally, I loved the climactic portions of "Soul" that helped Joe himself realize that although playing jazz is his life's greatest passion, perhaps ultimately it was not his most significant purpose in life. In stopping to engage not only the simple, serene treasures of life (such as a really great slice of NY pizza) but also the impact his teaching actually had on other souls, Joe makes a selfless decision that continues to build his legacy.
What makes you "YOU"? @LisaHendey looks at @DisneyPlus @PixarSoul #DisneyPlus #PixarSoul as the film begins screening on Christmas.
Click To Tweet
For viewers of faith, "Soul" comes with a few complications. Catholics with a sense of humor will probably laugh out loud at a joke that has St. Teresa of Calcutta, known to the world as beloved "Mother Theresa", unable to be compassionate toward the troublemaking 22. Although the afterlife and what comes before are discussed in-depth, these machinations never include any noticeable mention of God or an ultimate Creator. What may seem a limitation in the film for Christians could actually be a unique door opening to the possibility of deep conversations about what we believe and why it impacts the lives we live and the souls we nurture. Coming at Christmas during a year when so many families have been rocked by profound loss, "Soul" provides the potential to discuss death in a gentle way, but also to remind us about the most important aspects of a well-lived life. With animation that is indeed a masterpiece, music that drives the plot, and portrayals by a who's who cast, "Soul" is a film you'll likely want to enjoy at least a few times this holiday season: once to take it in, and additional times to more deeply connect with the message and its impact on your own soul.
Disney and Pixar's "Soul" will be available exclusively on Disney+ (where Disney+ is available) beginning Dec. 25, 2020.
A question for you: Does your family include movies in your holiday traditions? What are some of your favorites?