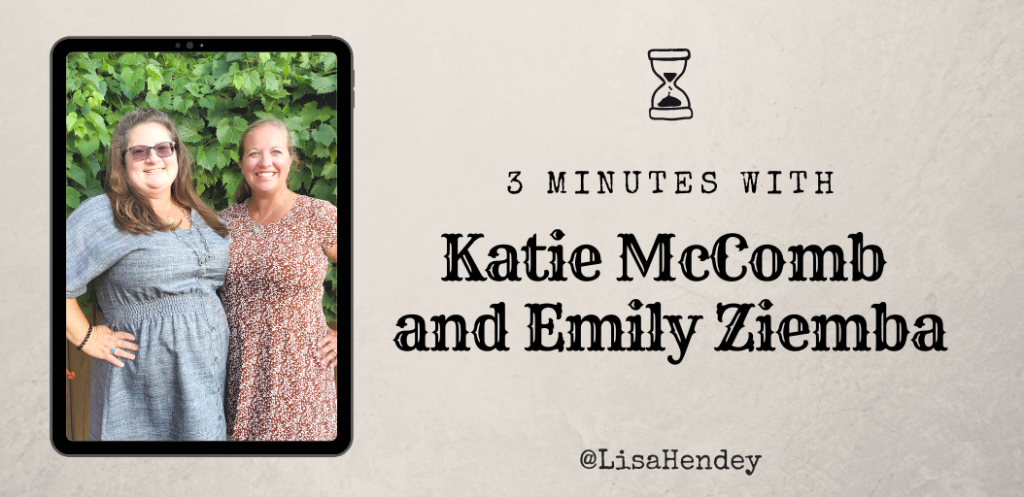 Today, I continue my ongoing series of conversations with innovators as we're joined by Katie McComb and Emily Ziemba, founders of "Seeds for Sainthood". I recently received the January Lily Box and can't wait to pray with it as we begin 2021! LMH
Katie and Emily, congratulations on the creation of Seeds for Sainthood. Please briefly introduce yourselves and your families.
Thank you! We are excited to share the Catholic faith. Katie has been married 11 years to her husband Ryan who owns a sheet metal shop with his family in Grand Rapids, MI. We have two adoptive children, Cameron (10) from foster care and Grace (7) through private domestic adoption. Katie has formerly worked as a business professional and is now blessed to work from home. Emily has been married to her husband Nate for almost 13 years. We are currently homeschooling our son Eli (9) and daughter Annabelle (4). Emily met Nate while teaching elementary school and is now blessed to work from home while he works as the CFO for a transportation company.
What prompted you to found your ministry? How long have you been serving families?
Katie was thinking about making a job change and took some time to discern God's will for her.  During this time both of our sons were in the same third-grade class together and we became closer working together on school projects and Faith Formation.  In the past, Emily had created a similar concept box for educational children's literature.  We put our heads together one night over dinner and Seeds for Sainthood was born.  We both felt there was a need to develop the domestic church at home and little did we know how necessary it would become with the recent shutdowns!  Seeds for Sainthood was launched in December 2020 but we've been filling different roles serving our home parish Our Lady of Consolation for the past 6 years.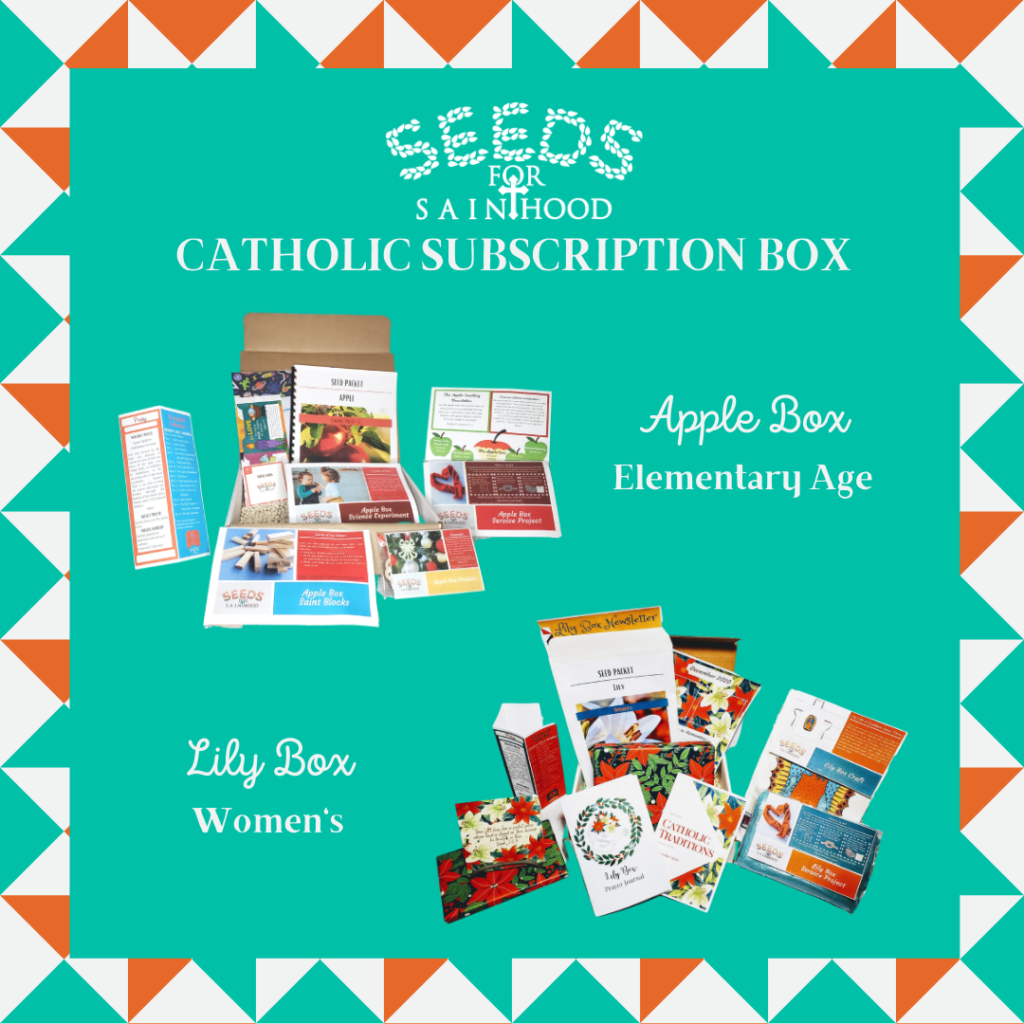 Please describe the two different subscription services you offer and how they work.
Currently, we offer a women's subscription called the Lily Box, focused on Catholic traditions and prayer life.  We also offer an elementary-age subscription called the Apple Box, which features weekly lessons on the liturgical season, saints, and sacraments.  Both boxes include hands-on activities, service projects, and products sourced from Christian small businesses.  There is also a budget-friendly option for both women and children called the Seed Packet Plus which includes all of our proprietary items without the sourced products and supplies.  Our Catholic subscription boxes and packets will arrive monthly on your doorstep.  Our next two projects in the works will be geared towards teenage and preschool audiences. 
What are you hearing from subscribers about how their boxes have blessed them?
Some reviews we have received include:
-That the service projects found in each month subscription are a fan favorite.  
-How much they love that everything is rooted in Catholic traditions and teachings based on the Catechism of the Catholic Church.  
-How they have been thrilled that all of the materials necessary for the projects are included, we have been able to simplify their day-to-day experience of faith in the home.  
-The table tent monthly guide has been a great tool to keep out for easy reference for the monthly activities and liturgical calendar.
What is your favorite part about being in this ministry? 
We feel blessed that this is coming to fruition in a time of great need for the domestic church. We love the people we have been able to connect with on this journey and especially learning more about our faith along the way.
Spend 3 Minutes with @LisaHendey in conversation with Katie McComb and Emily Ziemba who took the initiative to create a subscription resource to help families in their Domestic Churches by founding Seeds for Sainthood #seedsforsainthood…
Click To Tweet
What challenges have you faced this year?
Probably our greatest challenge has been that we haven't been able to reach out in person to share what we are doing so we have had to rely more on word of mouth through virtual avenues. This is outside of our comfort zone as we prefer face to face contact with people of our parish and beyond.
What has being a part of Seeds for Sainthood taught you in your own families and your personal spiritual lives?
What hasn't it taught us? We are faced each day with the task of teaching our children about something so much greater than ourselves and add to our knowledge of the faith daily. One of the bigger lessons we have learned through this process is that as many answers we have found, we also have learned that there is always more to know. Following God's will for us in this business has brought us farther along than we ever could have imagined.
What else do you want readers to know?
We want you to know that we are praying for all of you and that we truly hope this will be a blessing to you and your family.  We want nothing more than to plant the seeds for sainthood in everyone's lives.
Connect with Seeds for Sainthood at their website, on Facebook or at Instagram.
A question for you: What are some of the "seeds" that have helped you grown in and share your faith?