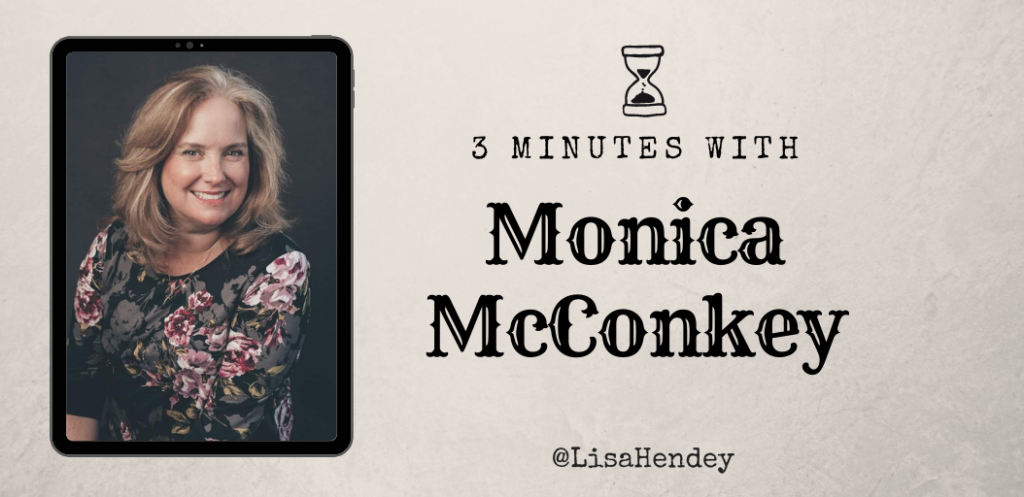 Today, I continue my ongoing series of conversations with published authors as we're joined by Monica McConkey, author of the newly released book Prompt Me to Pray: A Practical Plan for More Consistent Prayer from the Heart. LMH
Monica, congratulations on the publication of Prompt Me to Pray. Please briefly introduce us to yourself and your family.
Thank you, Lisa! I'm Monica McConkey and I live near Toronto, Ontario Canada.  My husband Bill and I have 5 kids, aged 24 down to 10. I wrote a book called A Treasure Chest of Traditions for Catholic Families almost 20 years ago and received personal feedback from St. John Paul II at World Youth Day in Toronto. He told me to keep doing what I'm doing…creating teaching tools and gifts to help families teach and celebrate the Catholic Faith! We're happily doing that! I have been creating additional paper craft kits, quizzing cards, and rubber stamps, packed with Catechism, Saints, Sacraments, and Prayer, available in our shop (ArmaDei.com) and featured on my blog (equippingCatholicfamilies.com)
For years, I've admired your ministry work through Arma Dei! How does this book continue and actually further that mission?
As my kids have been entering the teenage and young adult years, I have found that our celebration and focus of our Faith at home has been directed less at crafts and activities to celebrate the Seasons and Feast Days of the Liturgical Calendar. While these traditions are still important to us and we still dig up some of our seasonal practices and décor (especially for Advent and Lent), I have felt prompted to focus more on creating tools to encourage them in their personal prayer lives.
While knowledge of our Faith through the Catechism and practice of our Faith through the Sacraments is so important in the faith formation of our kids, I'm starting to understand that fostering a personal relationship with Jesus through heartfelt prayer really is the fuel for all of us in our Faith Journeys. While I love finding new ways to help others in their prayer lives, I am certainly excited to know, love, and serve God better through my own pursuit of more consistent prayer from the heart.
Prompt Me to Pray is a practical plan for more consistent prayer from the heart.
By relying on visual cues, daily tasks, habits, and frequent events as prompts to pray, I realize that I can build a stronger habit of prayer. I can even use my littleness, my struggles, and my sin as prompts to pray when I most need to!
I think I have found some practical ways to enter into deeper, more heartfelt prayer: for making prayer a persistent habit, while deepening my personal relationship with Jesus.
I love your book in that it is so interactive. How would you describe it to someone who hasn't read it yet?
Prompt Me to Pray is a handbook for prayer, or even a playbook (PrayBook!) offering different approaches to heartfelt prayer including journaling and praying out loud, both spontaneous and classic prayers. It offers infinite opportunities for prompts to pray, customized to your unique temperament, state in life, and circumstances. Prompt Me to Pray offers classic prayers (in the prayer vault section) where you can highlight the beautiful devotions that resonate with you. The fully illustrated pocket prayer cards in the back can also be used as visual reminders and prompts to pray.
Prompt Me to Pray is also a prayer journal. Through journaling pages of writing prompts and prayer starters, you can record your own personal prayers expressing the desire of your heart. By expressing your prayer in your own words and responding to the unique circumstances of your life, you are preparing your own special, customized plan for consistent prayer from the heart.
It's my hope that Prompt Me to Pray  can be a handy reference tool  for your own hand-picked collection of classic devotions, and spontaneous and original prayers from your heart.
It could become a handy resource for inspiration to jump start your prayer, whenever needed.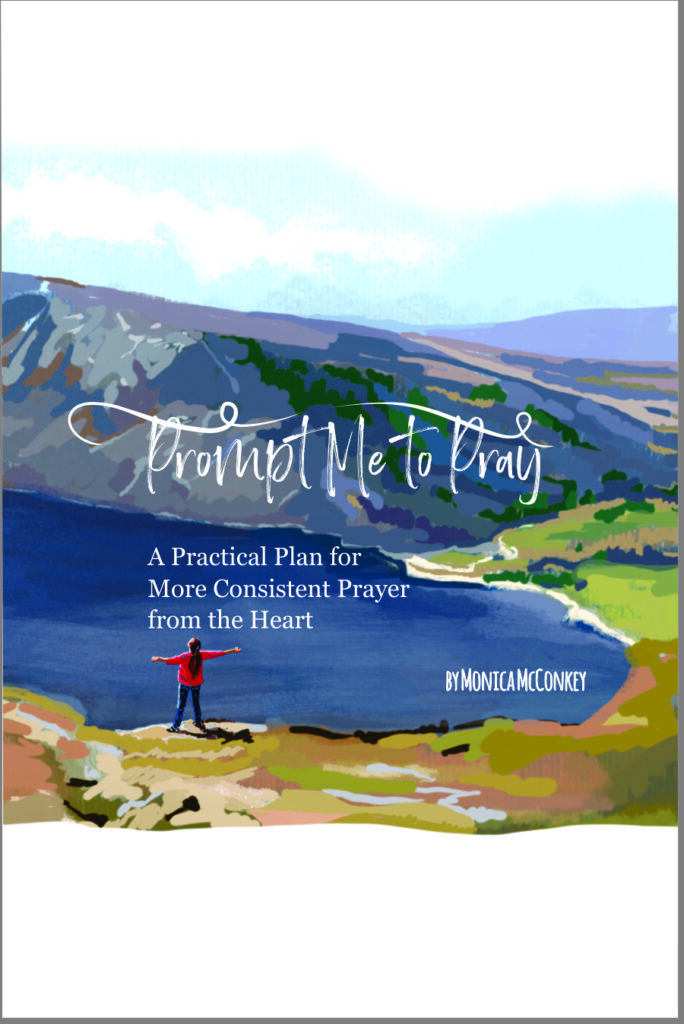 How can people begin to tackle the problem of feeling like we never have enough time to pray?
Most of us struggle with so many things to do and so little time. We usually find that we can make time for things we prioritize by carving out time for them early on and arranging the rest of our schedules to fit around them.
Prayer is quite flexible. We can recite special prayers and devotions during time we have set aside specifically for prayer and we can pray short Dart Prayers with intention and focus, sporadically throughout the day, before, after or during our other tasks.
Our biggest obstacle to fitting these quick prayers in is forgetfulness. We are easily consumed by tasks and the stress that accompanies them and we can forget to pray.
Prompt Me to Pray offers visual cues, daily tasks, habits, frequent events and occurrences, thoughts and feelings as reminders to prompt us to pray. The more often we respond to these prompts with prayer, the more ongoing, consistent prayer can become a habit.
Enjoy @LisaHendey's interview with @monicaarmadei author of the new book Prompt Me to Pray #promptmetopray #promptstopray #armadeishoppe #equippingCatholicfamilies
Click To Tweet
Do you have a few "prompts to pray" that are your favorites? Were there any that were new to you when you wrote the book that have become a part of your heart in recent months?
I think the concept of our own littleness; our struggles and failings and even our sin as a prompt to pray is my favorite. It was new to me and also the main catalyst for me to write the book.
I don't have to be discouraged about my frailty but instead, I can use it for good; I can use it as a prompt to pray at the times I most need to!

We face our own littleness every day. We're frustrated by the things we can't control and we struggle to overcome the same sins we end up confessing over and over. This particular prompt to pray is perfectly customized to our unique personalities, our state in life, and our circumstances. Our littleness might reveal itself in different ways, and even change over time, especially as our circumstances change (as we have all experienced throughout the Pandemic). But our littleness doesn't go away, and its prevalence (as long as we're humble enough to recognize it) makes it an excellent prompt to pray!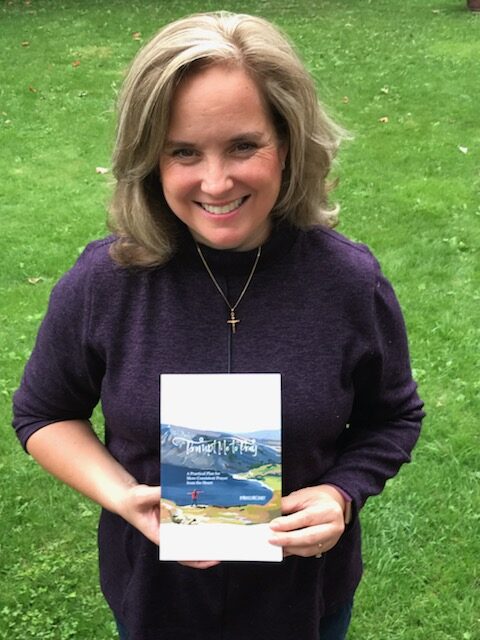 How would you encourage someone who has experienced "spiritual dryness" in their prayer life or who is totally inexperienced with praying?
Read the book! =) Look for what resonates with you.
There are many classic prayers and devotions in the Prayer Vault section of the book and they are beautiful and can perfectly articulate our beliefs and our needs. If you're not sure what to say when you pray, start with these!
There are different approaches to spontaneous prayer where we express ourselves in thought, out loud or in writing. I've included prayer starters and prompts to help to get you started.
If you're looking for prompts to remind you to pray throughout the day, be picky! Commit to only one or two prompts that appeal to you and be patient as you develop the habit of associating prayer with them.
What are you hearing from people who have worked through Prompt Me to Pray? How has it changed your own prayer life?
Some of my favorite reviews of Prompt Me to Pray can be found here. I have been honored and humbled by the amazing responses and reviews of my book. I think that many of us are not satisfied with our prayer lives and God has already placed the desire in our hearts to know Him better and enter into a more intimate relationship with Him through prayer.
It would seem that many people are pleased to find these different approaches to prayer, the many prompts to pray and the wisdom in the quotes about prayer and surrendering from Fr. Jean Pierre de Caussade, Brother Lawrence, Fr. Jacques Philippe, Fr. Jean d'Elbee, Fr. Michael Gaitley and St. Therese.
Many have returned to the book a second or third time, reading it at a slower pace and they have been pleased to invest the time to write in the prayer journal pages, to customize their own plan for more consistent prayer. I have also challenged readers to respond with their favorite Prompt to Pray and I've been blown away by the response and the unique and fabulous prompts they have introduced to me.
Connect with Monica McConkey: