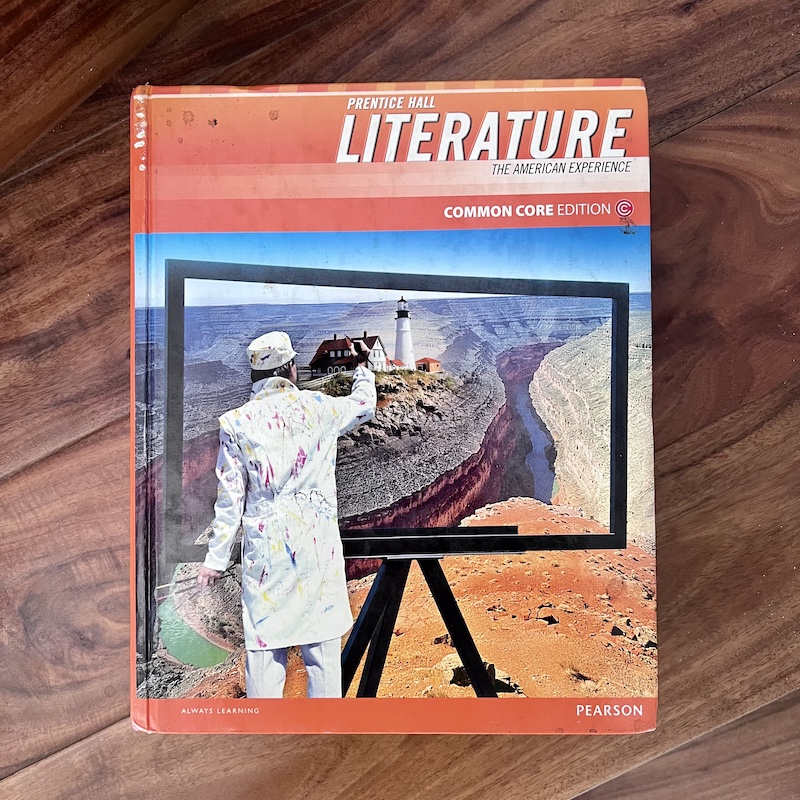 I feel like today's post should begin with a heartfelt apology to my high school Junior Year AP English teacher, Brother Aquinas. Despite his best efforts to teach a rigorous curriculum and to expose us to a breadth of literature, I walked away with far too little knowledge. More interested in long chats on the phone with my boyfriend, I cliff-noted way too many of the masterpieces we were supposed to read that year. As a result, years later, there are far too many classics that I've never really read.
Last week, while speaking at a conference for educators here in Los Angeles, I found myself stationed in what appeared to be the Junior Year Literature teacher's classroom. I surmised this fact for myself based on the literature textbooks tucked neatly into the desk's baskets. On a long break between sessions, out of curiosity, I pulled one of the orange books from its bin and began perusing the table of contents. By the end of the break, entranced with the many stories I'd heard of but never personally read, I ordered a used copy of the book on Amazon.
This year, one of my big goals has been to "read more". As a point of fact, I should clarify that by "reading" I also mean listening to audiobooks while I drive, walk, or do work around the house. As of this morning, I just completed my 47th book of the year: The Grapes of Wrath. Honestly, I don't know if Steinbeck's Pulitzer Prize-winning classic was on my syllabus for Brother Aquinas' class, but I really shouldn't have waited until I was 59 to read it. Since I had not spoiled the ending for myself, I sat in a stupor as I listened to the last few paragraphs. I'm still struggling to come to terms with so many things in the story. It seems as relevant in today's society as it likely was when it was published in 1939. It's definitely one of the many audiobooks I've listened to that will become hard copies I keep in my personal library.
Literature Redux. @LisaHendey talks lifelong learning and why she bought a new/used high school literature textbook. What interests you now that you totally neglected in the past?
Click To Tweet
While the nearly 500 pages of this book would have been lost on Junior Year Lisa, 59-year-old Lisa has an ever-growing hunger for lost treasures like this. Today, my new/used Literature book arrived in all of its glory offering me 1467 pages (plus glossary and appendices!) of storytelling glory. I won't revisit Steinbeck until page 758, where "The Turtle" is excerpted from The Grapes of Wrath. Working my way through so many pages will take me months, if not years. I'm excited to read the textbook on my own terms and to ponder its pages as they come to me.
My new textbook and this experience of realizing how much I've missed out on have me hungry to learn not only about literature but the other areas of my education where my non-academic interests trumped what was being offered to me. Will I buy a Biology book to learn a subject I've studiously avoided for six decades? Who really knows?
Learning is and rightly should be a lifelong prospect.
To that end, I'm going to open the combox today and ask you what you'd study again–or the first time–if you found a patch of time. What interests you now that you totally neglected in the past? How might you consider a subject differently than you did as a teen or young adult? What would you "redo" if you had the chance?