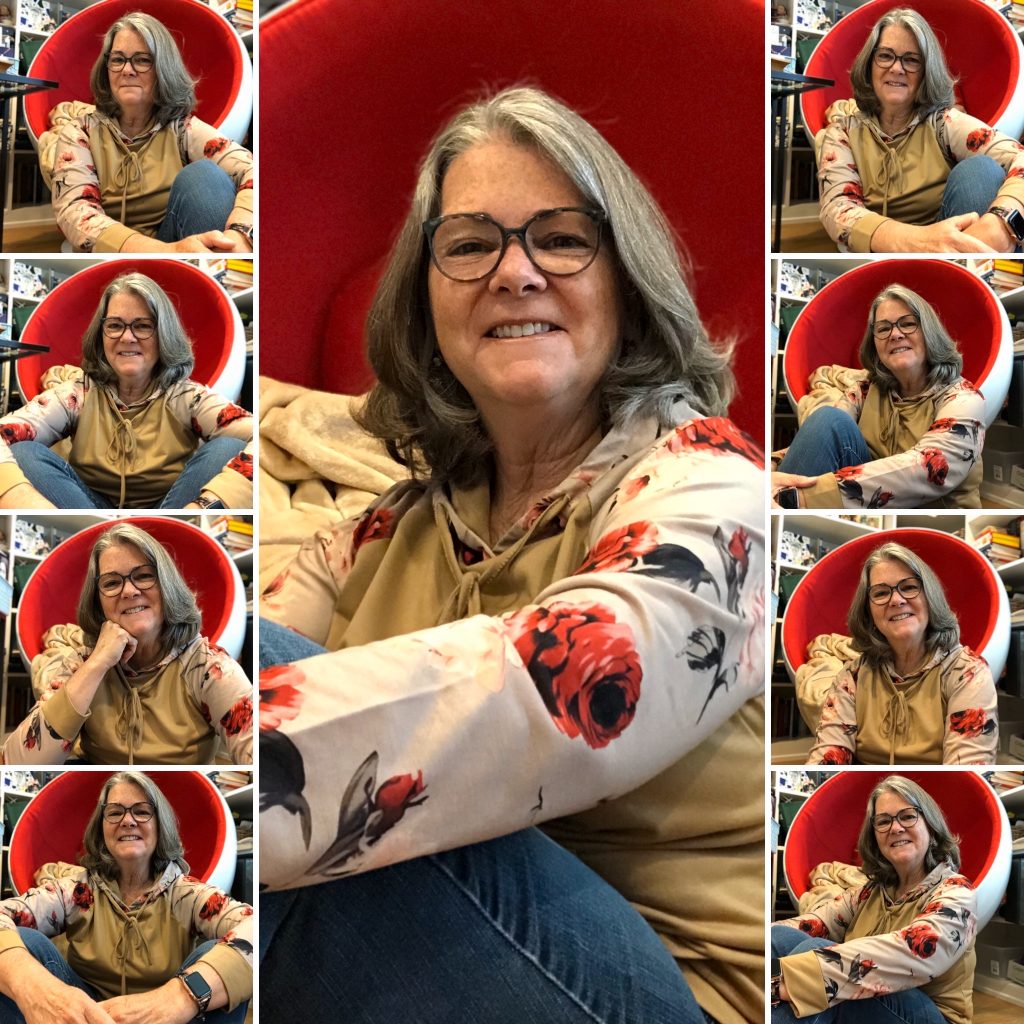 Why did I decide to call this little weekly post my "update from the ball chair"? The past several weeks have given me an increased appreciation for the diverse functionality of my home office. I'm blessed to have my own space in our tidy little LA house. My office is part library, part workout studio, part home workspace, and part sanctuary. When we moved in, I claimed the office because it has beautiful bay windows that look out over the front lawn and offer lots of natural light.
The first upgrade to my office was a floor to ceiling bookcase unit that houses my "library". In reality, all of my books don't fit on those shelves and I'm constantly swerving around stacks of new reads and taking beloved old friends off of the shelves.
An update on this week's work and upcoming fun from @LisaHendey
Click To Tweet
The second upgrade–and the one that has brought me the most joy–was the addition of my beloved "ball chair". We saw one in a fancy LA designer store, but it was out of my price range. I happily found a replacement online and we ordered it before checking to make sure that it would fit through the 1937 doors of our home. Blessedly, it just barely did. The ball chair is where I do a lot of my writing. It's where I go to pray in the middle of the night when I have insomnia. It's where I screen new films (the acoustics are awesome!) and where I do a lot of my writing. In the age of sequestration, the ball chair is where I sit most nights when I read my parents their "bedtime story" over Alexa. It's a place of peace. And God knows we need all of the peace we can muster these days.
It's been a relatively busy week, so here are some of my latest updates:
Storyteller Read Aloud

– On Tuesday, 4/21 at 11 am ET, I'm joining my friends at Paraclete Press for a FREE read aloud webinar of my children's book

I Am God's Storyteller

.

Register for the webinar here

, even if you can't attend live. If you register, you'll receive a link to view the YouTube video of the storytime.

Secrets of Disney

– On our latest episode of the Secrets of Disney podcast, we discuss the furloughs of Disney staff and share a few picks that we're enjoying on Disney+.

Listen here

.

CatholicMom.com Webinar – I'm delighted that even though we had to cancel our in-person event, our CatholicMom.com "Day of Mercy" will now be taking place as a free online series of brief webinars. You can register for the first event being held on tomorrow, featuring Fr. Willy Raymond, here. Register for my FREE webinar, being held on 4/28 here.
Adam Hendey Fans – My favorite musician, Adam Hendey, unveiled a brand new composition today at his Patreon page. For as little as $5 per month, you can support a creative soul and gift yourself the joy of some beautiful music. More here.
A question for you: Do you have an equivalent of my "ball chair", a spot that's just for you? If not, why not make this the week you carve out a tiny sliver of space that can become your creative corner and your place of refuge?