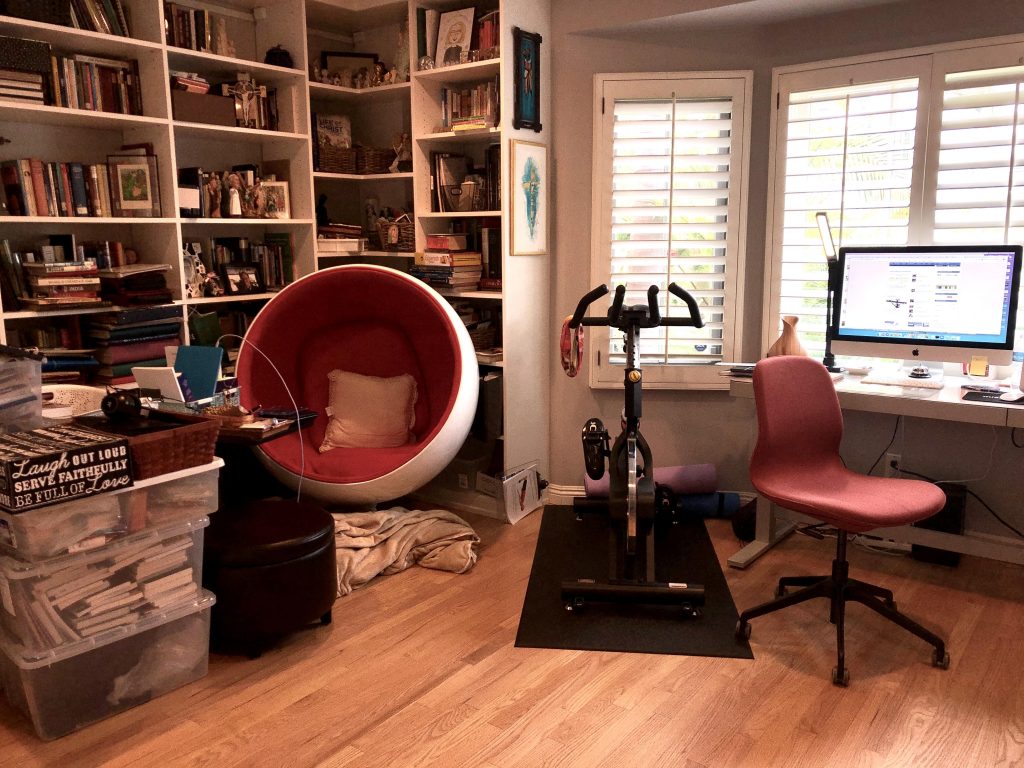 Hi friends! I hope this little post finds you well and at peace after our completely unusual Easter celebration. I have been musing since we began sequestering ourselves a few weeks ago about the best possible way to communicate with those of you who have been so supportive of my work. To be honest, I've been a bit of a mess. As such, I've tried to spend a few weeks being "quiet" to get my head and my heart right. All around me, I see my fellow "workers in the vineyard" creating lovely resources that are designed to help all of not only survive this time of social isolation but also to help us thrive.
A new update from @LisaHendey on life and work... Update from the Ball Chair!
Click To Tweet
I've tried a few things myself as well. But, to be honest, the results were leaving me not uplifted, but rather a bit depressed. So I "pulled the plug" and spent last week trying to regroup a bit. Holy Week offers us that beautiful opportunity to seek solace in silence as we draw near to the Cross in anticipation of Easter's glory. I kept thinking to myself, "If you have nothing helpful to say, then say nothing." 
I'm still not sure I have anything "helpful" to say. But I did wake up this morning realizing that my work continues and that there are things I want to share with you. So I've decided for the time being to start a little weekly "update" to summarize in one place some of the most important news related to my work. I was inspired by my awesome son Adam, who recently started a patreon page to support his work as a musician. On his page, Adam has been sharing regular updates about his work. I love reading those each week!
(OK, yes, this is a motherly "plug"! Find and support Adam Hendey here…)
So here, in no particular order, are some of the things that are happening in my office this week. I'm calling this "Update from the Ball Chair" because my red office orb is one of my favorite places to work these days.
Wow, seeing all of this summarized in one spot makes me realize that I've actually been up to more than just snuggling under a weighted blanket in the ball chair. I hope you find this roundup helpful and that you'll keep my work in your prayers. More importantly, please join me in praying for all of our elders (like my parents) and all of our front-line employees and health care workers (like my husband) this week. I'd love to hear what's up in your life, so feel free to leave me a comment, prayer intention, or cup of coffee (or something stronger) below.
A question for you: Have you felt the need to be "productive" during this time, or are you simply trying to get through day-by-day (like me!)?