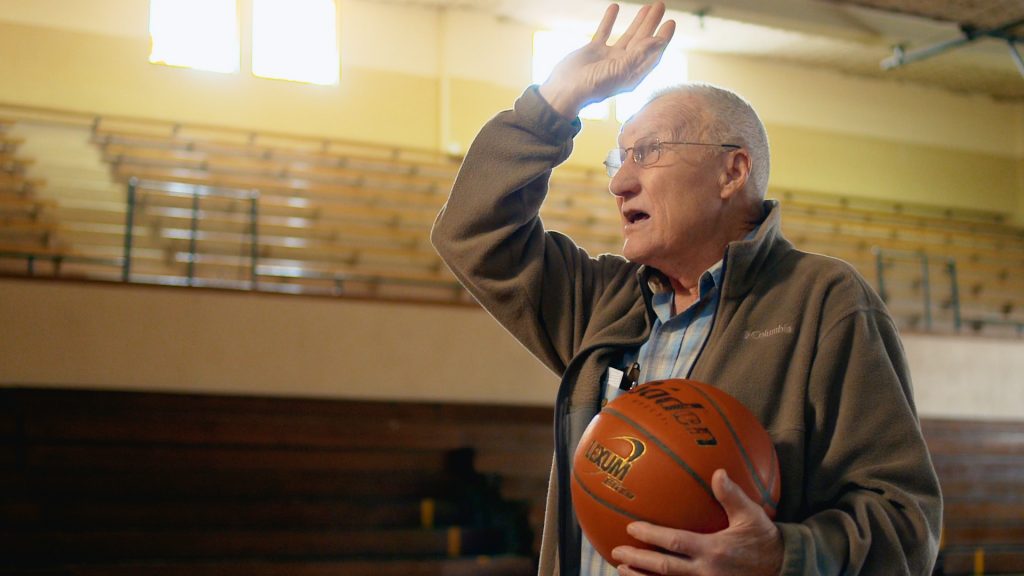 Although the COVID-19 pandemic has shuttered theaters and waylayed plans for its theatrical release, Jump Shot–like it's subject matter–isn't giving up. The documentary, opening across streaming platforms today, tells the little known story of basketball icon Kenny Sailors.
What, you've never heard of Kenny Sailors?
Well, it turns out you're not alone. Mr. Sailor's story of developing and refining the "jump shot" that transformed the game of basketball is a tale that hasn't been told much outside the states of Wyoming and Alaska where he played, coached and quietly raised his family. But this film now endeavors to posthumously shine a spotlight on a humble man who never sought it for himself, and its timing couldn't be more perfect.
Synopsis:
Jump Shot uncovers the inspiring true story of Kenny Sailors, the proclaimed developer of the modern-day jump shot in basketball. He defined the game, but only now is he ready to share his thoughts on why the game never defined him.
Timely
I settled on my couch to screen the film, inviting my basketball-loving husband Greg to join me. I'd already quizzed my dad, a sports aficionado, who disavowed any knowledge of Sailors. Daddy was convinced that someone at Stanford was behind the jump shot. Greg, equally as uninformed, was just ready for anything basketball related. I myself wasn't really sure what to expect.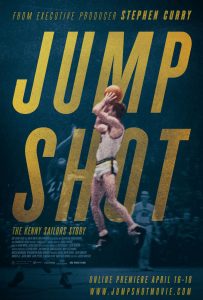 What I witnessed transfixed me. Equal parts sports memorabilia, history lesson, and inspirational storytelling, Jump Shot has something for everyone.
Those who love the game will enjoy the testimony of Steph Curry, Kevin Durant, Dirk Nowitzki, Clark Kellogg, Bob Knight, Lou Carneseca, Kiki Vandeweghe, Nancy Lieberman, Chip Engelland, Tim Legler, Fennis Dembo, David Goldberg and others who introduce us to Kenny Sailors and his legacy. Curry, who also serves as an executive producer on the project, is especially gifted at sharing just how much Kenny's shot has impacted players for decades.
History buffs will enjoy the way in which Jump Shot places Sailors' life amidst a ninety-five-year span of time and across a broad swath of our country, including the mountains of Wyoming, the bright lights of Madison Square Garden, the South Pacific during the Second World War, and the wilds of Alaska.
If you're someone whose simply interested in the art of storytelling, Jump Shot is for you too. Writer-Director Jacob Hamilton and Thaddeus D. Matula blend archival photography and video with Sailor's firsthand perspective, family sharing and those who love the game with brilliant effect.
Check out @LisaHendey's review of @JumpShotMovie a basketball story filled with hope, motivation and life lessons featuring @StephenCurry30 and a host of other basketball greats. #JumpShot streams through Sat for #COVID19 relief
Click To Tweet
As I watched, I was struck by how much we have to learn from our elders, yet how infrequently we quiet ourselves to really listen to their wisdom. Kenny Sailors didn't seek to have his story told. But I'm convinced we are all better for having heard it. While we may not all know someone whose basketball prowess revolutionized the game, we all have a Kenny Sailors in our life: someone whose life experiences can serve as a motivational force in our own. In one poignant moment near the end of the film, Sailors describes his own "final four": God, husband, father, Marine.
Someone who was still dribbling a basketball well into his nineties is exactly the kind of sports icon I need in my life. More importantly, as an American hero, a devoted husband and father, and a man of true faith, Kenny Sailors is the perfect teacher and coach who can help us survive the struggles we currently confront.
Jump Shot is set for a special digital release on April 16-18 with 10% of revenue going toward COVID-19 relief efforts. Visit JumpShot.com to screen the film.