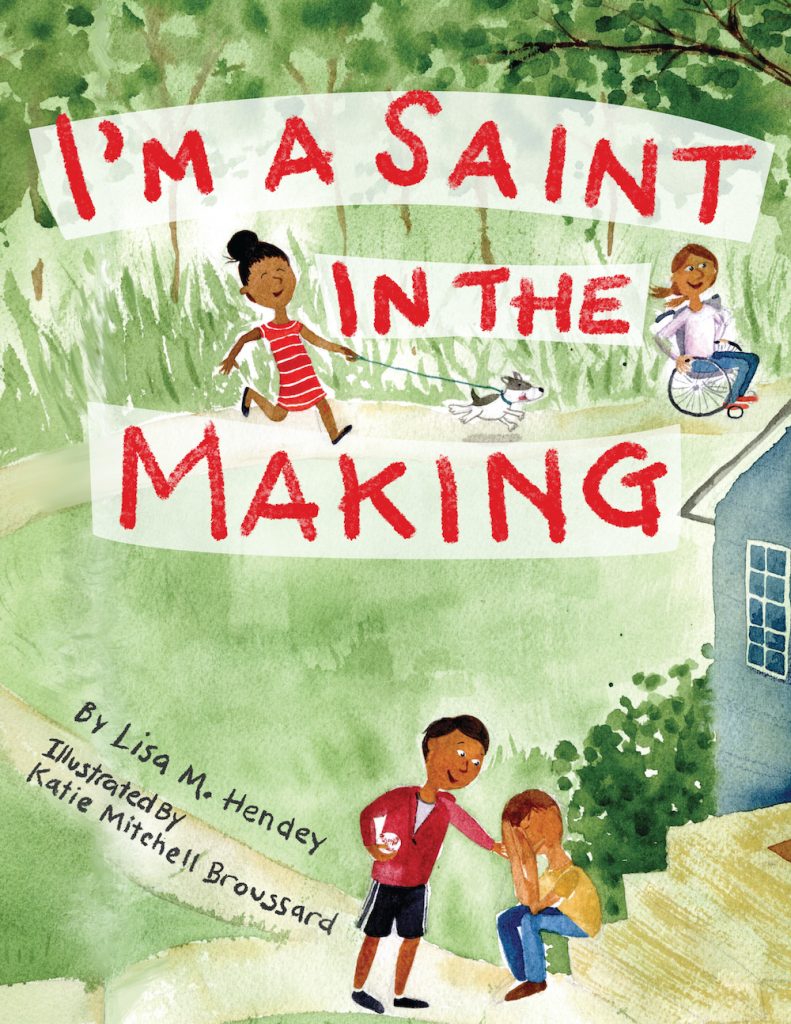 Today, I'm delighted to invite you to a fancy red carpet premiere! Go ahead and don your fancy dress or suit. Touch up your lipstick and get your best selfie smile worked out. Here's a virtual box of popcorn and some Red Vines (my theater treat of choice!)
But seriously, I'm super psyched to give you a look at the "Official Book Trailer" for my soon-to-be-released book, I'm a Saint in the Making.
For this project, I'm delighted to have had the opportunity to work with gifted illustrator Katie Mitchell Broussard. Katie's work caught my eye when I interviewed her about her delightful book Audacious Ignatius. When my awesome publisher Paraclete Press asked for my input on potential illustrators, Katie was at the top of my list. I'm delighted that she was able to take on the project. Her art truly brings the message of the book to life.
Check out a brand new book I'M A SAINT IN THE MAKING coming soon from @LisaHendey @ParacletePress as the official trailer premieres today! #SaintInTheMaking You're a saint in the making too!
Click To Tweet
In I'm a Saint in the Making, our desire is to truly encourage every reader to know that they are uniquely created for a special mission: to share God's love with the world around them. We've shared the stories of saints in the past to offer examples, but I also love that we encourage children to take the simple, everyday steps they can to be "Prayer Champions" and "Role Models" for those around them. I hope this is a book that you'll want to share with your own family, with children you love, and with your church or classroom.
About the Book:
God has a special mission for each of us! With engaging prose and delightful illustrations, I'm a Saint in the Making reminds children of their unique call from God to live with mission and love. By recounting the highlights of the stories of both well-known and newer saints (including John Paul II, Mary MacKillop, Augustus Tolton, Teresa of Calcutta, Juan Diego and Chiara Badano) in relatable lessons, the book helps readers learn that there is no one single way to live a life of sanctity. I'm a Saint in the Making offers simple but impactful suggestions for ways children can offer acts of prayer, service, and love. Resources for parents, teachers, and caregivers at the end of book provide support for adults as they seek to encourage and accompany their young saints in the making.
The book officially launches on October 6, but you can provide a great vote of support for our work by pre-ordering at Paraclete Press, at Amazon, at Barnes & Noble, at Bookshop, or by letting your favorite Catholic bookstore know that the book is coming soon! Pre-orders greatly help online vendors know that a book will be well received.
I'll be sharing some exciting news soon about how you can share this book virtually or in person with the saints in the making in your life! But for today, I hope you enjoy watching the book trailer and that you'll consider sharing it on social media. Remember to tag us @LisaHendey and @KatieBroussard and use #SaintInTheMaking to encourage others along their own mission of love.
Thank you for sharing our joy and excitement!
Pre-order today at Paraclete Press, at Amazon, at Barnes & Noble, at Bookshop