As a big fan of National Geographic's Genius anthology scripted drama series, I was delighted to learn that the third season will focus on the life and legacy of the "Queen of Soul" Aretha Franklin. Having screened all but the final of the eight episodes, I'll just say that if you are a music fan or someone who loves a good story, you'll want to clear your calendar and set your DVR when the series drops on Sunday, March 21 for four consecutive nights of double installments.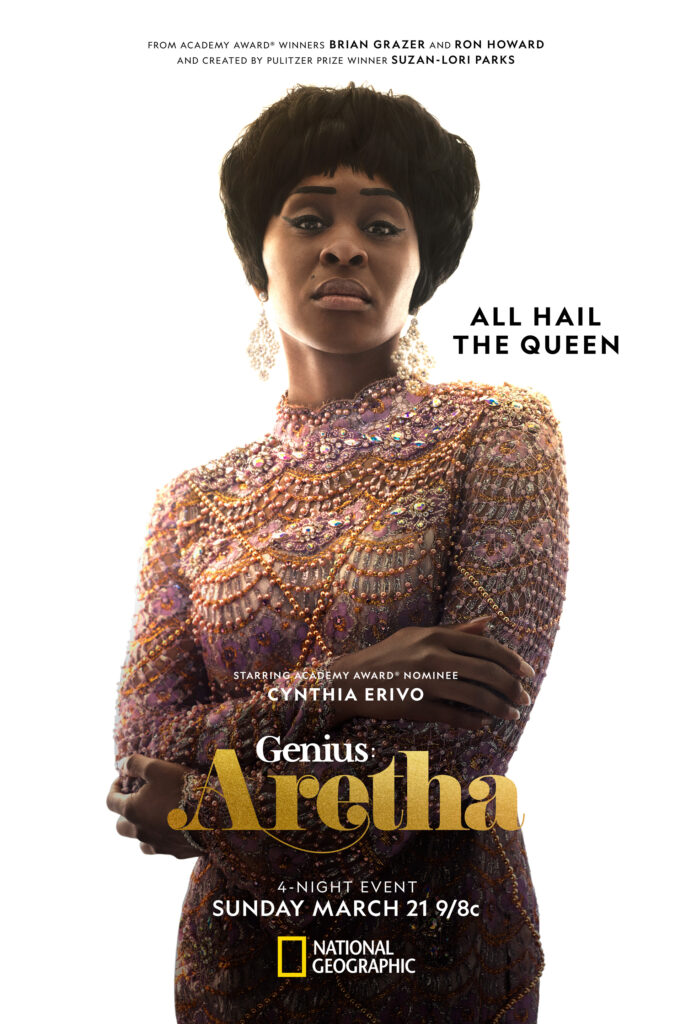 Synopsis:
GENIUS is an Emmy-winning anthology series that dramatizes the fascinating stories of the world's most brilliant innovators, their extraordinary achievements and with their volatile, passionate, and complex personal relationships. This season will explore Aretha Franklin's musical genius and incomparable career, as well as the immeasurable impact and lasting influence she has had on music and culture around the world. Grammy Award winner Franklin was a gospel prodigy, an outspoken civil rights champion, and widely considered to be the greatest singer of the past 50 years, receiving countless honors throughout her career. Franklin will be portrayed by the triple threat Tony-, Emmy- and Grammy Award-winning Cynthia Erivo ("Harriet, "The Color Purple") and Emmy-winning Courtney B. Vance will play Aretha's father, C.L. Franklin.

Source: National Geographic
I was in the audience in a pretty choice seat on September 26, 2015 when Aretha Franklin belted out an almost ten-minute rendition of "Amazing Grace" for Pope Francis at the "Francis Festival" at the World Meeting of Families. I recall her taking the stage backed by a full gospel choir. She sported a glitzy white dress, high heels that didn't slow her dance moves, and a full-length fur coat. Aretha "took us to church" that night, literally. As much as I remember the performance and her singing, what most disappointed me was that, unlike the other performers with whom she shared the stage, she never turned and acknowledged the Holy Father who was seated immediately behind her. I've read in news accounts that she later acknowledged this and apologized, but that memory stayed with me.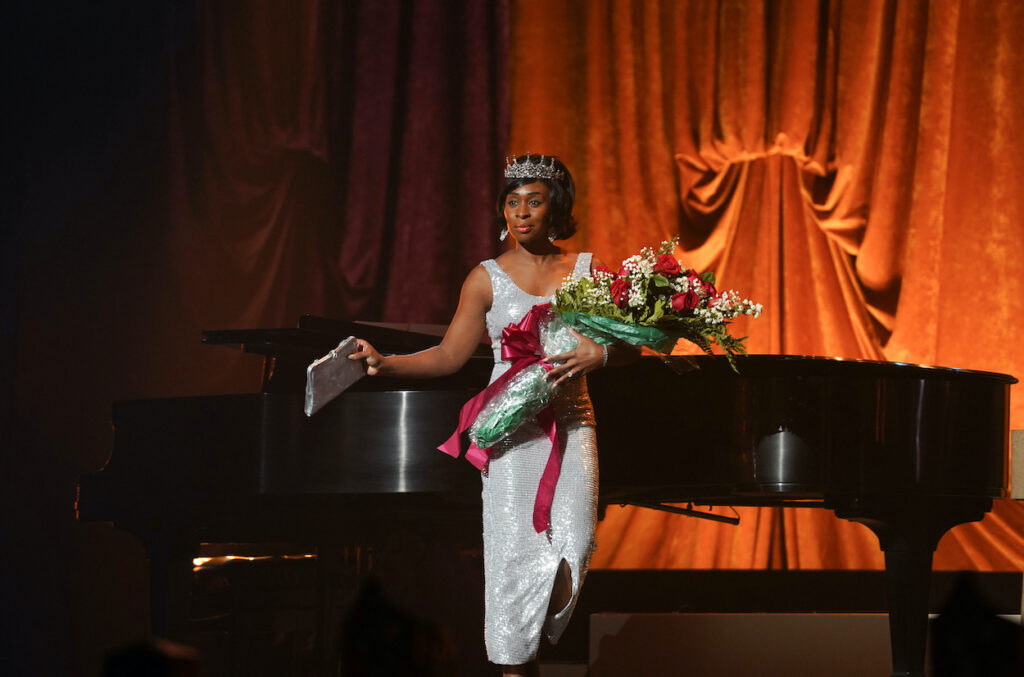 So when I learned that the newest season of one of my favorite series would focus on her life, I wasn't really too excited about a drama on a Diva. I'm truly glad that the casting of Cynthia Erivo ("Harriet, "The Color Purple") in the title role piqued my interest. Aretha's is a story that deserves to not only be told but also to be celebrated. Even after having spent several hours immersed in her life, I'm still perplexed but much more understanding about some of the attitude I witnessed that night in Philadelphia.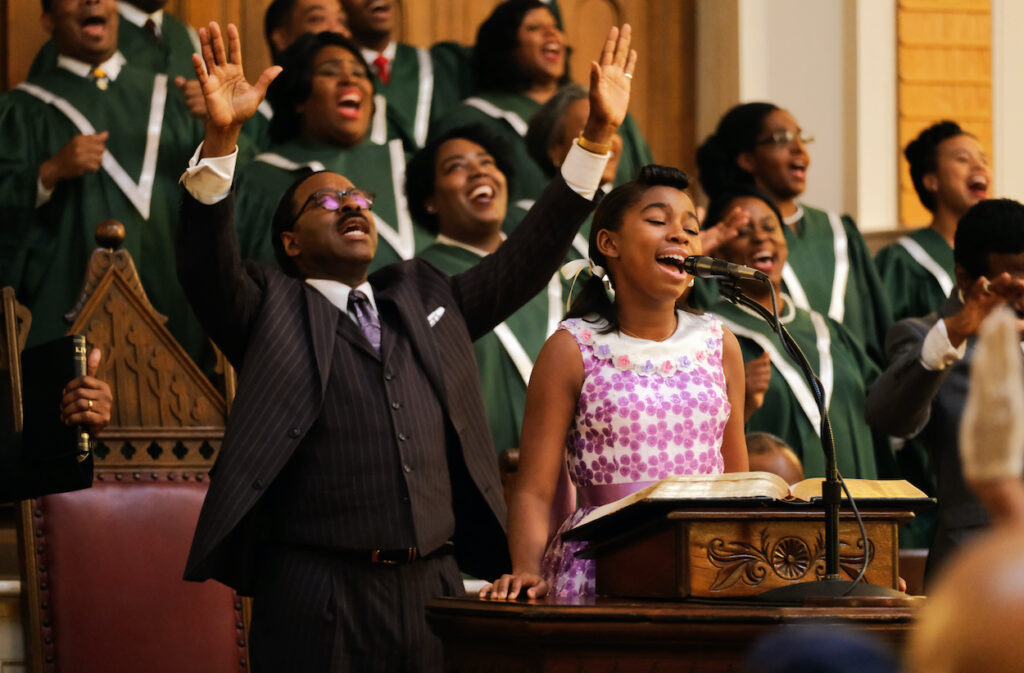 Genius: Aretha offers many compelling reasons to watch: incredible music, phenomenal costuming and period production, captivating cinematography, and an interesting if at times confusing retelling of Ms. Franklin's history. As with any dramatic retelling, there seem to be liberties taken and corners cut. Along with Erivo's brilliant turn, Courtney B. Vance is captivatingly unlikable as the Reverend C.L. Franklin. My favorite performance in the series is delivered by Shaian Jordan as "Little Re". Jordan is most definitely one to watch as her career develops. She captures young Ms. Franklin's childlike innocence and complicated Daddy issues, but also her early drive and ambition.
Launching tomorrow on @NatGeoTV @NatGeoGenius #GeniusAretha is compelling storytelling. @LisaHendey looks at the 8 part series and calls it must watch not only for music fans, but for anyone looking to understand the complex genius of…
Click To Tweet
That Aretha Franklin was able to move beyond her father's unspeakable treatment of her mother (and many other women), a pregnancy when she was only twelve years old, spousal abuse, and her stalwart commitment to making her own brand of art through her music even when it was not commercially popular is a testament to her brilliance. This series, intended for mature audiences, rightly places Ms. Franklin as a noteworthy historical figure and does a terrific job bringing her gifts and talents to a new generation ready to seek and find role models and geniuses who break previous molds.
From 20th Television and Imagine Television, this new season will premiere in the U.S. on the channel with double-stacked episodes across four consecutive nights, beginning on Sunday, March 21, at 9/8c. The premiere episodes will be available the next day on Hulu, culminating in a celebration of Aretha Franklin's birthday, with all eight episodes available to stream by Thursday, March 25.