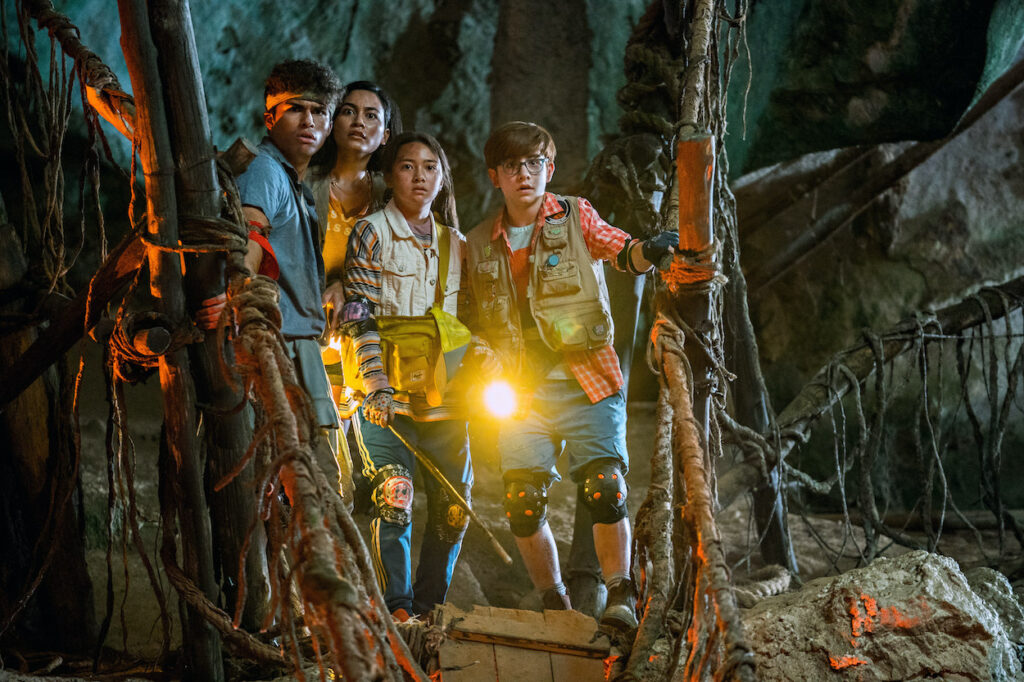 Within the context of Hawaiian culture, "Ohana" means "family". But just as in the rest of the world the concept of "family" is always evolving, the film FINDING 'OHANA, releasing today on Netflix, shows that one's 'Ohana is never really a static concept. If this year has taught us anything, it's that family is much more than those with whom we share a supper table. Families grow and shrink. The luckiest of us know that "family" is as much a state of mind as a biological fact.
FINDING 'OHANA is a family-friendly action-adventure that invites us to examine our own ideas about "family" and to perhaps dig deeply to reconcile old hurts that may separate us from loved ones. Reminiscent of the movies my own family used to pile into the local theater to see together on Saturday afternoons when Daddy gave Mom a break, this two-hour-long romp feels like equal parts The Goonies, Indiana Jones and the Temple of Doom, and any of the Pirates of the Caribbean franchise.
Synopsis:
Geocache champion Pilialoha "Pili" Kawena, age 12, is abruptly lifted from her busy New York life and dropped into rural O'ahu to help care for her grandfather. Initially skeptical about her new surroundings, Pili finds a cryptic pirate's journal in her Papa's studio hinting at a 200-year-old shipwrecked treasure hidden away in the island's caves and mountains. With her older brother and new friends in tow? she uses her clue solving skills to lead them on an adventure of a lifetime through the natural wonders of Hawai?i. As she learns to respect and love her native culture she also discovers not all secrets should be shared and that the real treasure in life is 'ohana – her family.

Courtesy: Netflix
Kids who love adventure will immediately gravitate to Pilialoha "Pili" Kawena, played with spirit by newcomer Kea Peahu. In Pili, we find a strong girl who despite having never really known her father and being raised by a single mom, is both scrappy and smart. When Pili's maternal grandfather Kimo (Branscombe Richmond) suffers a heart attack, her mom Leilani (Kelly Hu) drags her and her brother Ioane (Alex Aiono) back to the home she left when newly widowed. While Pili would far rather be off at geocaching camp in the Catskills, she soon discovers a hidden journal with a mystery that unlocks her appetite for hidden treasures.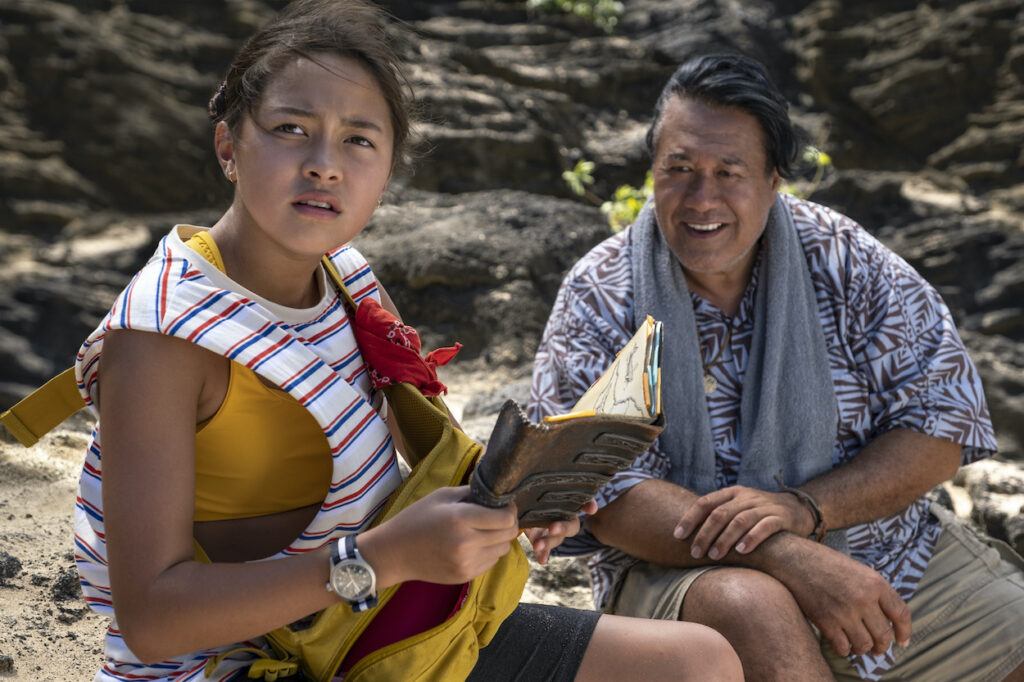 What follows is a series of clue-following, pulse-racing moments that put Pili and Ioane and their sidekicks Casper (Owen Vaccaro) and Hana (Lindsay Watson) fully in control of their own destinies. Along the way, we have fun with Casper's quirky, diabetic-cat-walking personality and discover Hana's beautiful voice and her seemingly-impossible dream of attending The Juilliard School. This fearsome foursome must work together to find the ultimate treasure and discover that "'Ohana" means much, much more than they could have ever imagined.
One of my favorite moments in the film may not be so popular with young viewers, but the tender father-daughter reconciliation between Leilani and again-hospitalized Kimo underscores both the film's primary theme and Director Jude Weng's desire to be respectful of and authentic to native Hawaiian culture. I could have done without a few of the film's sassier moments between the kids, including a few too many uses of the word "nips", but their banter is actually pretty fitting for the subject matter.
Don't miss @LisaHendey's review of the family-friendly @Netflix film #FindingOhana now streaming. Hawaiian culture, great homages to classics and a sensitive look at what family really means!
Click To Tweet
For most families, FINDING 'OHANA will provide a wonderful glimpse into both a fun story from writer Christina Strain and a bit of education on a culture that is a mystery for many of us. There are a few jump scares along the way that may frighten youngsters and a recurring reference to traditional Hawaiian spirituality including the very scary "Night Marchers" that may need to be fodder for deeper conversation with older children.
Without giving away any spoilers, I'll simply say that we need more projects like FINDING 'OHANA for our families. Films that help us to laugh and cry together, to help solve mysteries, and especially to draw closer to the real meaning of "'Ohana" are a gift.
FINDING 'OHANA is rated PG for language, crude references, adventure action and some suggestive comment and opens on Netflix today.