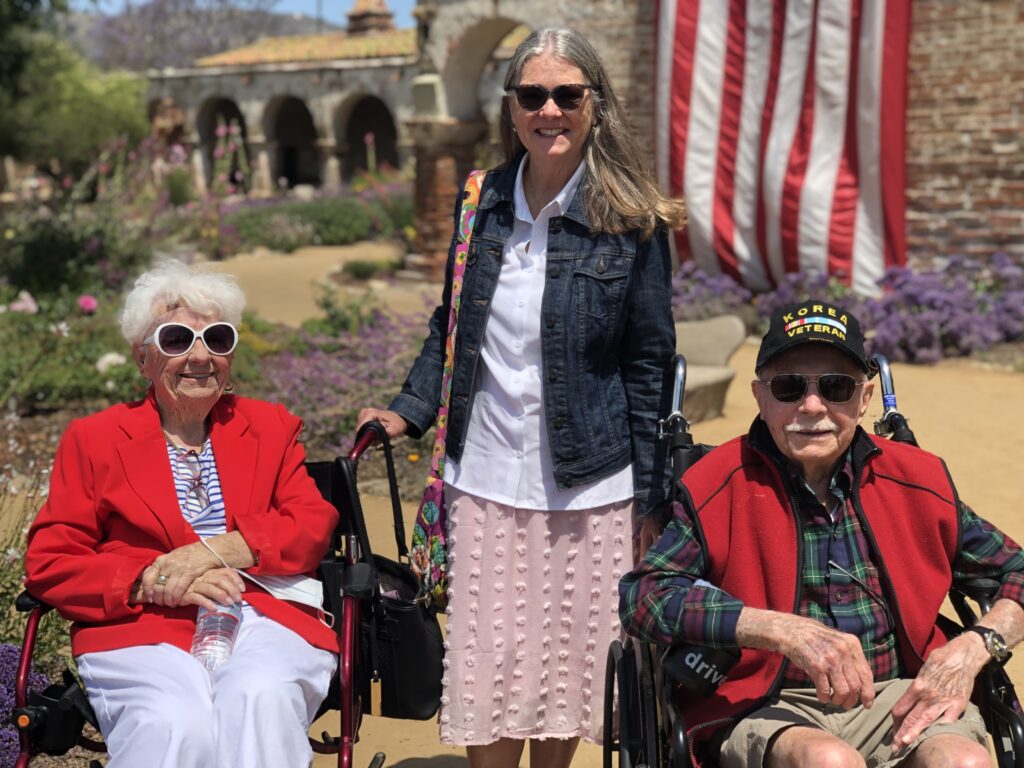 Yesterday, I had the distinct honor of attending the opening of the  2021 Field of Honor® at Mission San Juan Capistrano. Having grown up in Orange County, I fondly remember family visits to the Mission. But it's been years since I've been back to the historic site founded by Father Junipero Serra as the seventh of the California missions in 1776.
I went in knowing relatively little about the Field of Honor. Following a three-year hiatus, Homefront America partnered with the Mission to bring to life this display of over 350 flags each paying homage to our military, veterans, and first responders (past and present). After a lovely drive south, I entered the mission grounds and was immediately overcome by a beautiful sense of peace. The day felt like both a retreat and a fitting start to Memorial Day Weekend when we remember the men and women who died while serving in the U.S. military.
Along with the opportunity to attend the ceremony came the great chance to hear the ringing of the Mission bells, a treat reserved only for very special occasions. I was also honored to meet Mamie Yong Maywhort, Founder & President of Homefront America. As Mamie spoke, it was clear that the Field of Honor is for her a true passion project. Each of the flags bears a card with the image and story of an honoree. Among those I enjoyed speaking with was Robert "Bob" Nietzel, who served our nation in the Korean War and recently accepted the Medal of Honor awarded posthumously to his cousin Alfred B. Nietzel by President Obama.
Join @LisaHendey for a #MemorialDay visit to the Field of Honor® at Mission San Juan Capistrano @MissionSJC – a touching display of storytelling to remember the lives of those who have served our country with courage and distinction.
Click To Tweet
If you live in Southern California, it's well worth a trip to the Mission this weekend to participate in the Field of Honor and also enjoy the many educational and cultural exhibits at the historic landmark. Mission San Juan Capistrano is not typically open Monday, but it will be this weekend so that many may come and honor our fallen veterans and other heroes at the Field of Honor. Find ticket information at the Mission San Juan Capistrano website.
A question for you: Do you have a loved one who has served our country? Feel free to share their first name in the comments below so that I can join you in praying for them this weekend.