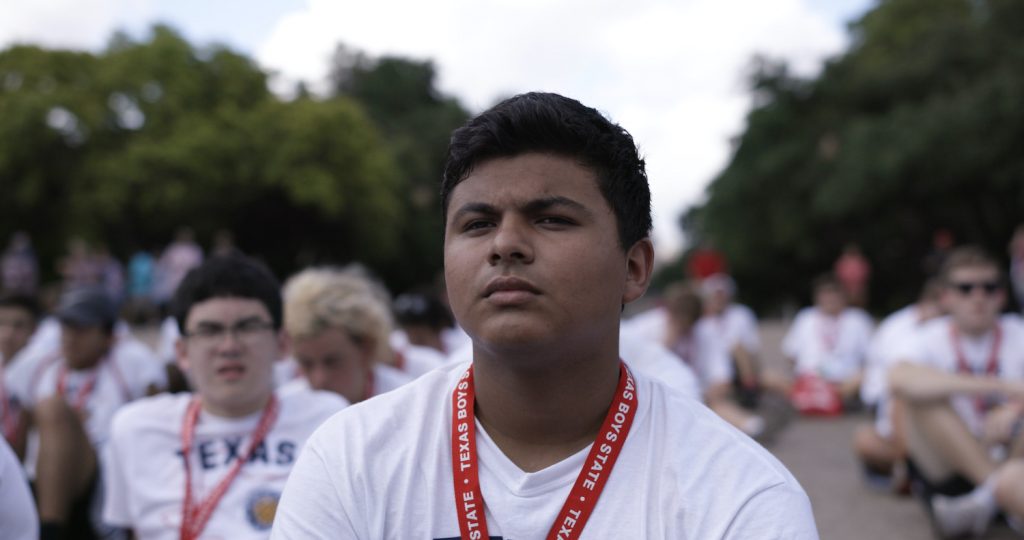 Documentary is currently my favorite film genre because it lends itself so neatly to the art of storytelling. But one falls into error when believing that simply because it is a documentary, a film will tell absolutely truths. Such seems to be the case with Boys State, an A24 production launching August 14 on Apple TV+. A timely, well-crafted narrative, Boys State also exhibits some of the biases that create political divisiveness that can be crippling.
Synopsis:
The sensational winner of the Grand Jury Prize for documentary at this year's Sundance Film Festival, "Boys State" is a wildly entertaining and continually revealing immersion into a week-long annual program in which a thousand Texas high school seniors gather for an elaborate mock exercise: building their own state government. Filmmakers Jesse Moss and Amanda McBaine closely track the escalating tensions that arise within a particularly riveting gubernatorial race, training their cameras on unforgettable teenagers like Ben, a Reagan-loving arch-conservative who brims with confidence despite personal setbacks, and Steven, a progressive-minded child of Mexican immigrants who stands by his convictions amidst the sea of red. In the process, they have created a complex portrait of contemporary American masculinity, as well as a microcosm of our often dispiriting national political divisions that nevertheless manages to plant seeds of hope. (courtesy Apple TV+)
There's a line in Boys State that feels as though it's been directly plucked from today's tension-filled political atmosphere:
"A message of unity, as good as it sounds, it not winning anyone any elections."
This sentiment, spoken by one of the young men spotlighted in Directors Jesse Moss' and Amanda McBaine's look at the 2018 Texas Boys State experience, could well have been spoken by any number of our currently elected national leaders. As I sat watching the film, I couldn't help but wonder if the leaders depicted here might just be duking it out thirty years from now for presidential nominations rather than the resume-boosting credentials they chase at the annual American Legion sponsored extracurricular.
There is much to love about Boys State. We meet and are drawn toward an interesting mix of main "characters". Steven, the underdog Governor candidate, Ben Feinstein, the anything-goes party chair, and Robert MacDougal, who seeks office with the ferocity of a quarterback seeking a starting position, are just a few of those profiled. As a mother of sons, it was easy for me to spot the stereotypes of the young men, but hard to avoid choosing my favorites. In many ways, Boys State plays like a teen drama complete with mean kids, party pranks, Hail Mary pass moments, and even a drumline thrown in for good measure.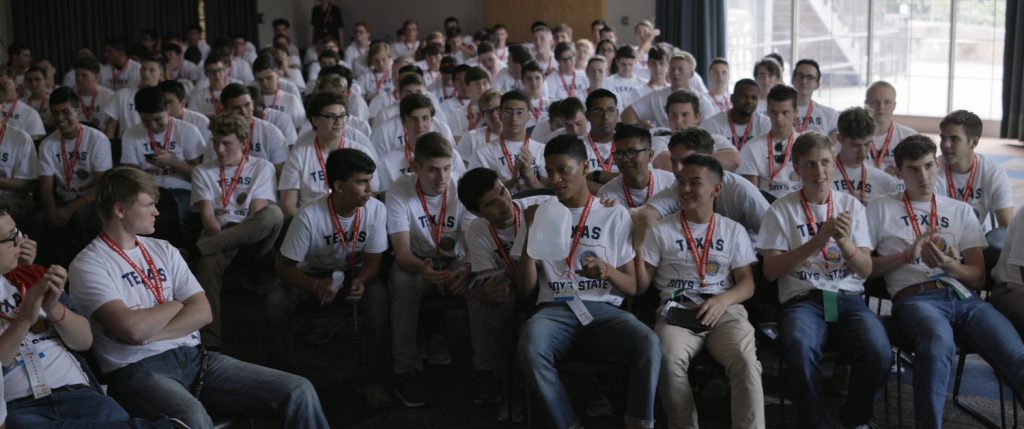 That being said, it's important to remember that as dramatic as the film is, these are real kids with real lives. I was caught up in the storytelling, but also kept having to remind myself that what felt like entertainment to me could also be life-changing–in good and bad ways–for the young men in the film. Would Rob regret advocating publicly for a pro-life agenda while admitting on film to actually being pro-choice? How would Ben's parents feel when they watched him emerge against the odds and become a bit power-hungry in the process? At times in the storytelling, the filmmakers' political agenda is only thinly veiled.
All this being said, I loved Boys State and would absolutely recommend viewing it with the teens in your life. With elections on the horizon, now is the perfect time to discuss not only faithful citizenship but also the prospect of political leadership as–first and foremost–service to one's society. I would hope that the majority of young men and women who participate in Boys and Girls State emerge not only with good fodder for college apps, but also with a sense of what it means to take on the mantle of elective office or to rally around a cause.
Lisa Hendey calls @AppleTV @BoysStateMovie a great choice for parents and teens. Check out her review @LisaHendey #BoysStateMovie A compelling documentary that's real, timely and thought-provoking
Click To Tweet
Boys State premiered at Sundance this year, where it was awarded the U.S. Documentary Competition Grand Jury Prize. While it's unfortunate that the pandemic throttled its theatrical release, I'm happy that the film is now being launched in advance of this year's political conventions and the November presidential election. I recommend watching the film twice: once, to take in the overall story and the unexpected ending and a second time to watch the characters in depth.
As one who believes that now, more than ever, a message of unity is possible and necessary, I hope and pray that change is not only something that sounds good but also that helps us all win.
Boys State releases on Apple TV+ on Friday, August 14, 2020
Rated PG-13 for some strong language, and thematic elements