I'm embarrassed to say that I only recently became aware of an important historical site in my home state of California. On our recent trip to Fallen Leaf Lake (which has a story all its own), Greg and I made a visit to the Manzanar National Historic Site.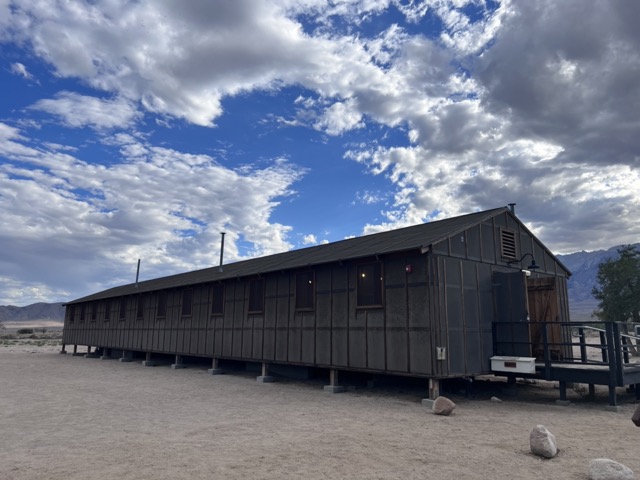 In 1942, the United States government ordered more than 110,000 men, women, and children to leave their homes and detained them in remote, military-style camps. Manzanar War Relocation Center was one of ten camps where the US government incarcerated Japanese immigrants ineligible for citizenship and Japanese American citizens during World War II.

National Park Service
While living in Fresno, I had heard of the site through the book Farewell to Manzanar, a first-person account of life in the internment camp by Jeanne Wakatsuki Houston. But I sadly never made time to read it or to learn about the incarceration of Japanese immigrants and Japanese American citizens. Adapted for film in 1976, the book offers a look inside one family's experience at the center. In it, we experience camp life through Jean's eyes and hear about the rest of her story. Her sharing about the camp's harsh impact on her elders, particularly her father, left me pondering how generational hurt continues for decades in some families.
I was quite interested in a portion of Wakatsuki Houston's book that spoke of the author's near conversion to Catholicism when she encountered the Maryknoll Missionary Sisters at Manzanar. The story of Sisters Bernadette and Susanna was new to me. You can rest assured that I am now digging more deeply into their lives and legacies!
Maryknoll Sisters Bernadette Yoshimochi and Susanna Hayashi were working in California when the war began. Born in Japan, both sisters were offered safety at Maryknoll headquarters in New York. However, they chose instead to accompany the people they were serving in Los Angeles. On May 16, 1942, the sisters attended Mass at 5 a.m. with others bound for Manzanar camp. Father Swift, the presider, spoke of the new mission the sisters were undertaking. Once in Manzanar, they were prisoners, coping with the hardships other internees endured. As missioners, they taught catechism, organized children's activities and kept the camp church in order. They also cared for many children classified as orphans. 

Source: Maryknoll Magazine
Visitors to the historic Manzanar site can now spend time in rebuilt exhibits that offer a look into what conditions were like for the thousands of men, women, and children who were forcibly removed from their homes. The stark but beautiful scenery of the site is a backdrop to the hardships they endured.
A Visit to Manzanar – @LisaHendey shares her visit to the @natlparkservice site at #Manzanar and the story of two @MaryknollFrsBrs sisters who served those interned at the camp.
Click To Tweet
For those who would like to learn more about Manzanar, I recommend a visit to the website of the Manzanar Committee, an organization dedicated to "educating and raising public awareness about the incarceration and violation of civil rights of persons of Japanese ancestry during World War II, and to the continuing struggle of all peoples when Constitutional rights are in danger."
My brief visit to Manzanar made me anxious to learn more about this particular era of history and those families so radically impacted by their experiences.
"The times I thought I had dreamed it were one way of getting rid of it, part of wanting to lose it, part of what you might call a whole Manzanar mentality I had lived with for twenty-five years. Much more than a remembered place, it had become a state of mind. Now, having seen it, I no longer wanted to lose it or to have those years erased. Having found it, I could say what you can only say when you've truly come to know a place: Farewell"

Jeanne Wakatsuki Houston, Farewell to Manzanar
A question for you: What historical sites are in your "neighborhood" and what have you learned by visiting them?