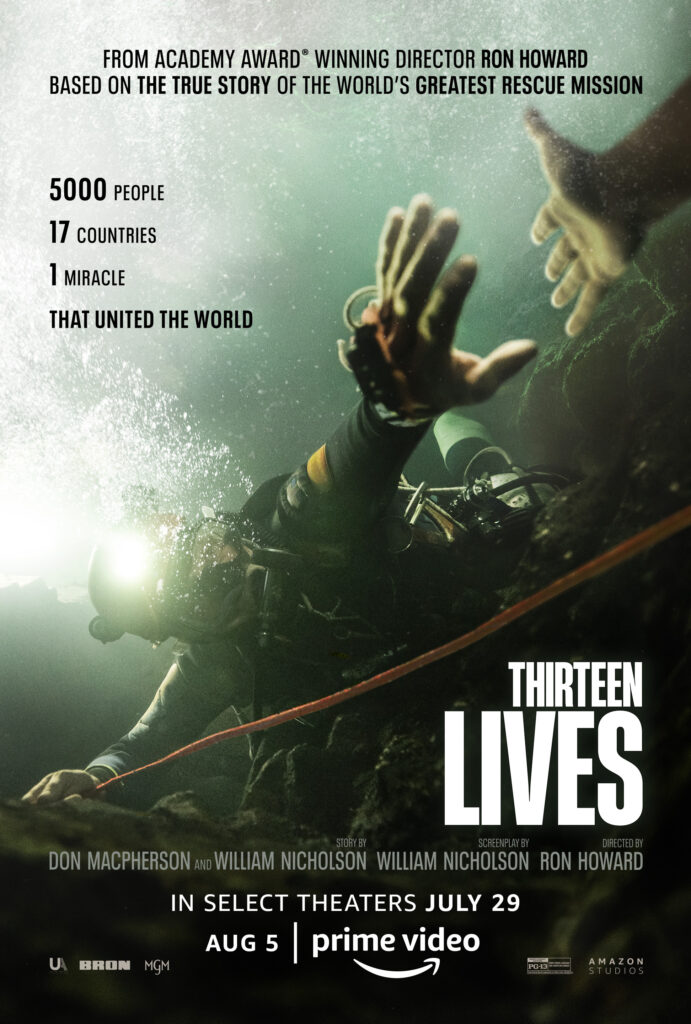 If you're seeking a movie that combines the pulse-racing excitement of a thriller with the inspirational pull of a heartfelt drama, look no further than the new Ron Howard film Thirteen Lives. This true story of the dramatic cave rescue that saved the lives of twelve young Thai soccer players and their coach is a compelling look inside a seemingly miraculous feat of heroism. Launching August 5 for home screening on Amazon Prime Video, it is award-worthy Ron Howard storytelling at its best.
Synopsis:
In the true story of Thirteen Lives, twelve boys and the coach of a Thai soccer team explore the Tham Luang cave when an unexpected rainstorm traps them in a chamber inside the mountain. Entombed behind a maze of flooded cave tunnels, they face impossible odds. A team of world-class divers navigates through miles of dangerous cave networks to discover that finding the boys is only the beginning.
Almost Too Hard to Watch – But Worth Every Cringe
To prepare myself to attend the advance screening of Thirteen Lives, I decided to do some homework. By reading up on various news accounts of the June and July 2018 Tham Luang cave rescue, I learned the basics about the twelve players ranging in age from eleven to sixteen and their courageous 25-year-old coach who went on what they believed would be a quick excursion into the cave system. Like others around the world who watched this story unfold live that year, I knew few of the details. When heavy rain arrived, the team's plans quickly went awry. They were reported missing by their loved ones, who were expecting the team to attend one of the boys' birthday celebrations. Soon, an international operation to save the boys began.
Along with reading about the rescue, I also watched the incredible Disney + documentary The Rescue.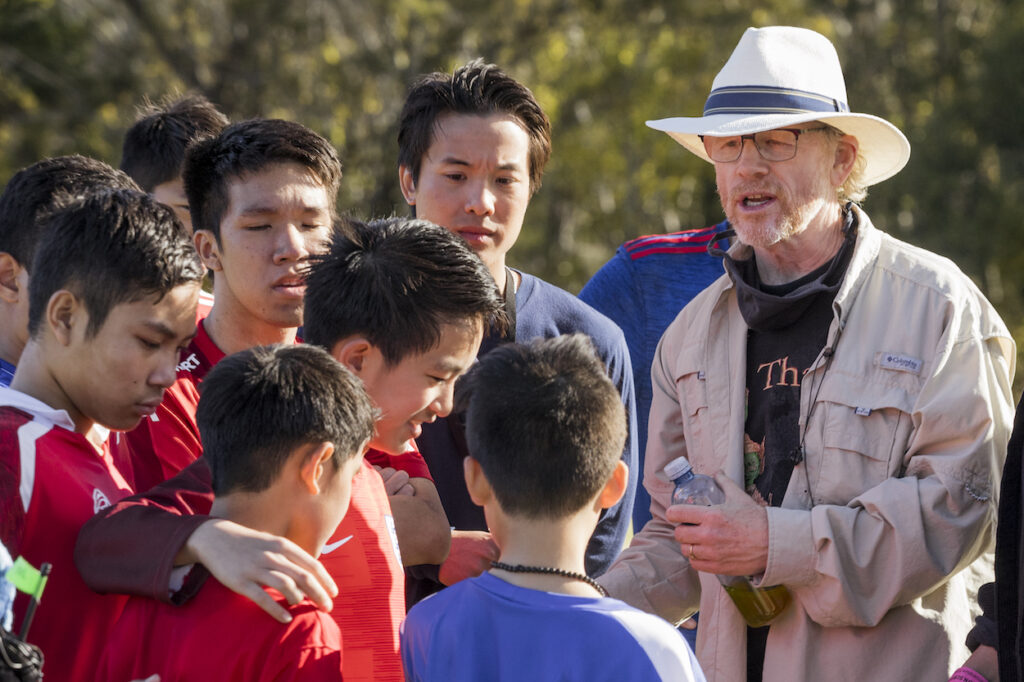 So believe me when I say that I was thoroughly "spoiled" heading into the theater to screen Director Ron Howard's blockbuster about what has been called "the greatest rescue the world has ever seen". You would think that all of this knowledge might have made me slightly calmer since I knew that the story would have a happy ending.
If that's your assumption, you'd be wrong.
This movie is at times excruciatingly challenging to watch. Howard took a screenplay by William Nicholson based on a story by Nicholson and Don Macpherson and cast both a who's who of Hollywood elite and a new but stellar group of newcomers to create 147 minutes of unforgettable imagery. The film stars Viggo Mortensen, Colin Farrell, Joel Edgerton, Tom Bateman, Paul Gleeson, Pattrakorn Tungsupakul, Tui Thiraphat Sajakul, James Teeradon Supapunpinyo, Sahajak Boonthanakit, and Weir Sukollawat Kanaros. The production included not only hundreds of extras and incredibly complex cinematography but also benefitted from technical advising by one of the real-life heroes, Rick Stanton, portrayed by Mortensen in the film.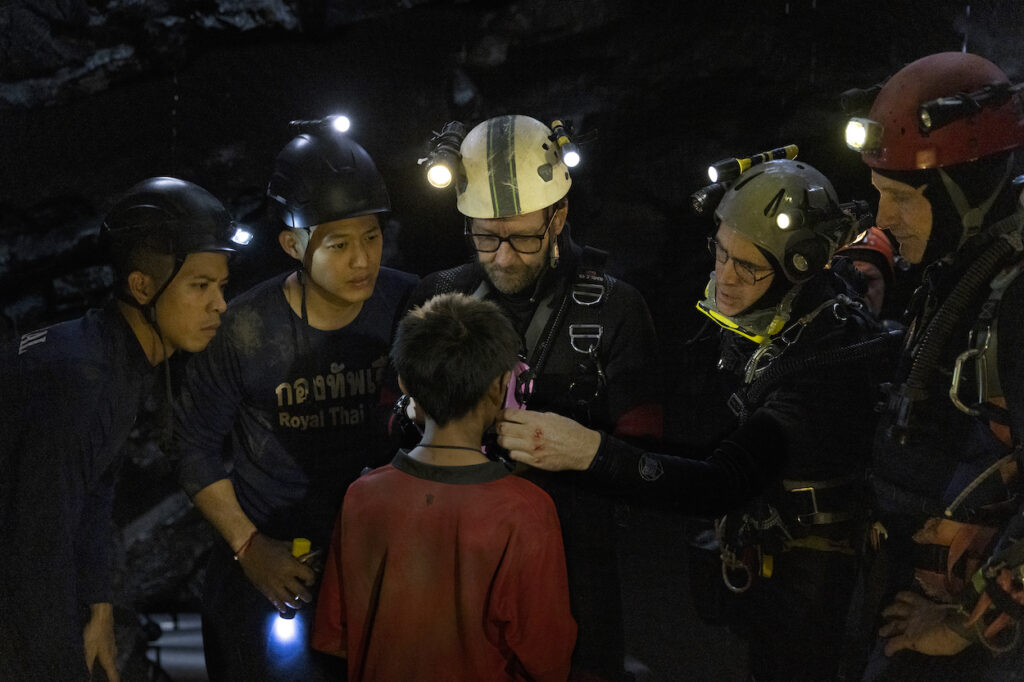 While watching the film, at several points I felt the need to look away from the screen when a sense of claustrophobia that the real divers must have felt overcame my senses. My heart raced. My stomach churned. I was terrified, even though I knew the outcome. And all the while, I loved it and couldn't wait to watch it again with my husband.
The film's obvious emphasis on heroics is accompanied by poignant glances at the team's family members and their spiritual journey as they kept frantic watch outside the caves. We also learn the stories of British divers John Volanthen and Richard Stanton but also meet Saman Kunan, a 37-year-old former Royal Thai Navy SEAL, who died of asphyxiation during the rescue.
Without providing too many spoilers–although the big one is obvious–Thirteen Lives considers the way an international coalition defied every odd to carry out what can safely be called a miraculous operation. A film like this truly deserves to be seen on a huge screen. But it may perhaps be more tolerable for some viewers in the comfort of your own home where you can safely duck under a blanket when the going gets toughest. While not for the faint of heart, this full-of-heart film is well worth every cringe you'll feel.
Thirteen Lives is available on August 5 on Amazon Prime Video
Thirteen Lives is rated PG-13 for some strong language and unsettling images.