Today, I continue my ongoing series of conversations with awesome storytellers creating fantastic projects as I'm joined by John Brolin, the Executive Producer and Creator of The Thorn. The release of this film experience during Lent offers us the perfect way to immerse ourselves in the spirit of this season and to share our faith with others. Experience it in all of its glory March 6-7 in theaters as a Fathom Event. Enjoy! LMH
Q: Congratulations on the theatrical release of The Thorn. Please begin by briefly introducing yourself and Sarah.
I am a producer and writer and most importantly, a father of 5 and a passionate follower of Jesus. I've been married for 30 years to Sarah, who is the heart of The Thorn. My role in The Thorn is to lead as a creative, a visionary, and a spokesperson. Sarah leads our team members, oversees casting and HR, and makes sure all the details of the tours come together.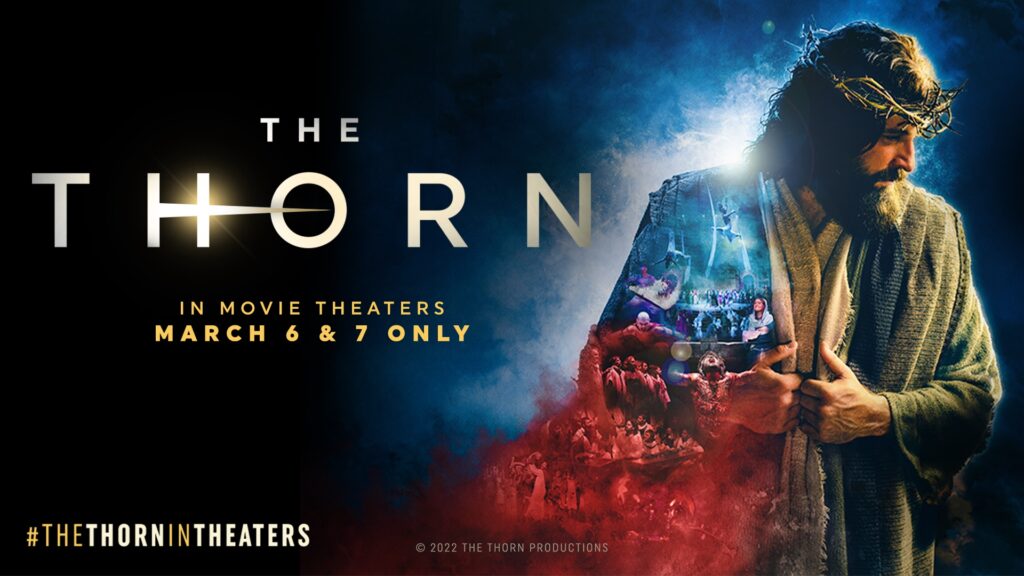 Q: How did you originally conceive of The Thorn?
I was working as a youth pastor in Colorado and after a meeting one night, a teenage girl sat down on the edge of the stage next to me. I could see tears streaming down her face. She held out her arms and I could see where she'd been cutting herself. I looked at her and told her she didn't need to do that because of what Jesus did for her. The next week we did a drama to illustrate both the price that Jesus paid for us and the reality of the spiritual battle for our destiny, calling, and identity.
A group of volunteer youth ministry leaders took on the roles of Jesus, the disciples, centurions, angels, and demons. The first Thorn presentation wasn't amazing, but it worked…because God loves it when we tell His story. That night, scores of young people decided to follow Jesus. And when the Senior Pastor heard about it, he asked us to perform The Thorn the next year for Easter weekend.
Q: How would you account for the incredible growth and reach of what you created?
Without a doubt the biggest reason for the growth of The Thorn is that God has propelled it forward. Without God's hand on this, there's no way we'd be where we are. I also believe that because we are telling the story and showing the Passion in way that hasn't really been done before, there's a lot of interest in that. The fact that we use aerial acrobatics, flaming swords, martial arts, and modern dance to tell the timeless story of the Gospel is certainly part of the reason people pay attention. As artists, we strive to do what we do with excellence. We hire top-level talent. We want attendees to be surprised, entertained, and deeply moved. We try to avoid what is sometimes a churchy "cringe-factor." We want to honor God by giving Him the very best in every area, from costumes to makeup and from stagecraft to lighting design.
Q: With the upcoming theatrical release of The Thorn, what were your greatest goals and challenges?
The Thorn is a very immersive experience in person. We wanted to try and capture that same sense of visceral emotion in the filmed version. We also wanted to give our Thorn fans a way to experience the show in a way they never had before. To do this, we filmed for several days with no audience to capture what they call "coverage" shots of the scenes from angles we never could with a live audience in the room. We were able to get perspectives of scenes that our fans will see for the first time ever. But getting to a finished product has not been easy. We filmed for five, 12 hr days on 6 different cameras so we had hundreds of hours of footage to comb through and stitch together to tell a finished story. Then, we shot an additional 3 days of footage in Los Angeles in a studio to capture a special b-line story of John the Beloved telling the story of Jesus to a young slave boy, Ashur. Putting these two kinds of footage together was a challenge too. We knew it would either feel "Frankensteined"…or it would work. I think it worked.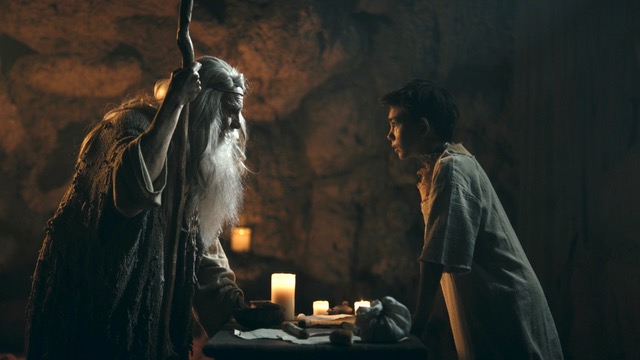 Q: How has technology impacted both the live version of the show and its film adaptation?
Technology has allowed us to do things we never could before. For the live show, we used to build these massive, two-story sets. They were beautiful, but they were impossible to move and "locked" us into one place. Now, we use high-definition LED screens as the backdrop for the show. This way, we can be in an ethereal Heaven scene or in a grounded scene in Nazareth. Automated, moving lights have enabled us to program the show faster and add "wow factor," especially when we're touring between multiple cities in a week. For the film, we utilized green screen technology as well as a bevy of other VFX effects, both to enhance the footage as well as "paint out" an occasional cameraman or misplaced cast member. We love the use of technology as both a tool and as a form of artistic expression.
Q: What are your hopes for the Fathom event and its ability to share the Good News of the Gospel?
Over the years, we've received tens of thousands of stories of people responding to the Good News. We've heard about marriages and families being restored, addictions being broken, and even physical and emotional healing. We hope that through the film version of The Thorn, people will come face to face with Jesus and see Him in a new way. We hope that people familiar with the Gospel will be motivated to go out from the theater and be salt and light to a world desperate for the love of God. We hope that people who have never really heard the Gospel will dig deeper, read the scriptures, talk to friends and most importantly, embrace Jesus as savior.
Q: Are you planning any special outreach for those who see the film in theaters?
We believe the greatest outreach for The Thorn is for people of faith to bring their friends and family and then for those people to follow up. One-on-one relationship is the best way to reach others with the Gospel. From there, people can continue conversations of faith, share the scriptures and invite their friends to their local parish or church fellowship. We also plan to connect our attendees with resources to help them as they explore faith, including access to a phone bank to call if they want someone to pray with.
Q: Are there any additional thoughts or comments you would like to share?
As a father of 5 children and the son of devout Catholic parents, I want to thank CatholicMom.com for all they are doing to encourage families. Raising kids isn't easy. Raising kids that love the Lord and serve God in our culture is even harder. But it's worth it! I want to encourage your readers to draw out the gifts and talent of their children. Encourage them to develop their passion in ways that will spread the light and love of God into our world. We are called to be Jesus' hands and feet to every corner of culture. Some of your kids will be doctors and lawyers and priests and politicians. Others will be playwrights and novelists and dancers and fine artists. God has designed it this way! I pray blessing and grace on you moms and on your children.
As a Fathom Event on March 6-7, experience THE THORN in a movie theater near you.