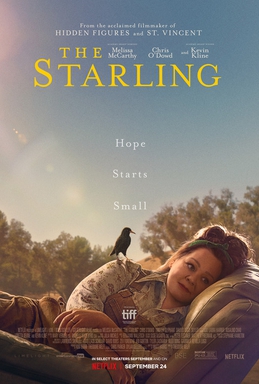 We each process grief differently. I've seen it time and time again. A situation that would have me curled up in the fetal position for days is only a slight hiccup for a friend or family member. I'm a "Pray. Take it to therapy. Journal about it" griever. One of my best friends does far better processing her grief through exercise and a busy calendar.
When watching The Starling, streaming now on Netflix, I spent time pondering how the two main characters in the film are a lot like my friend and me.
Melissa McCarthy and Chris O'Dowd star as Lily and Jack, a happily married couple who lose their precious baby to Sudden Infant Death Syndrome. With Jack in an inpatient facility working through his devastation, Lily seems to be holding things together… until she isn't.
When Lily ultimately finds support for her own healing through an unlikely referral to former therapist turned veterinarian Dr. Larry Fine (Kevin Kline), the reminder that even caretakers must see to their own self-care is brilliantly underscored.
I'm grateful for the opportunity I had to sit with Theodore Melfi, the film's director, and to speak with him about a character "twist" that took the original source material and flipped it on its head to offer a fresh perspective on an all too common topic.
Because this film deals head-on with infant loss and has scenes related to suicide, it's definitely not a good fit for everyone. But as someone who has experienced the death of a loved one in recent months, I found watching it and being able to laugh and cry along a very cathartic experience. While it likely won't be in line for big awards, there's a lot to love about a film that offers tender insights into living, dying and the stuff in between. And as for that perky little starling itself, I learned a thing or two from her too!
Check out @LisaHendey's interview with #TheodoreMelfi, director of the new @Netflix original The Starling #TheStarling @NetflixFilm
Click To Tweet
Synopsis:
After Lilly suffers a loss, a combative Starling takes nest beside her quiet home. The feisty bird taunts and attacks the grief-stricken Lilly. On her journey to expel the Starling, she rediscovers her will to live and capacity for love.

Source: Netflix
Rated PG-13 for thematic material, some strong language, and suggestive material, The Starling is now streaming at Netflix