Today, I continue my ongoing series of conversations with published authors as I'm joined by gifted novelist Antony Barone Kolenc, creator of The Harwood Mysteries series from Loyola Press. While these engaging books are aimed at a middle-school audience, I guarantee that if you love a good story you'll love what Antony has created with this series! With three installments (and hopefully more!) now available in ebook, audiobook, and paperback, the stories are also accompanied by free curriculum and book club companions from the publisher that make them a perfect choice for classroom use, homeschool groups, or book clubs. Happy reading! LMH
Welcome, Tony, and congratulations on the first two books of the Harwood Mysteries Series! Please briefly introduce yourself to our readers.
Thank you, Lisa. I'm a writer, teacher, retired Air Force officer, and father. My wife and I raised five children, partly homeschooling them. In fact, I still write a legal column for a homeschooling magazine. I'm in the midst of finishing Book IV in this ongoing YA historical fiction series published by Loyola Press, which has already won gold medals in the 2021 Illumination Book Awards and 2020 Moonbeam Children Book Awards, and is now a finalist in the Association of Catholic Publisher's Book Awards. The series takes place in twelfth-century England and involves a boy whose village is destroyed by bandits, causing him to take shelter at a Benedictine abbey, where he solves spooky mysteries and has various adventures with his best friend, Lucy.
Tell us about the origin of the series. Did you envision a series, or were subsequent books a response to interest in Shadow in the Dark?
I began writing Shadow in the Dark about fifteen years ago, when my son was twelve and we were still homeschooling. This was when the Harry Potter series was in full swing and some parents were expressing concern about the content in mass-marketed fiction for tweens and teens. I wanted to write a series that would be engaging for youth, with spooky mysteries and exciting adventures, while also illustrating history and highlighting family-valued themes, such as faith, forgiveness, and hope. I always wanted it to be a series that would grow up with the main characters, Xan and Lucy.
What inspired the character of Xan? How do you hope teens will identify with his journey in their own life struggles?
Xan is a peasant boy in medieval England who is struggling to tackle some tough challenges that life throws at him. His friend, Lucy, is of similar age and has her own obstacles to overcome. I wanted to show our youth today that young people of all times have struggled with similar coming-of-age issues. This makes my characters accessible to modern readers, even while they maintain much of their medieval worldview, making them interesting and different by today's standards. Xan grapples with universal questions: what are we supposed to do with our lives, why do bad things happen to good people, how can we find our own way in life when the world places so many expectations on us? He also has serious questions about faith, forgiveness, and suffering. Teens will be able to identify with Xan's questions and will appreciate his refreshingly honest reactions to the answers he receives.
What edifies your world-building in the series? What type of research did you have to do to create the series?
I did extensive library and internet research on my own and then went on a field trip to England for a few weeks to traipse about and visit the areas where Xan and Lucy live and travel. Despite all this research, however, I needed more help. Thanks to the generous aid of Dr. Jennifer Paxton, a professor at Catholic University of America, I was able to fine-tune some of the historical details to present the essence of life in medieval England for a typical young person. The world-building has been challenging and fun for me because there are so many interesting details about the places and people that lived in Xan's time. The historical events that form the backdrop of the series also inspire the main plots in most of the novels.
There's still lots of time for #SummerReading! Join @LisaHendey in conversation with @LoyolaPress author @TonyKolenc for a look at his awesome middle school series The Harwood Mysteries #historicalfiction #mystery #middleschoolbooks
Click To Tweet
Now that you are three books in, what are some of your greatest memories and biggest challenges of this experience?
My research trip to England was perhaps the most enjoyable part of the experience. Walking through modern Lincoln Cathedral and Lincoln Castle—the backdrops for Book 2—were particularly exciting for me. Plus, telling stories is a lot of fun. Finding ways to work historical events and backgrounds into a fast-paced series that can engage a modern teen reader has been perhaps my biggest challenge and has yielded the most satisfying results for me on a personal level.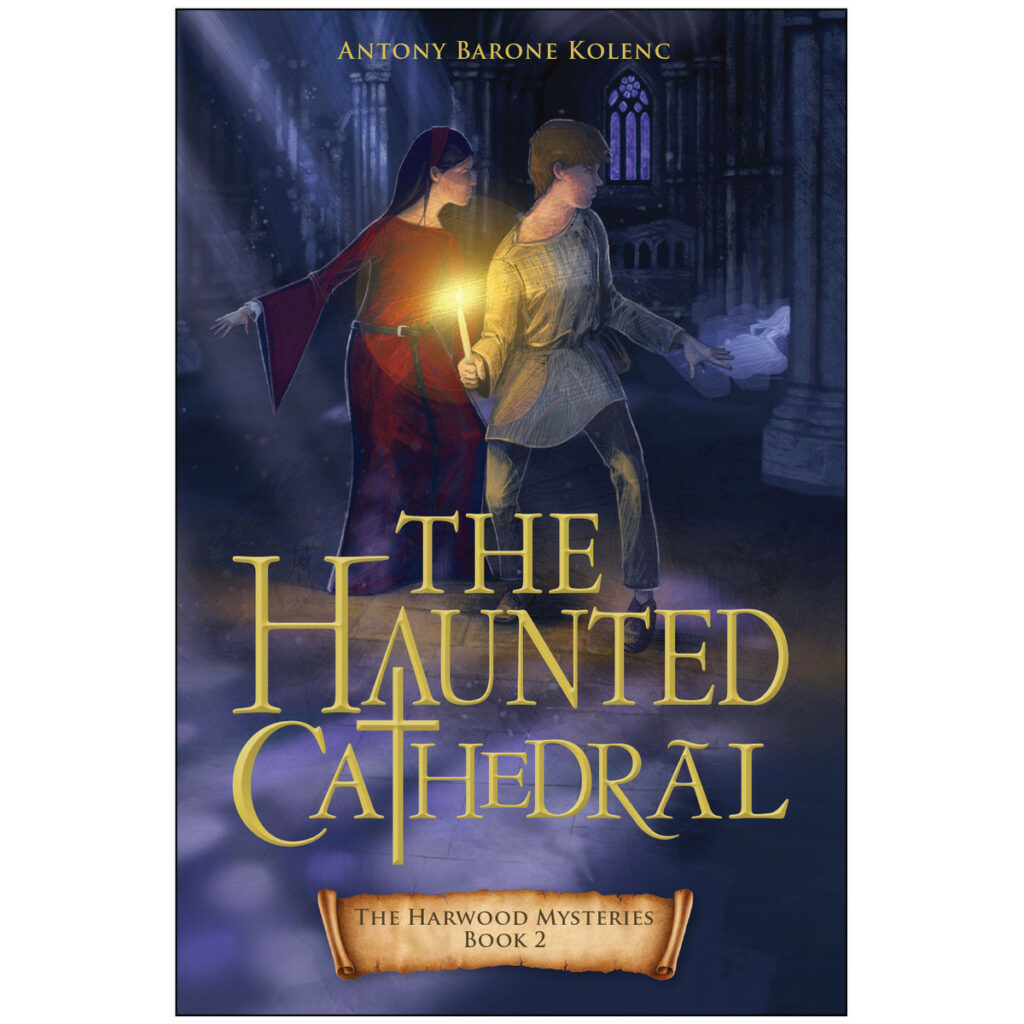 Your publisher, Loyola Press, has worked with you to develop resources for classrooms and readers. Please tell us about these tools.
Loyola has been absolutely fantastic. They not only commissioned high-quality, incredible artwork for the book covers and interior maps, but they also have developed curriculum materials for parents and teachers who want to incorporate the series into learning about history. They've developed free web-based games and discussion guides, all available on the Loyola website. The books are custom-fit for enriching a classroom or homeschool experience, and I hope that many parents and teachers will take advantage of the books as a unique supplement to a history or literature curriculum.
What else would you like to share with our readers?
The series isn't "preachy," but it is designed to encourage and entertain readers, with history providing a rich backdrop for Xan and Lucy's stories. In each book, Xan is faced with an eerie mystery and a major life event that causes change in his personal history and the lives of those around him. For instance, in Book 3, The Fire of Eden, Xan and Lucy confront a sorcerer who is suspected of stealing a priceless jewel, while they are also faced with decisions that will change their futures forever. All this goes to show that our human needs and desires are timeless. We are all "coming of age" as we grow in knowledge, faith, and understanding of ourselves and others.
I hope your readers will give the series a try.
Find The Harwood Mysteries at Amazon or Loyola Press