Today, I continue my ongoing series of conversations with awesome storytellers creating fantastic projects as I'm joined by prolific author and speaker Jeff Cavins, whose work to encourage Scripture studies and to share The Great Adventure® Bible Study Program has truly energized individuals, families, and parish communities. If it's been a while since you lingered with your Bible, I hope this time with Jeff will encourage and support you in your own adventures! Jeff's work has long reminded me that God's Word is a living, breathing gift meant to sustain and nurture us every day of our lives. Enjoy! Lisa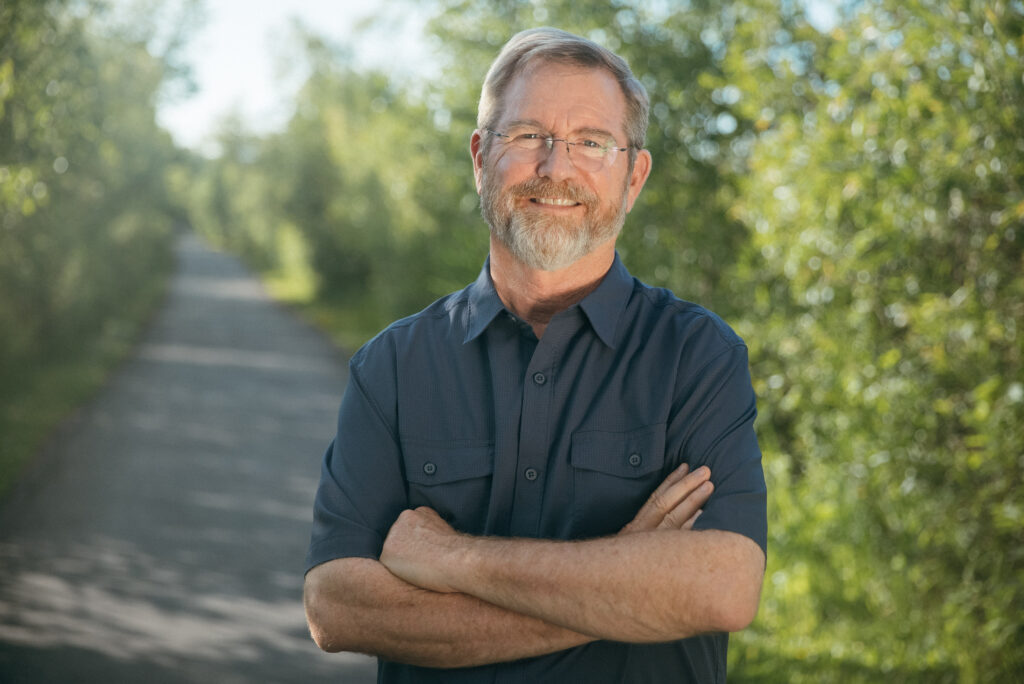 Q: Jeff, congratulations on the continuing good fruit of the Great Adventure series! Please briefly introduce yourself and your family to our readers.
My name is Jeff Cavins and I'm married to my wife Emily — she is the one who led me into a deeper relationship with the Lord in college. Together we have three daughters and three grandchildren. We live and work based in Minnesota. My wife is a Biblical archaeologist and I work with The Great Adventure® Bible Study Program. I also teach at the Catholic seminary in St. Paul.
Q: I loved hearing you speak at a conference about how you developed the timeline. Can you briefly share this story with us?
One of the most common questions that I receive is, "how did you ever get the idea to develop The Bible Timeline?" The answer to that is, as a young man I left the Catholic Church, was ordained as a Protestant pastor, and had become a senior pastor by the time I was 25. I had such a hunger to understand the Bible. I knew all about the individual stories of the Bible, but I really could not tell people one unified overarching story of the Bible. I knew many different Bible stories, but couldn't tell you one overarching that would put the rest into context.
And so one day, I was sitting in my car waiting to go into my Hebrew class at the University of Minnesota, and I was listening to a tape of an old curmudgeonly theologian talking about the history of archaeology. He went through it from the beginning to the end with such ease, and I thought to myself "I would love to be able to do that with the Bible. I would love to be able to just tell the whole story of the Bible in chronological order from beginning to end."  And being visual in my learning, I suddenly got the idea to create a chart; I saw it in my mind. That chart, the one we have today with Ascension, is basically the same as what I first envisioned in that moment in the car. I was so excited by this idea that I went right to an art store and got some materials, I went to a butcher shop and got a big piece of white paper, and I went home and literally spent 48 hours developing that chart. I had no idea that that moment would define my life as an adult, would help to make me "the guy who teaches people how to read the Bible in chronological order."
Q: How has the Great Adventure become a fully developed learning system for individuals and parishes to dive into the Bible? What are some of the major components?
The Great Adventure Bible Studies begin with a "core" – that is, with the two Bible studies that will each teach you the one overarching story of Salvation History, and teach you the color-coded Learning System of The Bible Timeline, which divides the entire Bible into twelve color-coded sections. Once you understand the major events of these twelve periods – things like the Creation of the World, the Original Sin, the call of Abraham, the Exodus, and the Royal Kingdom of Israel – you'll see how everything in the Old Testament is pointing to Jesus and fulfilled by him in the New Testament.
You can get this "overview" in either our 8-week study called "Unlocking the Mystery of the Bible," or in our 24-week study called "The Bible Timeline." Most groups start with the 8-week study, and then get really excited to dive deeper with the 24-week teaching. Our Great Adventure Catholic Bible has the same color coding as these programs, and will also show you how to find the "big picture" of salvation history to put the rest of the Bible into context.
After you understand the framework of the "Bible Timeline," groups can continue with the longer 20-week studies we have on the Gospel of Matthew and the Acts of the Apostles, or they can jump to the shorter 10-week studies we have on more than a dozen books of the Bible: Psalms, Exodus, Revelation, and more. As long as you start with the core and see the "big picture" of salvation history, your group can decide which topic you'd like to pursue after that.
Q: How does an ongoing study of the Bible benefit our overall spiritual and mental wellbeing?
There are two things that people are looking for in life today: a better future, and someone to trust. The Church teaches us in paragraph 236 of the Catechism that there are two things that we are going to understand if we begin to really study salvation history: the first is theology and the second is the economy of salvation history. Theology speaks of the mystery of the Trinity and about the heart of our Heavenly Father. The "economy" of salvation history speaks of our Father's "household" plan for our good – the actions God has taken on behalf of His people.

The Catechism says in paragraph 1 that God has a plan of "sheer goodness." When we take that understanding of the heart of Our Father and add it to what He has revealed about His Plan of goodness, and bring them together, it provides a foundation on which we can trust. Then we do have a brighter future, and we do have someone to trust: our Heavenly Father, who acts for our good.
And so the benefit of doing Bible study, the overall benefit, is that we come to know God, and we come to know ourselves. There comes a sense of peace and certitude that our lives are really being built on solid ground. We also have the benefit of daily being led and encouraged by God, especially if we do something like The Bible in a Year podcast, or if we do lectio divina, we give God the opportunity to speak to us.
I heard someone say once that, "if you want to hear God speak to you, then you have to be in a place where He is speaking." That "place" is in the Bible! People who learn how to read the Bible very often go much deeper in their spiritual lives, and become much more fruitful.
Q: With Covid, churches have had to turn to new ways of learning and being community to one another. How do the Great Adventure tools make this more feasible? What benefits are you hearing about from learners and parishes who persisted in studies during the pandemic?
Certainly, the pandemic has forced us to not only "meet" together differently but also to learn differently. Prior to the pandemic, the basic model for Bible study was for everyone to show up at the Church, at a certain time, in a certain room. Of course, the pandemic changed that, with many groups being unable to have fellowship in person.
To support these small groups during the pandemic, Ascension moved every single one of the Great Adventure Bible studies online, so that people could continue to "meet" virtually if their situation necessitated that. Of course, we do think that the best way to learn is to actually be together, but with the many changing local circumstances, the Ascension platform made it easy for groups to "pivot" from in-person meetings to remote meetings on a week to week basis.
It was inspiring to see so many people finding consolation in those meetings, especially in the months when parish Masses were closed to the public – in many cases, Bible study was a real lifeline of faith and normalcy for people. Some of our customers shared that their Bible study was their only connection point with others during the week – their only chance to see and speak with friends. We were so humbled to be able to help facilitate that during such a difficult time.
Join @LisaHendey for a great conversation with @JeffCavins @AscensionPress and learn how Jeff's love for the Bible and discipleship can bless you along your own great adventures! #The Great Adventure: 3 Minutes with Jeff Cavins
Click To Tweet
Q: What does the future hold for you personally and for The Great Adventure?
We are continuing to develop more studies with The Great Adventure and more ways for people to come in contact with God through the Bible. The Bible in a Year podcast with Fr. Mike Schmitz, which is built on the Bible Timeline Learning System, is one example of this, and it has been a fantastic success. In modern times, we haven't seen anything like its popularity – it's become the top Catholic podcast of all time, and one of the top 30 podcasts overall for 2021 so far on the secular charts. Truly incredible. And we have some surprises coming out soon from Ascension– tools for a disciple's life, things that will help disciples keep track of all the beautiful things that God is saying to us.
As far as my wife Emily and I, we continue to work together professionally. My wife is going to be doing some archaeology in the Holy Land, and together we will be leading some groups to the Holy Land, including a group in June of 2022 with Fr. Mike Schmitz.
I'm also teaching at the St. Paul seminary in St. Paul. I am leading what's called a "propaedeutic year" — a year of preparation for young men who wish to join the seminary. I have them for one year, I teach discipleship and Scripture, this year for sixteen men. It's wonderful, it gives me an opportunity to do what I truly feel called to do: to make disciples and to teach Scripture.
And of course, we want to spend more time with our three grandchildren — they are really the delight of our life, and we really enjoy spending time with them.
Learn more at The Great Adventure® Bible Study Program.
A question for you: Do you have a favorite Bible? Why is it special for you?