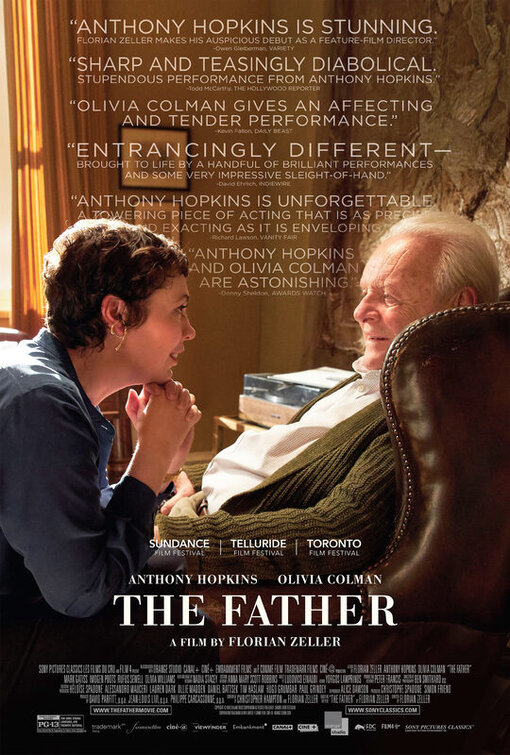 While the cast listing of THE FATHER only includes six characters, the viewer of this Florian Zeller film based on a play by the same title will quickly sense that more players inhabit the story. The viewer may also feel confusion, disorientation, a loss of perception, and an inability to make sense of the facts at hand.
If we, as viewers, find ourselves subject to these emotions, perhaps Zeller has accomplished what to me seems one major point of this project: to place us inside the mind of someone with dementia. With over five million souls living with dementia and sixteen million unpaid caregivers seeing to their daily needs, awareness and compassion seem helpful byproducts of THE FATHER.
Synopsis:
Anthony is 80, mischievous, living defiantly alone and rejecting the carers that his daughter, Anne, encouragingly introduces. Yet help is also becoming a necessity for Anne; she can't make daily visits anymore and Anthony's grip on reality is unraveling. As we experience the ebb and flow of his memory, how much of his own identity and past can Anthony cling to? How does Anne cope as she grieves the loss of her father, while he still lives and breathes before her? THE FATHER warmly embraces real life, through loving reflection upon the vibrant human condition; heart-breaking and uncompromisingly poignant – a movie that nestles in the truth of our own lives.

Source: Sony Pictures Classics
Sir Anthony Hopkins delivers an award-worthy turn as "Anthony", a curmudgeonly, sometimes charming, often frustrating gentlemen who finds himself progressively slipping into dementia's clutches. What makes this film so bracing for viewers is the repeated swapping of actors into various roles. Quickly, we realize that we are seeing things from Anthony's perspective and that things do not make sense.
Locations blend.
Timelines tangle.
Reality blurs.
Hearts ache.
Olivia Colman is stunning as Anne, a dutiful daughter re-prioritizing her father's increasing needs with a desire to have some semblance of a life herself. Hers is a balancing act that defies a perfect solution despite Anne's desire to give her father her very best. As anyone who has cared for an aging parent understands, there is rarely a "fix" that feels right to everyone.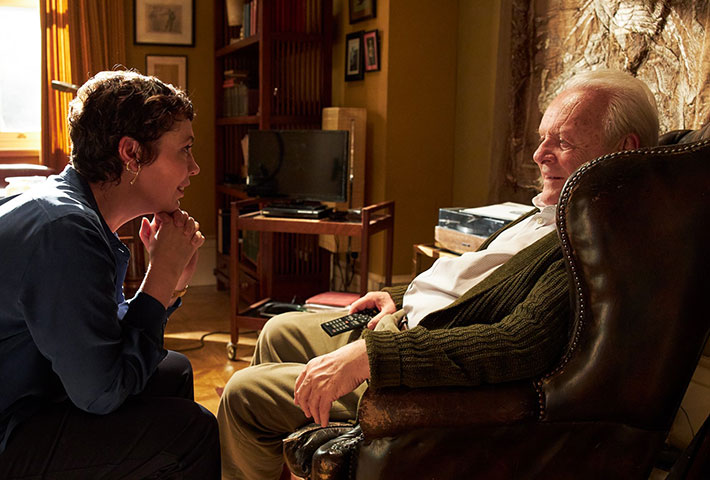 THE FATHER underscores the frustration and helplessness felt both by a person challenged with dementia and by his or her loved ones. If you've ever tried to convince an elder that the hallucination they are convinced they see really doesn't exist, you will understand Anne's plight. Surely, they should be able to understand that the marching band they say is in their closet is a figment of their imagination, right?
But THE FATHER also reminds us to treat lovingly the elder who grapples with an utter loss of the independence, respect, and self-sufficiency they have treasured. Formerly in control over their own lives, they are now at the mercy of others. Too often they live without a financial safety net in a country that does precious little to serve and protect those who grapple with mental health issues.
Exquisite and challenging, @SonyClassics THE FATHER stars Sir Anthony Hopkins and Olivia Colman in a tender, twisted look at one family grappling with dementia. Read @LisaHendey's review of this thought-provoking Florian Zeller film.
Click To Tweet
THE FATHER is a hard watch, especially if you love someone with dementia. But for that very reason, this is an important film. It hurts to watch Anthony and Anne grapple with a new sense of familial balance. It's painful to witness Anthony's increasing dependence and erratic behavior. With no one best way to give care, compromise solutions feel heartless and painful. And yet Colman's Anne is every inch the loving daughter, even as she seeks someone to love and care for her and for her father.
When watching THE FATHER, pay attention to the quiet, small details that blend brilliantly to tell this story. You may need to watch more than once to understand the un-understandable. At once tender and twisted, the film offers no easy answers to solve the ravages of dementia, probably because they do not exist. And if you walk away perplexed and confused, then perhaps THE FATHER has had its intended impact after all.
THE FATHER opens nationwide on February 26 and is rated PG 13 or some strong language, and thematic material.