Today, I continue my ongoing series of conversations with published authors as I'm joined by my dear friend Heidi Hess Saxton, editor of the beautiful new resource The Ave Prayer Book for Catholic Mothers. In this resource, Heidi has compiled and synthesized the work of scores of gifted contributors. I feel blessed to have shared some prayers for this book and can't wait to share it with you! Preorder a copy of The Ave Prayer Book for Catholic Mothers at a special price of $18 with free shipping with coupon code: HENDEY. This offer is good through October 15, 2021. Enjoy! Lisa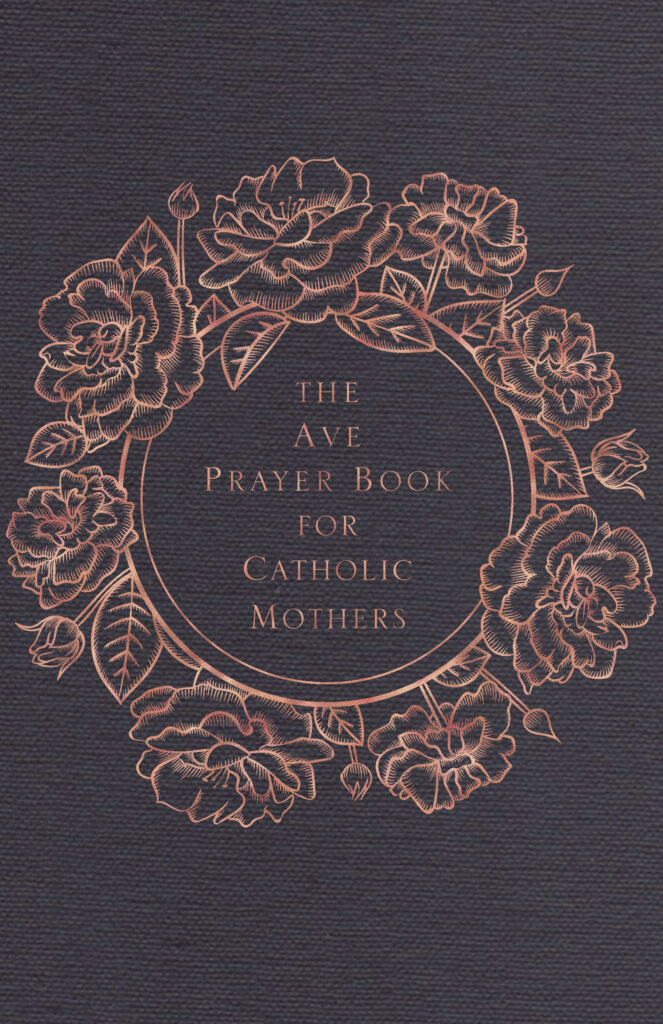 Heidi, congratulations on the publication of the beautiful new work The Ave Prayer Book for Catholic Mothers. I'm so delighted to have been a small part of this project. Before we dive into the book, please tell us about yourself and your family.
Thanks, Lisa – both for taking time to chat with me about our new project, and for lending your wisdom and experience as a contributor! It has been such a blessing to work with so many (more than 70, in fact!) beautiful Catholic women to help them tell their prayer stories and put them into a format that will bless so many others.
One of the best things about this book is that it represents the experiences of all kinds of mothers. As you know, I became a mother in 2002, first through foster care, two of whom we adopted in 2005. That journey of caregiving continued when my husband and I welcomed my mom into our home in 2017. Now that our kids are transitioning to independent living, and mom is in assisted living, Craig and I are gearing up for the next chapter of our lives – getting ready to sell the house, move into the family cabin up north, and take up our life's dream of seeing the parks and shrines of America in our RV!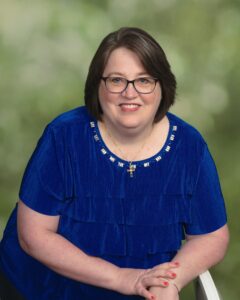 You and I have shared the gift of friendship for years, so I know your heart for women. What inspired this particular compendium and how would you personally describe the book?
You and I – like so many women today – are part of a "sandwich generation," trying to juggle the needs of both immediate and extended family as well as other responsibilities at work and at home. To do that well, we need to stick close to God, who makes us strong where we need to be strong (or kind and patient when that is needed most). One of the ways we can do that is by seeking the wisdom and support of other moms – and this book is intended to help you do just that! The Ave Prayer Book for Catholic Mothers draws from the collective experiences of more than 70 Catholic moms, sharing prayers and stories from their personal "prayer arsenals" that they've found most valuable in the trenches of motherhood. Whether you are just wanting to "freshen up" your prayer habits, or have a particular concern, such a financial need or a health scare, it can help when other moms come alongside to share the burden – and that is what this book is for.
How did you assemble your team of contributors? How does having such a diverse and eclectic group of writers uniquely bless a book like this?
What a great question. I wanted a prayer book that would speak to women in all kinds of situations, and so I asked 70 Catholic moms I know through my work at Ave to share their #PrayerStories. I also asked for recommendations to be sure all kinds of moms are represented – married and single, new moms and grandmas, Catholic women of diverse ethnic and social backgrounds, converts and cradles, including those active in women's ministry and those fairly new to the faith.
Each of them reflected on their favorite prayers – including both those borrowed from our Catholic tradition and those they've written themselves. I've been amazed and delighted at the results! This book is truly for ALL of us!
"My friend Father Louis once described prayer as 'a response to infinite love.' I pray this book can be a guide in helping you respond to the infinite, passionate love God has for you."

Emily Wilson Hussem's foreword for The Ave Prayer Book for Catholic Mothers
What were some of the challenges and hidden blessings of serving as the editor for this work?
The greatest challenge was getting the book compiled in record time – less than three months! That whole process had me praying regularly, "OK, Lord, who's next?" Name by name and topic by topic, the list grew … and the next thing I knew, we had a complete manuscript!
The greatest blessing, I think, was having the opportunity to think about all the ways God has helped me in my own journey of motherhood.
St. Teresa of Avila taught her sisters that the two most valuable virtues to grow in perfection are humility and detachment. I can't think of any human experience that helps you to cultivate these two virtues better than motherhood. As I mention in the introduction, I don't think I really knew how to pray until those little kids showed up on my doorstep! I'd always been a Type-A, got-it-under-control type personality, and motherhood really threw me a curveball. There was SO MUCH beyond my control. And as the reflections started pouring in, I realized that these gifts – humility and detachment – are part-and-parcel of the whole experience of motherhood. There are times we all need help – and when no one else is around, this book can help you find the solidarity you need.
Join @LisaHendey #InConverstion with @AveMariaPress editor @HSaxton – The Ave Prayer Book for Catholic Mothers: In Conversation with Heidi Hess Saxton #AveMomsPray #PrayAcrossAmerica #PrayerStories
Click To Tweet
You and I have both been through familial trials in the past few years. How does your personal prayer life help you cope with these as a wife, mom, daughter, and child of God? How do you hope this book will similarly help the women who pray with it?
One of my favorite prayers is the Memorare, which (as the name suggests) starts with the word "Remember…" It's a word that appears more than 300 times in the Bible (16 in the book of Leviticus alone!). Remembering the times God has been faithful, and has come through for us, is so important. That's one of the ways prayer books like this can help – they encourage us to remember all the ways, all the times, God has given us what we need (if not always what we want).
Journaling can also be a great way to do this remembering. Whether it's a blog, a bound leather journal you keep by your bed, or just a small notebook you keep handy to jot down intentions and answers, remembering is a vital part of prayer. I hope that women will be inspired to really use this book – write in the margins and in the back, or carry it with a little notebook, to write down their own reflections and thoughts as they read!
What's next for this project and for your personal writing journey?
The next step is the book launch! Because these past two years have been so isolating for so many Catholic moms, I'm hoping to help Catholic moms connect in a more personal way through a series of small regional mini-retreats I've been calling #PrayAcrossAmerica. My husband and I are going to hop in our RV and stop at parishes across the country to encourage Catholic women in their vocations. These two-hour events (evening or morning) will give women a chance to come together to pray, sing, and share their own #PrayerStories. If you'd like more information – and especially if you are interested in hosting such an event – please contact me at Heidi.hess.saxton@gmail.com. You can also join us on Facebook at "The Ave Prayer Book for Catholic Mothers" Group – or subscribe to my newsletter at "Life on the Road Less Traveled" (heidisaxton.com). I look forward to hearing from you!
Preorder a copy of The Ave Prayer Book for Catholic Mothers at a special price of $18 with free shipping with coupon code: HENDEY. This offer is good through October 15, 2021.