"I think it's easier to be angry than it is to be sad. And I guess, when I get older, I forget that there's a difference."

Young Adam, "The Adam Project"
When it releases on Friday, March 11 on Netflix, "The Adam Project" will be an attractive viewing option for families with older children. Chock full of great performances, this futuristic romp has a pace as fast as the high-speed fighter jet technology brought to life by Director Shawn Levy and his talented team of writers.
Since I'm a sucker for anything time-travel centric, I immediately fell in love with the concept here. Adam Reed (Ryan Reynolds), a cocky fighter pilot from the future, crash lands near the backyard of the childhood home where he once lived with his mom Ellie (Jennifer Garner) and his deceased dad Louis (Mark Ruffalo). Adam has intentionally placed himself into a position to interact with his younger self so that he can contain a complicated plot that could imperil mankind. Walker Scobell is delightful as Young Adam, an often-bullied smarty who has a major shield around his heart and a penchant for biting sarcasm.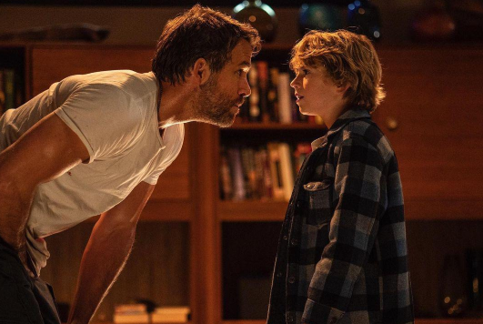 The nearly two-hour film is a careening race between times and places that are significant to both Adams as they strive to defeat the villain. A once-inspired dreamer gone evil, Maya Sorian (Catherine Keener) will stop at nothing to get what she wants. This includes killing Adam's wife Laura (Zoe Saldana) who must decide whether to protect Adam over herself.
Reminiscent of classics such as "Back to the Future", "The Adam Project" really shouldn't be mistaken simply for a time-jumping tale, despite its many techy bells and whistles. Much more significant here are the important themes of family life, finding one's destiny in life, and the nature of true sacrificial love.
Rated PG-13 for violence/action, language, and suggestive references, this really isn't a movie to watch with little ones. There's an abundance of body-part humor, words you probably won't want your kids repeating (despite the fact that they'll probably make you laugh), and drama related to parents dying. But for older children, watching this film together could be a great jumping-off point to talk about topics such as family togetherness, growing up, and withstanding social challenges.
Synopsis:
Adam Reed, age 13, and still grieving the sudden death of his father a year earlier, walks into his garage one night to find a wounded pilot hiding there. This mysterious pilot turns out to be the older version of himself from the future, where time travel is in its infancy. He has risked everything to come back in time on a secret mission. Together they must embark on an adventure into the past to find their father, set things right, and save the world. The three working together, both young and grown Adam come to terms with the loss of their father and have a chance to heal the wounds that have shaped them. Adding to the challenge of the mission, the two Adams discover they really don't like each other very much, and if they're going to save the world, they're first going to have to figure out how to get along.

Source: IMDB
Full of wit, heart, and action, "The Adam Project" tells a timeless tale about the future, fate, and family in a time-bending fashion. Great performances make for a family-friendly viewing opportunity for parents and mature children.