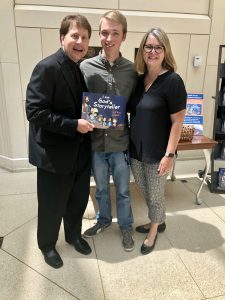 It's been a busy week, so I apologize for being a bit tardy to thank all of you for supporting our ACE Alliance for Catholic Education Giving Campaign.
Our goal for the campaign was to raise sufficient funds to give one copy of I Am God's Storyteller to each of the 179 ACE teachers who will be in classrooms for the 2019-20 school year. When I set this goal, it felt like a huge leap of faith. But I am striving at this time in my life to step out in trust that God's perfect plan will unfold (even when it doesn't match Lisa's!)
I am thrilled to share that due to a generous private donation, we were able to meet our goal!
As a result, we will be donating 179 books to ACE teachers. But we also collected sufficient donations to give several books to South Bend, Indiana Catholic schools and a cash donation to the ACE program for support of their excellent programming.
I wanted to share a few photos from our Book Signing at the Hammes Notre Dame bookstore. This signing took place on illustrator Eric Carlson's graduation weekend. It was such a treat to meet his many friends and family who came out to support him. Eric's talents, combined with his huge heart, will really make an impact on our world!
Click on the images below to see them in full size.
[foogallery id="8490″]
Thank you to all who participated and prayed for this Giving Campaign! If you've read  I Am God's Storyteller and would like to support this book, please consider leaving a review for us at Amazon or sharing the book with a friend.
Learn more about ACE Alliance for Catholic Education here