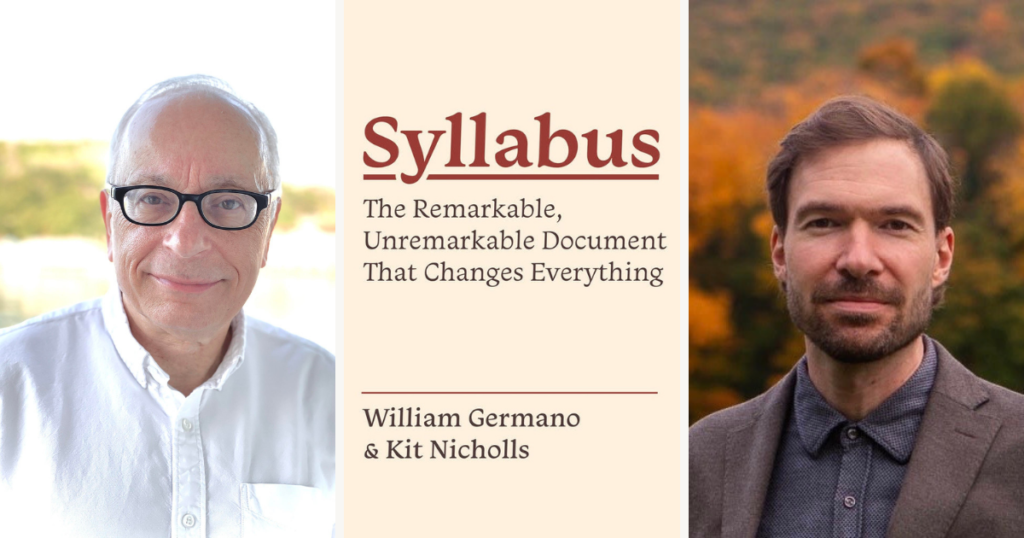 Congratulations on the publication of Syllabus: The Remarkable, Unremarkable Document That Changes Everything Please briefly introduce yourselves to our readers and let us know how you came to work together on this project.
Kit Nicholls: At this point, after writing this book together, it's odd to step away from one another and become two separate writers, at least for a minute — after this question, we'll answer like the two-headed, one-voiced creature we are now!
I direct the Center for Writing at the Cooper Union for the Advancement of Science and Art, a small college in New York that offers degrees in art, architecture, and engineering. My background is in Irish literature, culture, and history but I've spent the past decade working almost exclusively on helping college students learn how to write — which really means learn how to think — at the college level. Bill came up with the idea for a book about the course syllabus and invited me to join him.
William Germano: I teach at Cooper Union in the faculty of humanities and social sciences, where I've been a professor since 2006. This is where Kit and I met. I was also dean of that faculty for more than a decade, so had to think a lot about subjects I knew very little about. Before that, I spent about twenty-five years working in scholarly publishing, and as a publishing director I also had to think a lot about subjects I knew very little about. You'll sense a theme — what counts as knowledge? Kit and I are interested in how teaching and learning are about both knowing and knowing how to know. 
I've written books on how to publish academic books and revise dissertations, as well as books on things that I got curious about. One example, a little book for a popular audience on the four-hundred-year history of the eye chart. For some time I've been trying to finish up a book about operatic adaptations of Shakespeare, which is closer to subjects I teach.
In recent years I've wanted the chance to think more about what it means to teach anything — what is teaching, anyway? — but especially now in our technologically driven age. The pandemic just ups the ante on those questions. This is the first time I've written a book with anyone else, and it turned out to be a perfect match of experience, interests, and sensibilities. 
While your book leads as a resource on educational philosophy, I'd love to approach our conversation from the perspective of how it might serve the average "lifelong learner" like myself. First of all, why would any parent, student or learner benefit from the perspectives you discuss here?
Late in the book, we quote the poet Stephen Dunn, who said (though we don't think he wrote this down anywhere) that one of the essential human experiences is ambiguity: It's hard to know what things mean, even the simplest everyday experiences. So, he said, we need to write very, very precisely and carefully in order to hold the moments of our lives up to the sun, to study them and to do our best to understand them. An education is like that. It gives you new languages and methods for seeing yourself and the world in ever finer detail.
This book is focused on students, on the ways that teachers can create fertile soil for students to grow in the ability to understand, to grow into people whose identities are rooted in more than their job titles or the Netflix shows they watch. While our immediate subject is the college classroom, we develop a philosophy of teaching and learning that could help anyone build structures into their lives so that they can become not just IT managers or financial analysts but also political philosophers, physicists, or poets. Or IT managers with a grounding in philosophy, or poets who love physics!
And this is where we should stress that the keys to learning are community, authenticity, and the right mixture of planning and improvisation. It's hard to learn alone, and it's hard to learn without a narrative–a sequence of things you'll do that takes you from some kind of beginning through increasing challenges and then to a destination point. And as any good fiction writer will tell you, stories require that their characters go through a meaningful change. Our book is all about how these transformative educational experiences happen, or don't happen.
We mean it when we call the course syllabus a document that changes everything.
I love the paradigm shift you introduce that flips traditional learning on its end. How has what we've learned during the season of "distance learning" made what you propose more relevant and necessary than ever before?
Living on Zoom this season has forced all of us who teach and learn to think hard about what we're trying to do. The point of a class has never seemed so, well, pointy. Why am I teaching this? Why am I studying this? Our book isn't prescriptive — it doesn't say "'This is how you should put a syllabus together" — it's got a central theme: a course is about what the students do, not (so much) what the teacher does.
One of the great things about lifelong learners is that they're people who bring genuine curiosity to a class. If they're not enrolling to fulfill a degree requirement, even better. That just means more personal engagement, more mature motivation for taking part in the class. We try to stress the "taking part" because a great class is a community of learners working together. Online lectures are fine for what they do, but that's not the kind of teaching we're advocating. In the time of COVID, teachers have the chance to be creative, making the students' work central to their courses.
We've said elsewhere that the technology through which we access education right now misleads us into thinking that our teaching and learning problems can be solved technologically. If we try some new platform or some new trick with Zoom, then learning will somehow, magically, happen. But teaching and learning are about humans working with humans, doing human things.
In truth, even before COVID, the whole American educational system has been veering away from humaneness, from a recognition that classrooms are social spaces that require a lot of interpersonal work. The focus has been on numbers, standardization, competition — and you can't blame students and parents for trying to get a leg up in a difficult job market and administrators for trying to make sure standards are being met. The educational crisis the pandemic has created may be a sort of blessing insofar as it's revealing how much we need a functioning society — really thousands of tiny societies in thousands of classrooms — in order for learning to happen.
Dive into a deep conversation as @Lisahendey discusses teaching, learning and community with @wmgermano @kitnicholls authors of the compelling new @PrincetonUPress book Syllabus, a reconsideration of traditional education.
Click To Tweet
I read an interview where you referred to the syllabus as "the script or score for a performance that will be partly improvised". How should learning objectives be viewed by parents and students at the start of a semester or quarter as a moving target that might shift with the student's desired learning outcomes?
Most home learning — which is how so much of our education system is operating right now — is already pragmatic. It has to be. Working with students to establish reasonable learning outcomes collectively sounds ideal, while always keeping in mind that someone teaching knows more about a subject than someone learning that subject. Home learning is tailored to the specific needs and goals of specific students. In that sense, it feels like a window onto the larger project of classroom learning in traditional institutions. Focus on the student, what the student does, what the teacher needs to sequence in order to make it possible for students to achieve whatever the course's outcomes might be.
And accept that learning is nonlinear — sometimes an experience in a course will plant a seed that won't germinate until years later. And sometimes students will struggle with some aspect of a course for weeks before having their  "Eureka!" moment. But for any of that to happen, the student has to choose the learning objectives, even if the teacher wrote them. And students approaching a course in good faith will necessarily come up with their own goals that may not appear in the syllabus.
Without being "helicopter parents", how can Mom and Dad equip their children of any age to be more effective in learning communities?
A good question! Learning in pandemic mode is a bit like studying in the airport hangar with the helicopter across the room. It can't take off, but it's always right there. Maybe the parent is the helicopter in that simile; maybe the student is. Most of our flights have been delayed or canceled this year.
We all have to work with whatever we're given to work with. So aim to establish goals together. Be prepared to adjust, or to use the nautical metaphor we deploy, to tack. If the goals are genuinely meaningful to the student, switching things up doesn't have to seem chaotic.
The biggest problem a student is likely to have is a lack of motivation. Most people are capable of learning most things pretty well. They run into problems when they're approaching a subject not from a desire to understand something important but from a need to complete a course and get a decent grade. So here's a question that can make a difference: Why do you think this matters? First, to you, the student. And then to other people, to the world at large.
Let's say we're talking about a course in algebra. The best answers aren't the practical ones — "I'll need this so I can do some calculations for a woodworking project" or something like that, though obviously that's part of the puzzle. The best answers are conceptual or philosophical — "this way of thinking about numbers, or really about a particular type of logic, has had a profound effect on the shape of human history. I need to get how it works not just so that I can use it myself but so that I can participate in a set of important debates about how we apportion value, so that I can use this essential tool in so many other areas of human knowledge." Your kid's not going to say that, probably, not right away. So you've got to work socratically, asking a set of questions that will draw out their experiences and fascinations.
In our book, we consider the hugely influential education theorist John Dewey's idea that the subject matter of formal academic study and a child's experiences are different not in kind but in degree. In other words, people's experiences are always, inherently, connected to whatever they're studying — so long as we give them space to consider that relationship. So work against alienation. Help your kid see education as a way to look harder at what they've already seen and then use that as a bridge to what they haven't yet seen.
What thoughts do you have for lifelong learners who are not necessarily formally enrolled in institutional learning but might want to use your precepts to craft their own "syllabus" to achieve a learning outcome?
We love this idea! What would it mean to set oneself a goal, write it down, and then imagine how you would get there? The best pedagogy messes up the distinction between teacher and learner; if you're studying solo, you're embodying that idea. We urge teachers — or the teacher part of the lifelong learner — to think backwards and build from an endpoint. I'm interested in learning more about x. Hmmm. What are the pieces of x? if I had to order the pieces of x in a sequence, could I do it? If I were teaching them to someone else as a set of questions, what would that set of questions look like?
And you'd also probably want to ask what instincts, what techniques, someone needs in order to do x, too. Let's say you want to think about data science, to better understand what drives the algorithms that now dominate our lives. To think like a data scientist, you'll need to cultivate a set of analytical abilities that won't feel natural at first — this isn't much different, by the way, from teaching yourself to play a musical instrument, making your fingers stretch or your lips buzz in new ways. You'll know you're asking yourself to do the right work if you're somewhat at odds with yourself: "I never would have thought of that that way!" The new, emerging data scientist version of you will probably be less interested in anecdotes or individual stories and more interested in patterns, models, systems.
For all of this to happen, you'll want to seek out opportunities to practice this new version of yourself and make some mistakes, which means that, as we said before, it will help if you have a community to work within — even if it's just one other friend studying together with you. There's a lot more in the book about how reading lists get made, how to think about building a calendar, and how to evaluate whether people are learning. As teachers say all the time, with one slight variation, it's in Syllabus!
What additional thoughts or comments would you like to share with my readers?
People imagine that learning and teaching are separate: A teacher teaches, a learner learns. But that may be the least valuable aspect of traditional educational structures. Mess up that distinction. To invoke a word that we know is meaningful to your readers as it to us, err on the side of generosity. You can still be respectful of differences in expertise and maturity and energy levels, all the things that a good teacher has to keep in mind. And don't be afraid of risk or questions — your own risks and your own questions, not just your kid's. Trying to learn means taking risks, but teaching is risky, too. If it's not, it probably isn't going to reach people. Teaching, we like to say again and again, is humans doing human things. Fallible, creative, committed humans doing human things together.
Find Syllabus: The Remarkable, Unremarkable Document That Changes Everything at Princeton University Press, Amazon, or your local retailer.
A question for you: As a lifelong learner, what topic areas or subject matter most intrigue you at this point in your journey? What are your greatest obstacles to intentional learning? How can you take proactive steps to overcome them?