Opportunities to gather in-person to celebrate the Christmas season feel more plentiful this year, but very few of them offer families the opportunity to truly understand the "reason for the season" with as much attention and care as the St. Nicholas Christmas Show. Jointly sponsored by Adventure Catechism Media and Catholic Marketing Network, this one-of-a-kind event will be held on December 4th and 5th at the Hilton Anatole in Dallas, Texas. Today, we're joined by Pete Socks, who shares more about what to expect at the show.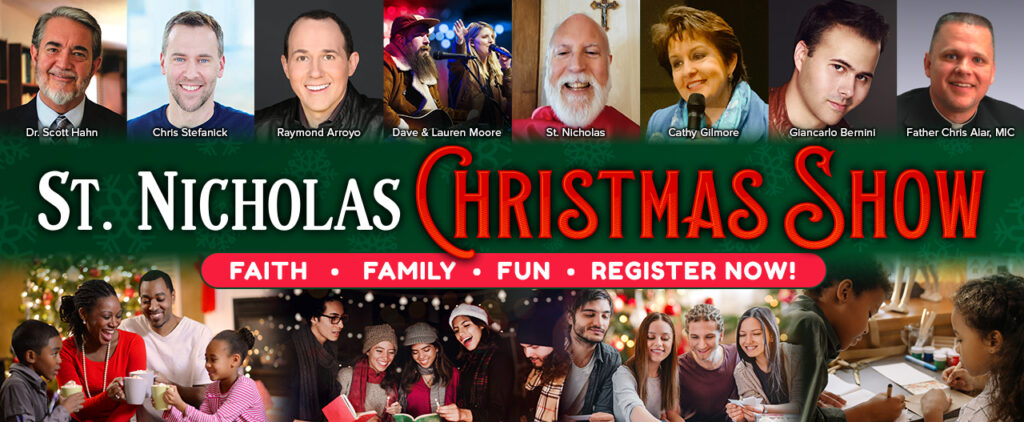 Q: Blessings, Pete and thank you for joining me to share about the St. Nicholas Christmas Show. Would you please briefly introduce us first to the sponsoring organizations, Adventure Catechism Media and Catholic Marketing Network?
Thanks, Lisa, I'm happy to be affiliated with both of these organizations. Adventure Catechism Media (ACM) provides innovative products and digital services that energize the formation and evangelization of faith in individuals, families, schools, and parish communities. ACM equips Catholics for the adventure of learning, living, and teaching the faith. Catholic Marketing Network (CMN) empowers Catholic individuals and organizations to maximize the impact of their mission through a membership community, online platform, and in-person events.
Q: What is the event you are planning and how did this idea come to fruition? 
This is the very first St. Nicholas Christmas Show. It is the family event designed to integrate the FAITH and the FUN of Christmas, placing Jesus at the heart of what we celebrate. The event is Saturday and Sunday, December 4 – 5 at the Hilton Anatole in Dallas. The show is open 10 AM to 8 PM on Saturday, and starts with mass at 9 AM on Sunday and is open till 8 PM.  There are even extra activities, like movie nights and cocoa with St. Nicholas, available for guests who stay overnight in the hotel. The idea was conceived by ACM founder, Mosongo Osong and his wife Silvia after attending "Christmas" events where all mention of Jesus was conspicuously absent. Mosongo is on a mission to help everyone experience Jesus as the true JOY of Christmas.
Q: Please share about the amazing speakers you have joining you for the show.
We are pretty excited to have Father Chris Alar, MIC to lead us in prayer, Dr. Scott Hahn sharing biblical wisdom, Chris Stefanick's "Real Life Catholic" energizing the crowd, and Raymond Arroyo sharing insight from his book: The Spider Who Saved Christmas. Each of these major speakers provides powerful inspiration for parents, grandparents, and educators. The Imperial ballroom will be set up with chairs spread out in the back, and crayons and coloring pages nearby, so that adults with little ones can still enjoy the talks. In addition, our sponsor, Hallow, will be giving people of all ages a chance to try out Hallow's amazing app for prayer and meditation. And especially for the dads and men, Exodus 90 will provide a fun space for guys to play a little cornhole, hang out, and find ways to get spiritually strong.
Q: This is an event for the whole family. What can families who attend expect to experience?
Everyone will enjoy nationally acclaimed Catholic magician: Giancarlo Bernini
Shopping in the Christmas Market for unique Christmas gifts from small business owners.
Families will delight in the live indoor Las Posadas.
The interactive Nativity Pageant includes everyone, with sounds and songs.
Meet strolling Christmas Characters like: Mary, Joseph, St. Lucy, St Juan Diego and more.
Live Christmas music from Dave & Lauren Moore will sparkle all around us.
Children will grow in their appreciation of Jesus as the true joy of Christmas
Kids will enjoy Technology fun in the Bible Zone
Middle schoolers will like playing strategy games at Redemption Challenge Games.
FUN faith-filled activities and crafts for young children in the Shepherd's Meadow.
Add an ornament to the Wish & Prayer Tree for any prayer intention.
Tasty prizes are part of the Jesus Birthday Cake walk.
Visits and photos with St. Nicholas, in person!
Twinkling lights surrounding a life-sized Nativity.
Storytime with Cathy Gilmore and her Virtue Heroes and more in the Virtue Village
Family FUN that celebrates our faith will be at the heart of making great memories together.
Q: How can attending an event such as this help us to prepare our hearts and souls for Christmas during the Advent season?
Our culture assaults us, and especially our kids, with messages of distraction, fear, selfishness, and an absence of faith. The St Nicholas Christmas Show weekend will be an immersion experience of Catholic culture in which souls can delight in Jesus as the best part of Christmas. The shared family memories from this event, and connections with new resources and ministries they find there, will inspire attendees long after they go home.  
Q: Are there any additional thoughts or comments you would like to share?
I'm a bit biased, but the St. Nicholas Christmas Show just might be the best way for families to jumpstart their Advent. It may also be the perfect early Christmas gift for grandparents to give their lapsed Catholic grown children or lukewarm grandchildren – to discover that the FAITH of Christmas and the FUN of Christmas can truly be the same experience. I hope lots of your readers make plans to come. Visit StNicholasChristmasShow.com for all the details.