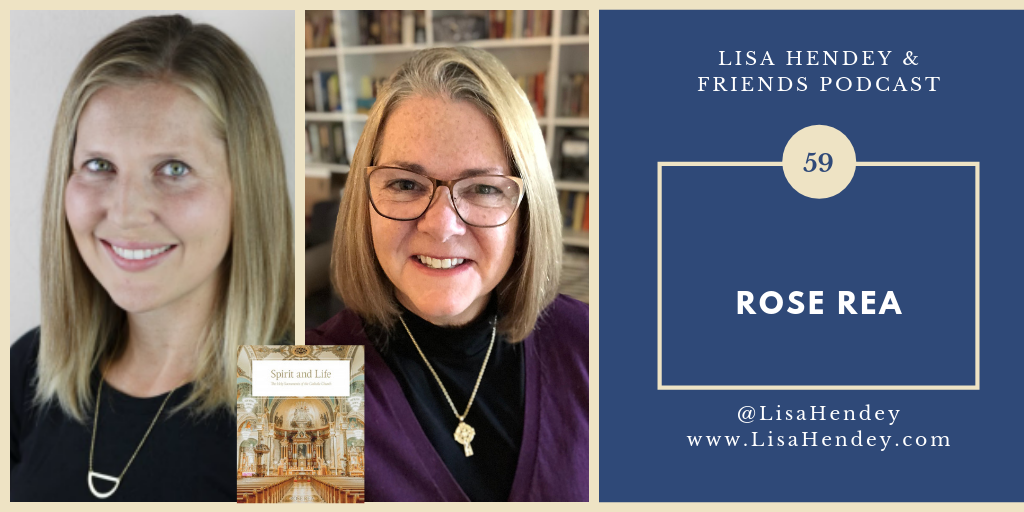 On this week's show, we meet Rose Rea, Founder of Radiant and Valiant Magazines and author of the beautiful new book Spirit and Life: The Holy Sacraments of the Catholic Church.
Meet Rose Rea, author of the beautiful new @SophiaInsPress book Spirit and Life on this week's episode of @LisaHendey and Friends podcast on @BreadboxMedia
Click To Tweet
Rose Rea:
Rose Rea is the Founder of Radiant and Valiant Magazines, Catholic Magazines for young men and women now owned by Our Sunday Visitor. Growing up in North Dakota, she is a country girl at heart and treasures the rich gift of her Catholic faith, especially the beautiful writings of the Doctors of the Church. Living in San Diego with her military husband, her greatest joy is being a wife and mother to her five busy, little children.
Spirit and Life:
With exquisite original photography and refreshing meditations, this stunning coffee table book invites you into the holiest mysteries of the Catholic Church — the Sacraments.
Passages from Scripture, from the Catechism, and from the Fathers and Doctors of the Church are coupled here with beautiful, full-color images and moving reflections from Catholics of different voices and ages — bishops, priests, deacons, and laypeople — all sharing their love for the Sacraments and their healing experiences with them.
Open these pages to encounter the truth and splendor of Christ's abundant graces poured out to us through the seven Sacraments, His indelible, life-giving gift to each of us.
Listen to the Podcast:
Listen to this week's podcast at Podbean, Libsyn, iHeart Radio or at your favorite podcast app.
Check out all of our book and movie picks at Lisa's Amazon Page. For Lisa's speaking schedule visit www.LisaHendey.com. Send your feedback to lisahendey@gmail.com or connect with Lisa on social media @LisaHendey. Thanks for listening! Please consider sharing, bookmark my page for future episodes and subscribe at iTunes to catch every show. Please consider leaving a review or rating for the podcast to help us grow!