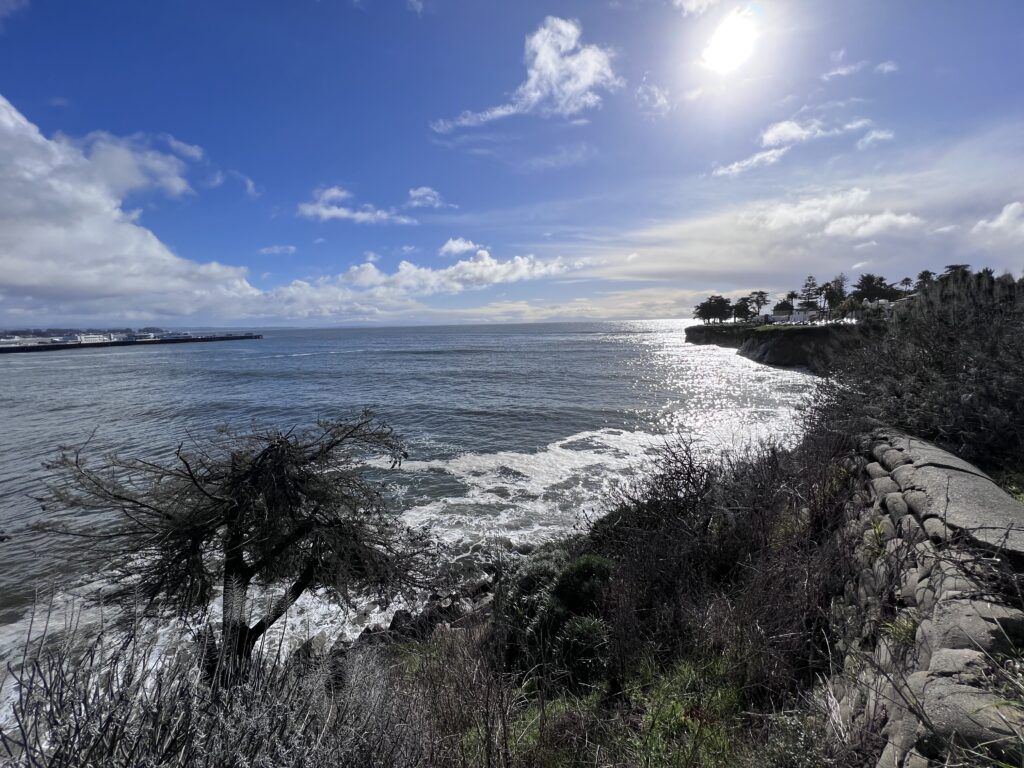 A few weeks before Christmas, I took a walk along West Cliff Drive in Santa Cruz. At several points, I stopped to marvel at the surfers atop humongous waves, the seabirds perched on the cliffs, and the incredible bounty of natural beauty. It's devastating to see the destruction now happening there and in so many other parts of California. I'm sending prayers to friends who have been impacted.
Here in Westwood, we are soggy but safe. Our house, half a mile from campus, sits atop a hill. From my windows, I can see the water rushing down our street non-stop on its way toward the Village.
Yesterday, I had a funny experience. For my first day of class, I decided to pull out some absolutely wonderful rain boots that Greg had bought for me back when we lived in Fresno. You know the kind: rubber, knee-high, decorated with the Notre Dame leprechaun. It was the first time I'd worn them in Southern California.
I set off to walk to my classroom, about a mile from home. About half a mile in, I noticed that my socks felt wet. How could that be, with perfectly awesome galoshes? I looked down and realized that my boots were literally falling apart. The rubber had cracked in several places and water was pouring in! I gingerly walked the rest of the distance to class, tucking my feet under my desk and hoping no one would notice my dilapidated shoes.
After class, I called Greg and was able to get a ride home to avoid walking barefoot in the rain. The whole situation was hilarious. The boots are now retired. But it did immediately make me think of our many unhoused neighbors in California who live without shelter, warm clothing, or a place to escape the elements.
We need rain in California. But many folks have lost so much because of these storms. I'm thinking today of friends in Northern California, Sacramento, Santa Cruz, Santa Barbara, and Montecito.
Stay safe, friends!