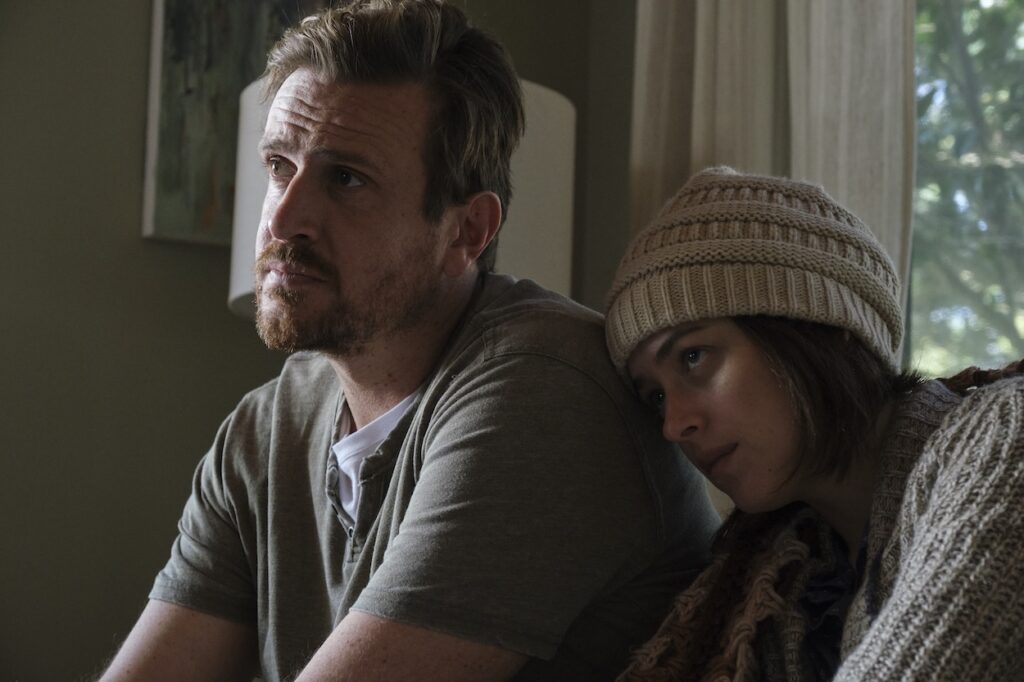 Consider, for just a moment, your own emotions and ideas surrounding the word "friend".
Perhaps when you ponder "friend", you think of yourself and your relationship to a trusted companion. Perhaps you remember a lifelong partner, or someone with whom you've lost contact but still miss. Or perhaps, for you, the word "friend" evokes pain because you're lonely and can't for the life of you think of a "friend" in your current reality.
In the age of social media, the term "friend" has taken on a far looser meaning. If the past year and its vitriol have taught me anything, it's that my real "friends" in life are the ones I don't block or hide because they cause my blood pressure to boil. True friendship doesn't hide behind filters. True friendship, love in the truest sense of the word, "bears all things, believes all things, hopes all things, endures all things."
Watching the film OUR FRIEND is an unexpected, often painful but emotionally rewarding masterclass in friendship. Gut-wrenching at its core, the movie is based on even harder source material: the 2015 Esquire article "The Friend: Love Is Not a Big Enough Word". Do yourself a favor after you watch Dakota Johnson, Casey Affleck, Jason Segel bring this story to life in Director Gabriela Cowperthwaite's version and read Executive Producer and real-life subject Matt Teague's own words.
Synopsis:
OUR FRIEND tells the inspiring and extraordinary true story of the Teague family—journalist Matt (Casey Affleck), his vibrant wife Nicole (Dakota Johnson) and their two young daughters—and how their lives are upended by Nicole's heartbreaking diagnosis of terminal cancer. As Matt's responsibilities as caretaker and parent become increasingly overwhelming, the couple's best friend Dane Faucheux (Jason Segel) offers to come and help out. As Dane puts his life on hold to stay with his friends, the impact of this life-altering decision proves greater and more profound than anyone could have imagined.

Source: Gravitas Ventures
While OUR FRIEND is very much the unfolding of Matt and Nicole Teague's love affair and blossoming family life told in sometimes confusing non-sequential fashion, eventually we realize that the true "hero" of this story is the couple's friend Dane. In the film, Dane is "that guy", the one who seems to have a hard time putting his life together, who has in a very real sense a failure to launch.
In my initial screening, I mistakenly put Dane's role in Matt and Nicole's life in the wrong box. In love with Nicole, I presumed, Dane stayed nearby and avoided relationships of his own because his feelings for her could never be requited. He stayed in the "friend zone", I told myself, waiting for the eventual moment when Nicole would realize she was too good for Matt and would become available.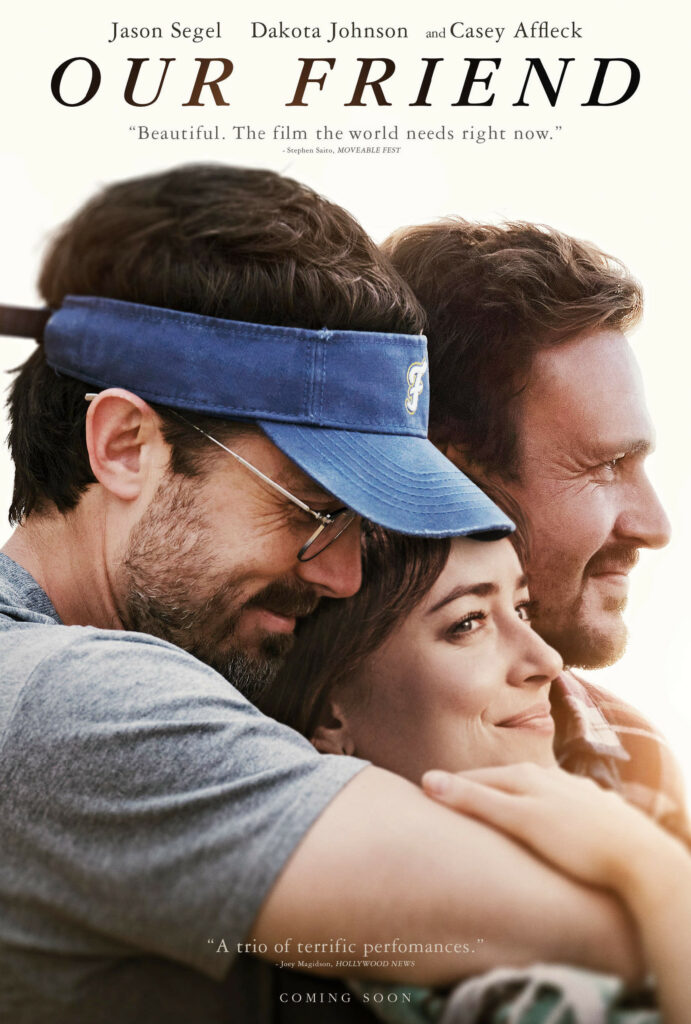 How wrong I was.
Without getting too spoilerish, I'll just say that OUR FRIEND is Dane's story, but also his story with Nicole, his story with Matt, and his story with their children Molly and Evie. The film is Matt and Nicole's story, but also Matt's story as a father, Nicole's story as a neglected and flawed wife, and the story of Dane as a fill-in dad sub for Molly and Molly's own thorny relationship with Matt. Friendship is considered from its many prisms, each with complications and joys that look different every time you turn them to a new angle.
A must-see masterclass on friendship, #OurFriendMovie is in Theaters & On-Demand today. Catch @LisaHendey's review and don't miss this super film. @OurFriendMovie
Click To Tweet
OUR FRIEND is a story of dying, but more importantly of living well. Nicole's horrible bout with ovarian cancer lies at the film's center, but it is not really the most important part of this movie. As they each grapple with her descent into illness, Matt, Nicole and Dane have lessons to learn and to teach along the way. Matt, a journalist with a penchant for travel to risky beats, must learn what home means. Nicole, a mom who will do anything for her children, must face her mortality and leave a legacy for her daughters. And Dane, who makes the ultimate decision to be there for his besties when it all gets too tough for casual friends, must eventually decide how to live his own story.
Artfully directed, beautifully produced, and jam packed with incredible performances from even those characters who have minimal screen time, OUR FRIEND is a movie you will want to watch at least a few times. Once, to come to know the friends and their stories. Another, to consider friendship in your own story.
Rated R for language, OUR FRIEND opens in theaters and at home on January 22, 2021.