On Wings of Eagles is a classic "rest of the story" drama which carries us beyond missionary Eric Liddell's turn on the 1924 Paris Olympics gold medal podium and into the tragedies war-torn China. As a Chariots of Fire groupie and one who included Liddell's legacy in a book, I was anxious to see how directors Stephen Shin and Michael Parker would capture the spirit of missionary zeal that was so lovingly crafted in my first on-screen encounter with Liddell. I'm happy to share that I was not disappointed.
But be forewarned. Unlike the chapter which came before it as created by Hugh Hudson and enacted by Ian Charleson, Liddell's story's ending here is far more challenging. And getting to that ending is painful as well, as Joseph Fiennes does not hold back in portraying the physical and emotional duress Liddell had to face after his athletic victories were behind him.
Rated PG-13 for some violent images, On Wings of Eagles opens in a relatively happy chapter of Liddell's life. We witness Eric falling in love with his wife Florence (Elizabeth Arends) and serving as a missionary teacher in China. As his love for those he teaches and his affinity for their language points out, Liddell feels absolutely at home in the land of his birth. He is beloved, and he loves lavishly in return. We soon meet Xu Niu (Shawn Dou) who evolves from his role as Liddell's driver and caretaker to the man who ultimately risks everything to protect Liddell. Through Xu Niu's retrospective narration, we experience the passage of time that takes us from a united Liddell family to the increasing danger attendant to the war in China.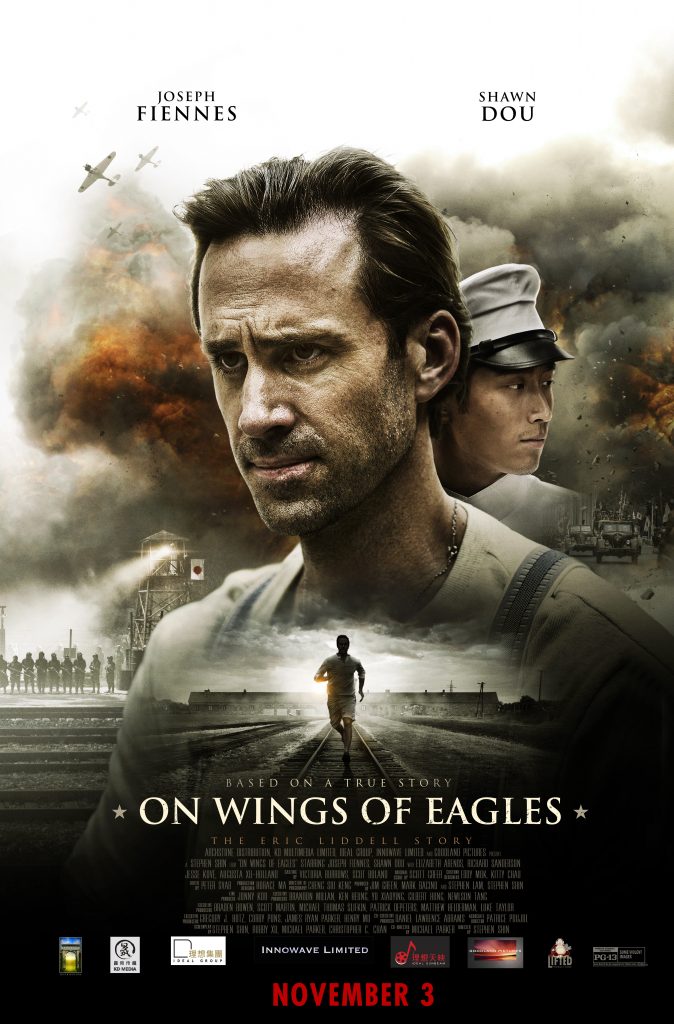 Ultimately, in one of many poignant moments contained within this film, Liddell says goodbye to his beloved wife and daughters (one of them still unborn). Eric's hope to reunite with them in safety before the birth of his third child never happens. Instead, Liddell remains devoted to his missionary community and is eventually imprisoned alongside them. He spirit is repeatedly lifted by a love letter from his family that becomes a talisman and also a symbol for viewers of the challenging choice he made, yet never seems to regret.
It is the moments inside the Weihsien Internment Camp, ironically called "The Courtyard of the Happy Way", that bring us the most painful yet poignant lessons taught by Liddell in On Wings of Eagles. Gone here are the sweet sermons and that memorable soundtrack from Chariots of Fire. In their place are morals taught with deeds instead of words and a haunting score by Scott Greer that figured largely in my enjoyment of the movie. While we miss Eric's verbal prayers, we witness in their stead a sacrificial love that fully permeates this story as it builds to its conclusion.
This is a quiet film, but one well worth seeing for its reminder that each of us, in our own way, are called to rise up and do what we know to be right. Some storytelling tactics have likely changed historical details here. Sensitive viewers may be disturbed by torture scenes and a graphic death in the film.
But for its fine acting, this movie look at a moment in history we hope will be left behind forever but that we can't afford to forget. A portrayal of one man's all-too-quick "race" through life, On Wings of Eagles is "the rest of the story" at its best.