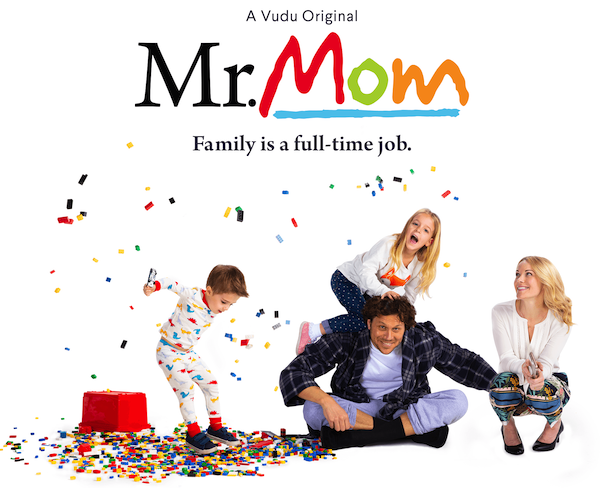 Around our house, we use the term "woobie" a whole lot. This term of endearment for one's favorite blankie came into our life in 1983 when we first heard Jack Butler (Michael Keaton) warn his kids about severe woobie dependancy:
Did you love Michael Keaton as Jack Butler in Mr. Mom? Check out @MrMomTV a new take on a classic film now airing on @Vudufans #MrMom
Click To Tweet
As a major first-gen MR. MOM fan, I was pretty psyched to hear about a refresh of the concept for a new generation of families. This time around, "Mr. Mom" is being released via Walmart's Vudu platform. New free episodes will each Thursday for streaming. Part of the fun is the updating of concepts that still brings stress in homes… how to balance all of the demands and responsibilities of family life, how to provide financial support to keep a roof over your head, and especially how to handle those tough woobie moments.
https://youtu.be/2YqIYQGZNLk
Synopsis:
Based on the classic eighties hit film written by John Hughes and starring Michael Keaton, this series is a modern retelling of Mr. Mom. Megan (Andrea Anders) and Greg (Hayes MacArthur) are at a parenting crossroads. After five years raising their two kids at home, Megan has unexpectedly landed her dream job. Greg's career is anything but a dream job, so after several failed attempts at securing childcare he abruptly quits in order to take his turn as the stay-at-home parent. He's thrust headlong into a world of tantrums, diapers and cheese sticks, all while finally attempting to get his start-up off the ground. Megan quickly finds out just how much has changed as she reenters a workplace filled with overeager millennials and strange new terms like Slack and hot-desking. It'll take all the patience these two parents can muster as they try to raise their kids, make ends meet, and find a little time for their marriage.
Mr. Mom stars Hayes MacArthur (Merry Happy Whatever, Angie Tribeca, Super Troopers 2), Andrea Anders (Young Sheldon, The Good Fight), Catherine and Elizabeth Last ("Waitress"), and Cary Christopher. The episodes are concisely under fifteen minutes, which means that you can lock yourself in the bathroom or your minivan or at your hot-desk and binge-watch the first two quickly and then stay caught up without feeling too guilty. I'd recommend watching them first before sharing with your kids to decide if the comedy is appropriate for your family. I loved hearing jokes about newfangled stuff like Slack and start-ups mixed in with all of the timeless laughs that fill any home. Sure there's potty talk and stress, but there's also a lot of love and a sense that we're all doing the best we can to manage the crazy train that is parenting.
And for the record, I still haven't handed over my woobie.