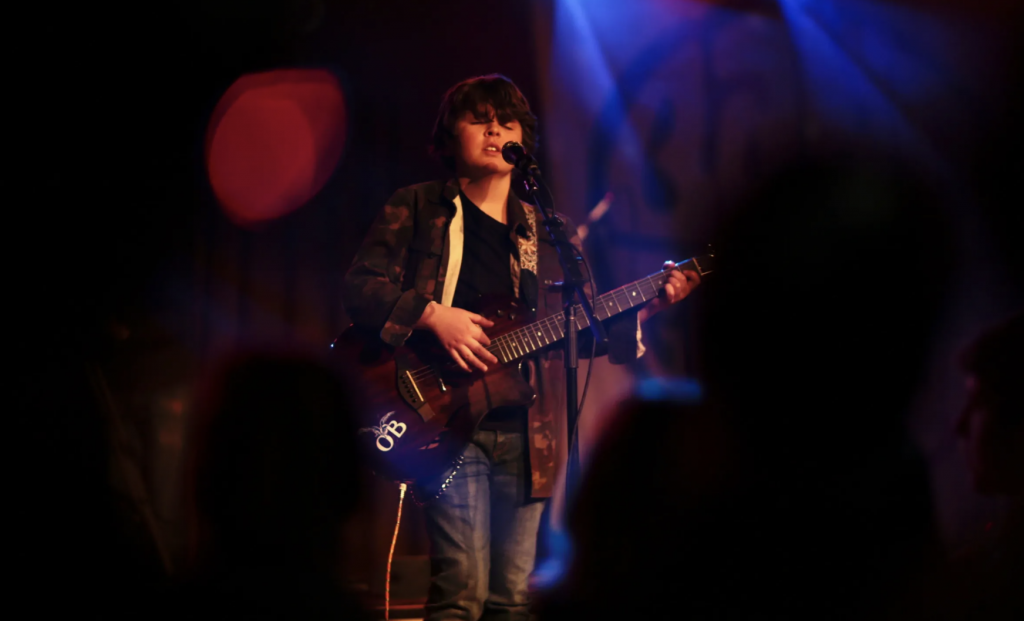 If you've run across the trailer for Mighty Oak and considered it as a possible summer screen for your kids who loved School of Rock, think twice. Despite the charisma and mad guitar skills of its pint-sized protagonist, this really isn't a film for children.
This being said, Mighty Oak musters enough emotion and engaging storytelling to merit interest. Director Sean McNamara, undoubtedly best known for Soul Surfer, ventures far from family-friendly Christianity here and into worldly issues such as drug abuse, mental illness, and reincarnation. The film earns its PG13 rating with occasional vulgarities, hypodermic needles, a violent accident, and a few untimely deaths.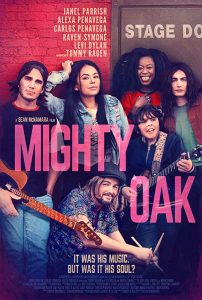 Synopsis:
Gina and Vaughn are the sister and brother duo taking the SoCal music scene by storm with their band Army of Love. Gina "Jean Jacket" Jackson (Janel Parrish) is behind the scenes as the savvy and determined music manager while her talented brother Vaughn Jackson (Levi Dylan) is the gifted frontman of their popular band. On the night of their biggest break yet, the siblings' bond is shattered when Vaughn is killed in a tragic car accident and Gina is unable to pick up the pieces of her life. Ten years later, a 4th grade guitar prodigy named Oak Scoggins (Tommy Ragen) enters Gina's orbit, and she becomes convinced that this child must be the reincarnation of Vaughn. While Oak does have Vaughn's talent and some of his traits, Gina's friends become concerned with her decision to re-launch their long dormant band with Oak as the frontman taking Vaughn's place. Oak comes from a disadvantaged household and as he is thrust into the spotlight, he finds that music is the perfect escape and the much needed outlet for his pain. Gina in turn finds an outlet for her grief and a way back into living life out loud and to the fullest.
While it's definitely not a film I'd share with pre-teens without major parental pre-screening, there are topics of great worth at play in Mighty Oak. Twelve-year-old Tommy Ragen as Oak isn't just the cute kid being brought on screen for laughs. A talented songwriter and musician in real life, Ragen delivers some of the film's most poignant moments when he has to stand up to the school bullies and becomes the caretaker for his druggy mom. Oak, with his cherubic mop-top, is the kind of ten-year-old you want to like. Along with being a musical genius, he genuinely seems like a good kid, one who is easily trusted. But Oak's fragility shows on the night of a big musical triumph when his mom fails to show up for his big performance. Suddenly, the band's convincing new frontman is a devastated child. There are other tender moments when Ragen's acting abilities rival his ability to jam.
Check out @LisaHendey's review of @MightyOakMovie #MightyOakTheMovie now available on digital platforms
Click To Tweet
While there are a few clunker cases of overacting, the cast is for the most part strong and likable. Raven-Symoné stands out as Taylor Lazlo, a sassy, hard as nails music reviewer. Janel Parish is convincing as Gina Jackson, the big sister who has never been able to overcome her profound grief at the loss of her brother Vaughn (Levi Dylan). I was most moved by Carlos PenaVega's Pedro. The foil to Gina's conviction that Vaughn has been reincarnated as Oak, Pedro loves Gina but also respects himself enough to want to avoid being entrapped again on Gina's crazy-train.
Along with a terrific musical score, the various locations set in and around Ocean Beach, California are a perfect backdrop for the club scenes, Oak's surfing moments, and the coffee-klatch hangout that becomes the band's cheap hangout. "Larry" a canine companion who goes from pint-sized pup to oversized mammoth hound helps us see the film's passage of time almost as effectively as an early joke about iPods. Even if predictable at moments, the script by Matt Allen is ultimately satisfying enough to give us a few unpredictable moments along the path we ultimately wish for.
I'm not a believer in reincarnation. Although Mighty Oak doesn't definitively prove that Oak is the reincarnated Vaughn, it strongly campaigns for that case. Had the film not dwelt on that problematic construct and had it omitted a few instances of vulgar language, it most likely could be called acceptable for pre-teens. As it is, this might be the type of film you could watch and discuss with older children. It raises topics that deserve attention and conversation.
For me, the film's reminder that we each have a destiny of our own if we cooperate with God's will for our lives is strong reason to consider watching Mighty Oak. Ultimately, Oak doesn't need to relive Vaughn's glory days to make his own dreams come true.
Mighty Oak is currently available for streaming and download on a variety of platforms. Learn more at mightyoakthemovie.com.
Rated PG-13 for thematic content involving substance abuse, language, some accident images and brief suggestive comments