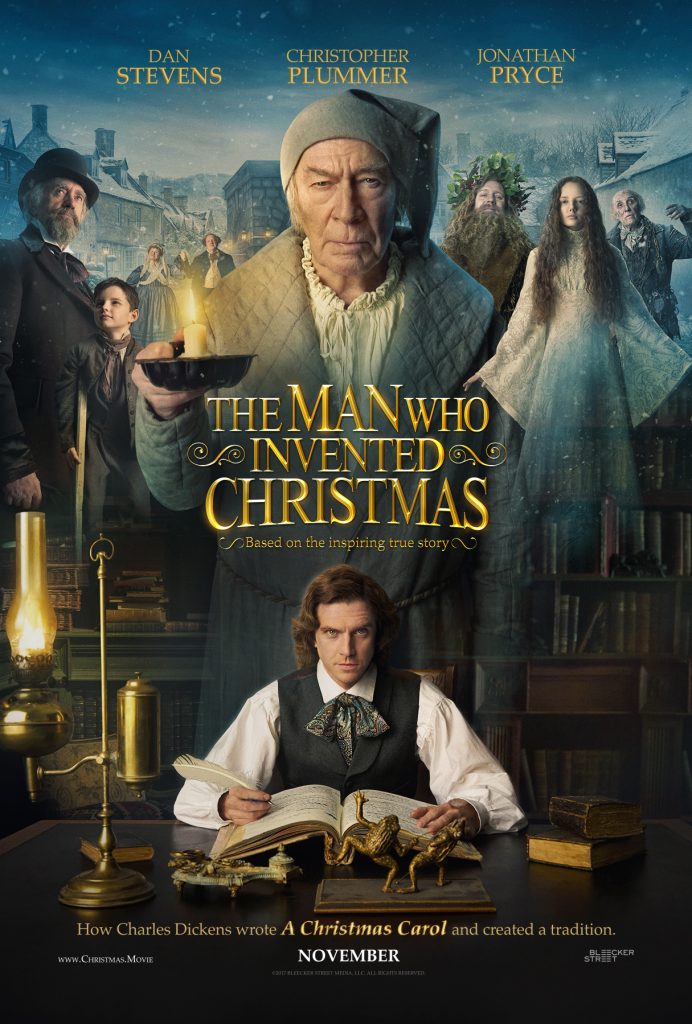 While the title of this film may include "Christmas", in my mind The Man Who Invented Christmas is the perfect movie to watch for Thanksgiving in anticipation of Advent and Christmas. Opening nationwide in theaters this week and inspired by a book by Les Standiford, this charming biopic reminds us to count our blessings and to listen to the voices in our heads.
Synopsis:
The Man Who Invented Christmas tells of the magical journey that led to the creation of Ebenezer Scrooge (Christopher Plummer), Tiny Tim and other classic characters from A Christmas Carol. Directed by Bharat Nalluri (MISS PETTIGREW LIVES FOR A DAY), the film shows how Charles Dickens (Dan Stevens) mixed real-life inspirations with his vivid imagination to conjure up unforgettable characters and a timeless tale, forever changing the holiday season into the celebration we know today.
Hearing Voices
While director Bharat Nalluri invites us to look at a story which is quintessentially "Christmassy", I'd hate to limit the potential of this film to a holiday feature. Perhaps because I'm a writer of fiction myself, I fell in love with Dan Stevens' frenetic turn as the crafter of perhaps the greatest Christmas story ever told. Early in the film, we watch as Dickens is lauded by Americans following his massive commercial success. But upon Charles' return to his beloved homeland, we learn that he's had three flops and is on the ropes, overburdened by debt and seemingly faced with a crisis of confidence. Add in a mooching dad (Jonathan Pryce), a wife (Morfydd Clark) who is pregnant with his fifth child, and a publishing company that seems convinced that their author's day has come and gone and you can see why Dickens is absolutely paralyzed and can't write a single word.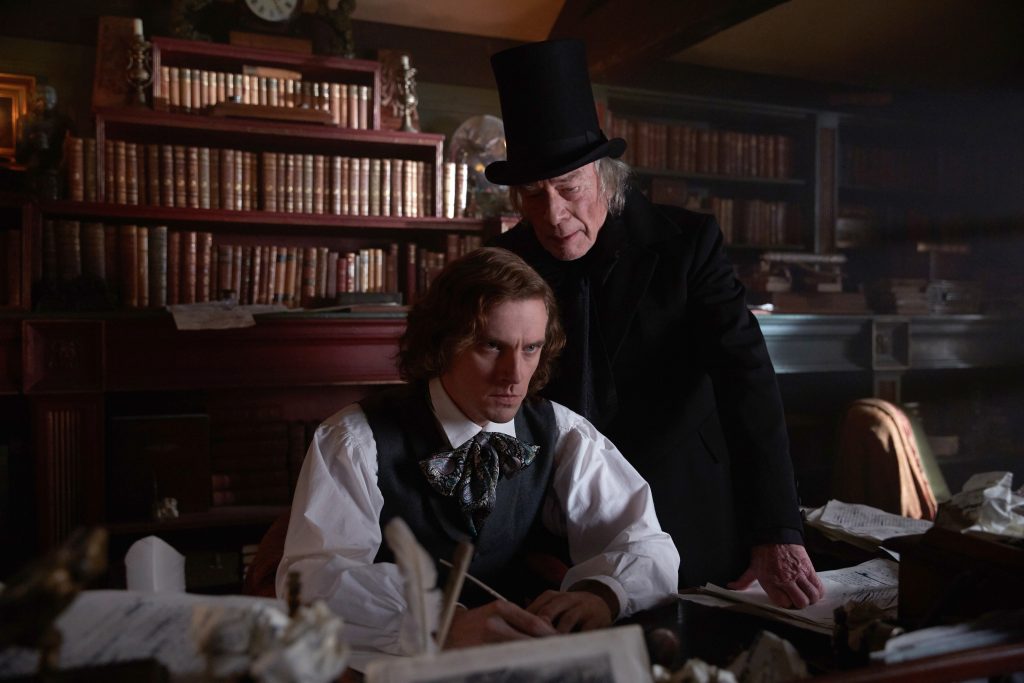 While I would never compare myself to the masterful Dickens, there are a few elements of this movie that made me realize that some of my crazy-author-on-a-deadline behaviors are perhaps universal.
Dickens can't help but listen to a "frenemy" read him negative reviews
Dickens is overwhelmed completely by terrifying writer's block
Dickens has known the fleeting joy of success and the enduring sting of failure
Dickens carries a tiny journal, collecting names for future reference
Dickens, suddenly inspired by an overheard story, has an idea that becomes in an instant mandate
Dickens begins to almost live inside his story, even to the point of hearing his characters' voices and having conversations with them.
Now look at the list above, replace the word Dickens with "Lisa Hendey" and perhaps you'll see why I loved this film so much.
I've often told children who attend my "Virtual Author Visits" that my Chime Travelers series—penned in my sons' old tree house–was written with equal parts methodical research and wild imagination. During my writing sessions, I would climb up into the treehouse, say a prayer for inspiration, and then sit in my rocking chair (sometimes for hours) daydreaming about my characters and scenes. Then, having seen my mental versions of them live out the action, I would take to the keyboard and type as fast as I could, anxious not to miss a scrap of the detail that had played out so lavishly in my mind.
They became real to me, as real as family, and their voices and actions would often wake me in the middle of the night. I took to keeping a journal next to my bed to capture their dialogue. Much of that middle of the night dreamed up banter made its way into my books. So watching The Man Who Invented Christmas with my husband was a true blessing for me. I could finally explain to Greg that my odd behavior when I'm working on something–especially during the early inception phases of an idea–is not pathological.
Dan Stevens and Christopher Plummer shine in @InventChristmas #InventingAChristmasCarol
Click To Tweet
Not Just for Christmas
It's hard not to call this film a "Christmas movie". Certainly, its release is well-timed to make this a fun family outing for the Advent season. But there are a few reasons that it stands on its own as a great story for any time of the year.
While it's not encyclopedic, the film certainly invites us to consider the genius that was Charles Dickens and shows us some of the conditions under which he rose to fame. Especially poignant are his interactions with his family, our gradual understanding of his upbringing, his marvelous sense of humor and character, and how the economic conditions of his age impacted him personally and professionally.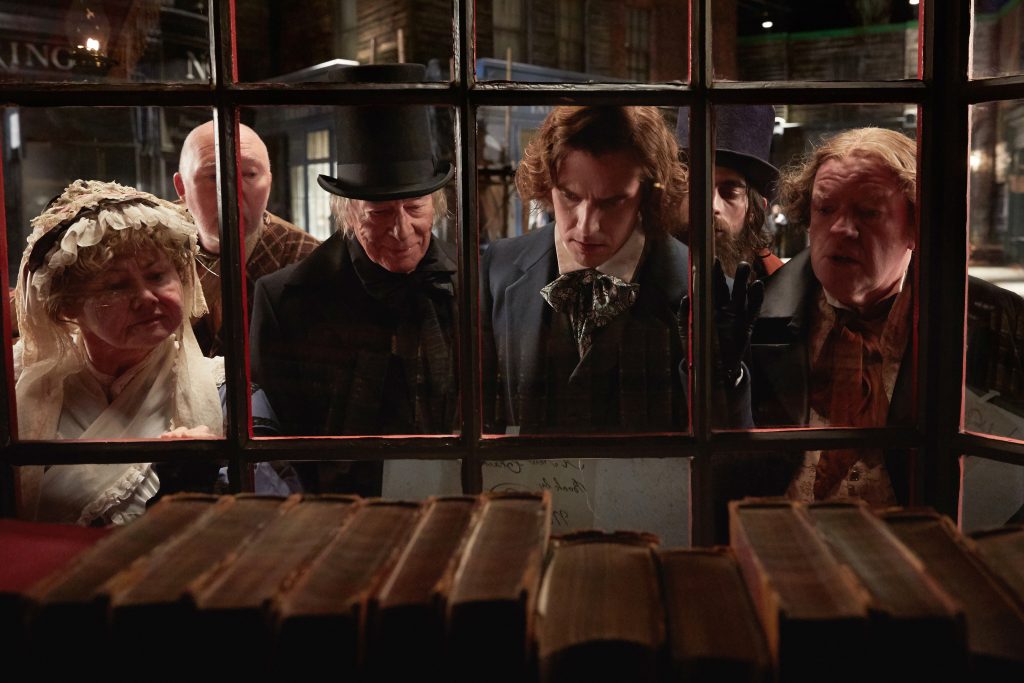 Also of note is the opportunity to watch Christopher Plummer absolutely shine as Ebenezer Scrooge. Plummer's turn at this role that's been played by everyone from James Earl Jones to Susan Lucci to Michael Caine is for me the best I've seen. Plummer has the depth to show us not only Scrooge's conversion of heart but also the roots of the miser's woundedness with a believability that outpaced any former Scrooges in my book. This is also the film that will help me see Dan Stevens as someone besides my beloved Matthew from Downtown Abbey. Stevens' Dickens is almost wild and possessed in his urgency and mission.
Add in rich costuming by Leonie Prendergast, inspired set design by Julie Ochipinti, and great music by Mychael Danna and you have a sensory delight that takes you straight to December 1843.
And speaking of mission, we can't overlook the ultimate dual morals of A Christmas Carol: man's universal potential for conversion of heart and our societal duty to care for those most in need. As we anticipate our celebration of the Thanksgiving feast and gather around our tables nationwide to appreciate our blessings, this is the perfect time to anticipate what and how we will give of ourselves this holiday season.
The Man Who Invented Christmas offers a perfect springboard for discussing this with our families. Rated PG for thematic elements and some mild language, this film contains a few "scary" scenes that may frighten young viewers, but very little else to concern parents. And while this film has virtually no mention of the religious celebration of Christmas, it most definitely reminds us of the spirit with which we should be giving our gifts–material, but especially emotional and spiritual–all year long.