Today, I continue my ongoing series of conversations with published authors as I'm joined by Katie Warner, the incredible force of goodness and light behind the wonderful Faith First Treasury book series. While our conversation here centers around the recently launched book Listening for God: Silence Practice for Little Ones, you'll definitely want to check out and share ALL of Katie's work. Her unique way of sharing the timeless teachings of our Faith with love and clarity is a gift for readers of any age. Enjoy! Lisa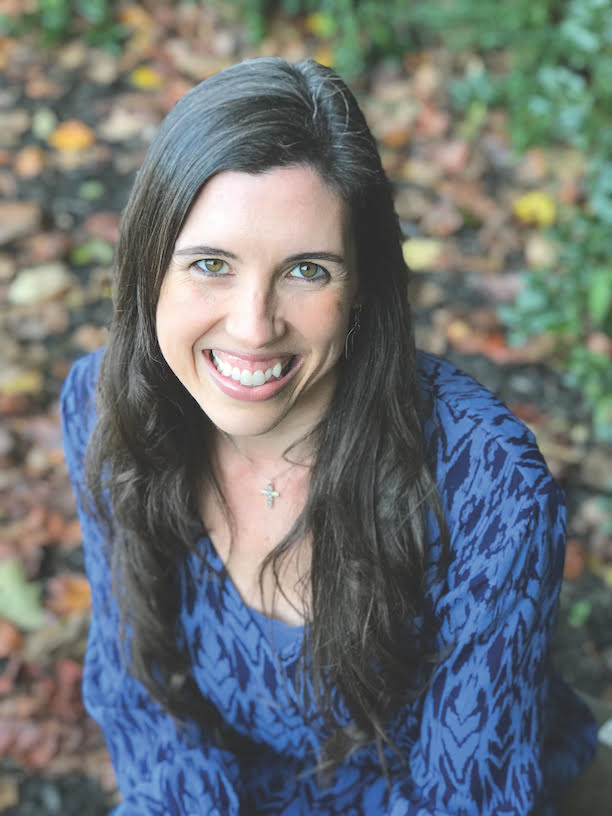 Q: Katie, congratulations on the publication of Listening for God: Silence Practice for Little Ones. This is yet another in the beautiful work you've created. Would you please briefly introduce yourself and your family to our readers.
It is truly such a blessing to do this work! My husband, Raymond, and I live with our four amazing young children, ages 7, 5, 3, and 1, in Georgia. I'm a homeschooler by day and author by naptime/night. Years ago, my dear friend Meg, who also happens to be a talented illustrator, and I had a dream to bring fun, whimsy, and pleasure to Catholic children's literature, while retaining solid, orthodox catechesis and authentic beauty in each book. First Faith Treasury books now pepper the shelves in our home! Our children are the best influencers of our work (next to the Holy Spirit!), and many of the book ideas that come to fruition are born from my own experiences living and learning the faith with them, from conversations we have, or from other children's books we've been inspired by. I have a graduate degree in Catholic theology, so it is also important to me that our books do not water down our incredible Catholic faith, but rather honor the great capacity our children have to know God and His truths (God Himself placed that desire and capacity in their hearts and minds)! These are the books we wished we had for our kids. We are so blessed we can share them with others, too!
Q: This book uses the beautiful biblical story of Elijah to teach children the often challenging practice of silent prayer. Why was this a message you felt compelled to share with little ones and their parents?
Years ago, I started having my young children practice silent time each day. They loved the story of Elijah and the still small voice.
I'd ask them, "Did Elijah hear God in the wind?"
"NO!!!" they'd yell excitedly.
"How about in the earthquake?" "NO!"
"In the fire?" "NO!"
So "How did Elijah hear God?"
Their voices hushed and their eagerness grew as they'd whisper: "In the still small voice."
That daily practice became the seed concept for Listening for God: Silence Practice for Little Ones.
The book really dives into this idea of finding God in the silence, hitting home the message that in listening for God, we ready ourselves to hear God's voice and uncover His will and plan for our lives. God made our children for great things, just like He made the prophet Elijah for greatness, and by giving their time to Him and their hearts to Him, they can learn how to pick up on all of the ways that He is already speaking to them – through His Word, through others, through the blessings He's given them, and so on.
Cardinal Robert Sarah writes, "God achieves everything, acts in all circumstances, and brings about all our interior transformations. But he does it when we wait for him in recollection and silence."
The ability to be silent is a skill that many adults don't even cultivate. But if we want a deeper relationship with God, we have to give Him the time and space in our lives for that relationship to grow.
Listening for God is meant to help parents and teachers and caregivers give young children the tools they need to learn how to break from the noise of the day in order to give God that space to act in their lives and communicate with them, to bring about that "interior transformation" Sarah talks about that will lead them to become the saints they were made to be. Being open to Him, meeting Him in prayer when He is already waiting for us, is a response to that invitation to relationship – the most important relationship.
Q: Is it really possible to help young children find time for silent prayer? How does the book also offer suggestions for adults to make this a part of a family's prayer time?
I think it's so important for little ones to learn early and intentionally how to quiet themselves so they can hear God's voice. At first, our silent time training only lasted a minute. Then two, three, four… They look forward to it now as a regular staple of our prayer time, and the book is their favorite launching point to move into that silent prayer.
Now, I always tell fellow moms and dads in the trenches of the little years: don't picture a perfectly silent atmosphere in our home like you'd find in a monastery. The toddler is making background noise, the three-year-old usually whispers, "Has it been five minutes yet?" at least twice…. But it's such a helpful start, a building block to future holy hours that our little ones will spend in the adoration chapel or at home listening for God's voice and being with their Savior and Best Friend.
Habits are more easily formed when they are simple to do and attractive to us. For our family, that meant silent time became the precursor to family vocal prayer time. We're already together, we read Listening for God, and we spend a few minutes in silence before starting our vocal prayer [like the rosary and our nightly prayers of thanksgiving]. The important part is to just pick a time and a frequency that would work best for your particular family, and do it.
Join @LisaHendey in conversation with @CatholicKatie, author of Listening For God and so many other @TanBooks treasures. Find out how seeking silence helps us deepen our prayer lives and share this with our children.
Click To Tweet
Q: Katie, with modern spiritual practices such as the trend of "mindfulness" now so broadly practiced, could you please share a few thoughts on how silent Christian prayer differs from other forms of meditation?
As Catholics, we do not seek silence as an end in itself, like perhaps an Eastern religion may do. We practice silence not to empty ourselves or to find nothingness in the quiet, but to find God there, to hear His voice, to enter into conversation with Him.
In Listening for God, I purposefully used a biblical angle to approach the concept of silent prayer, because as Christians, we hear God's voice in a particular way through His Word that He has given us—Sacred Scripture. So the Scriptural story of Elijah is also meant to be fodder for prayer and reflection. Readers can spend silent time in prayer, for example, meditating on the meaning of this biblical narrative and uncovering God's message for them in the story.
Mindfulness didn't even cross my mind (pun intended) as I wrote this book for young children. Christian prayer finds its roots in the silence that allows us to place ourselves in God's presence (however briefly or lengthily!), gaze at Him, listen to Him, dialogue with Him, and let His Word sink into our hearts. This book is very simply meant to help stir in children the desire to develop a habit of personal prayer and listening for God.
I'm reminded of two examples from the lives of the saints that help illustrate the importance of developing this art and habit of Christian prayer. When Saint John Vianney asked a peasant what he said to Our Lord as he sat in front of the Blessed Sacrament, the farmer replied, "I look at Him, and He looks at me." And it was St. Therese who said, "For me, prayer is a surge of the heart; it is a simple look turned toward heaven, it is a cry of recognition and of love…" This is what I want for my children and fellow little readers – the growing longing to look at Him, to allow their hearts to surge for a moment with love for their Savior, to simply glance toward heaven, and it begins in silence.
Q: If a family is not actively praying together, how can Listening for God be a part of "baby steps" a family might take to start this practice in their home?
Logistically speaking, the book makes for a great transition between the sometimes chaotic atmosphere in the home prior to prayer time and a calmer, more peaceful prayer time together as a family. The book is interactive, so there is a really fun part where the kids get to move and get their wiggles out before the silence practice, and that has been a huge hit with readers. I've been blessed to hear from many moms and dads who say, "Hey, this book actually works!" Books are such a great way to share culture and make connections, and in this case, Listening for God can be a really easy tool to facilitate a family culture and habit of prayer.
Q: Please say a few words about the beautiful illustrations by Amy Rodriguez. They are a lovely compliment to your prose!
What a gift it is for me to work with such talented artists! Amy Rodriguez's own love of the faith really leaps off the page with her colorful, captivating illustrations. My children enjoy not only her depictions of Elijah throughout the story, but they particularly love the way she has drawn and captured the diversity of children in the book, pointing out which kids they can relate to (and the virtues that float above their heads on one of the page spreads). All of the landscape art and details of the illustrations really add to the peaceful ambiance of the book. Meg Whalen, art director for the book, contributed such a skillful touch in bringing together the cover art and text…I'm perpetually baffled by what visual artists can do to make a book really shine!
Q: How did writing this book bless you personally?
Most of the books I write speak directly to my own heart and spiritual life and Listening for God is no exception. Even as a lifelong Catholic practiced in prayer, I struggle to find time for silence. I also need a great deal of patience with myself in the process of growing in prayer. Heaven knows I have not mastered the art of silent prayer. But so much of the spiritual life is about baby steps.
Saint Francis de Sales says, "God takes pleasure to see you take your little steps." I love that quote because it reminds me of a father watching his newly-minted toddler learn to walk. The steps are wobbly and clumsy, and he often gets distracted and doesn't get very far. (Our fourth kiddo just turned one, so I'm describing a real-life experience in our home right now!) But I imagine this is how God views His children as they grow in their capacity for silence, or in any practice of the spiritual life for that matter. It's pure joy and love for Him, and so as parents and teachers we can teach silent time and personal prayer to our children and then practice with them from a place of encouragement rather than expediency…and that's a reminder for me as much as for anyone else!
Q: Are there any additional thoughts or comments you would like to share?
We just renovated our website and began offering free seasonal resources to families to help form little disciples. Please check out our "Treasure Box" or any of our books (all published by the wonderful TAN Books) at FirstFaithTreasury.com! It is an indescribable and humbling blessing to get to share the faith with little ones. They are among the greatest in the Kingdom, and we must become more like them to enter the Kingdom ourselves! I hope we can do it for many years to come.