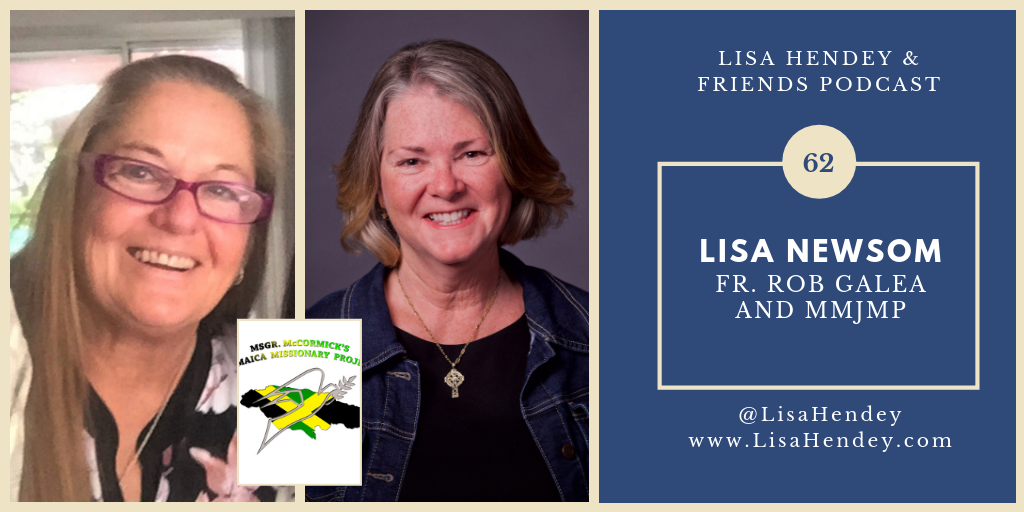 On this week's show, Lisa Newsom, founder of Msgr. McCormick's Jamaica Mission Project shares the origins of this lifechanging work and an upcoming opportunity to hear and worship with Fr. Rob Galea in concert.
On this week's @LisaHendey and Friends podcast on @BreadboxMedia meet Lisa Newsom, who shares about a remarkable mission project in Jamaica and announces an upcoming event with @FrRobGalea at @HSFresno
Click To Tweet
Lisa Newsom and MMJMP
Lisa Newsom is the Founder and Executive Director of Msgr. McCormick's Jamaica Mission Project, MMJMP, a 501(C)(3), bringing grace and dignity to the poorest of God's poor in Jamaica through outreach, evangelization, and giving of self. Since September 2002, twenty-seven teams and over 260 missionaries have joined MMJMP to build 22 homes and assist with the building of a factory and medical, dental and eye clinics. MMJMP facilitates the formal education of more than 200 children annually. Basic English, reading, writing, and math skills are also taught to children and adults with the hope of erasing illiteracy and learning skills to acquire income. Visit: www.MMJMP.com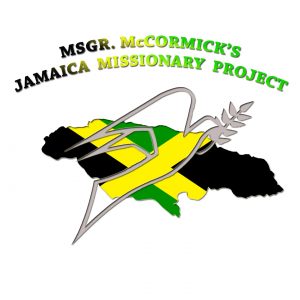 Fr. Rob Galea to Perform in Fresno – From Desperation to Hope
Possibility Productions and Holy Spirit Catholic Church in Fresno proudly present Fr. Rob Galea on Sunday, Sept 15 at 7 PM. This premiere family concert event will highlight Fr. Rob's own journey from troubled teen to Catholic priest. In words and music, Fr. Rob will offer us a path to joy and peace, from desperation to hope, in a world where bad things happen.
Tickets are exclusively available online at www.holyspiritfresno.org and at Holy Spirit Parish office. General admission tickets are $20 Advance, $15 Advance for Groups of 10 or more, and $25 at the door. This event will benefit Monsignor McCormick's Jamaica Mission Project.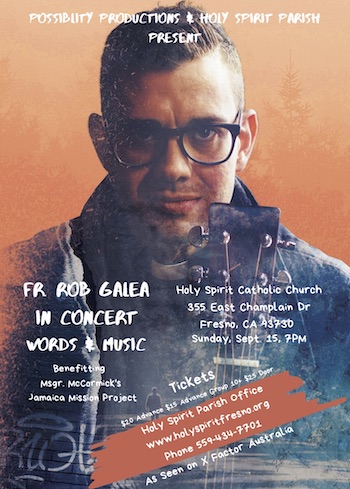 Fr. Rob Galea
As a young man struggling under the weight of rebellion, addiction, and depression, Fr. Rob was considering ending his life but he fought his demons to forge a relationship with Jesus Christ and has never looked back.
As well as being an internationally renowned pop sensation and aspiring body-builder, this naturally introverted man with "Forgiven" tattooed on his well-developed bicep is first a Christian and ordained Catholic priest currently serving the Sandhurst Diocese in the state of Victoria, Australia.
Wearing his Roman collar, Fr. Rob exploded onto the world music stage in 2015 as a contestant on Australia's X-Factor. With World Youth Day appearances in 2008, 2016 and 2019, Fr. Rob is in the company of extraordinary artists who have performed in key Catholic events before a single live audience exceeding 1,000,000 people. Fr. Rob's book, Breakthrough: A Journey from Desperation to Hope, is being produced as a Hollywood movie.
He's known to millions through FRG Ministry – A Catholic movement bringing the love of Jesus and His message of hope to people of all ages around the world. Fr. Rob and his team currently minister to over 400,000 annually, carrying Christ's message of hope and relationship with Jesus to all they encounter.
Listen to the Podcast:
Listen to this week's podcast at Podbean, Libsyn, iHeart Radio, Spotify or at your favorite podcast app.
Check out all of our book and movie picks at Lisa's Amazon Page. For Lisa's speaking schedule visit www.LisaHendey.com. Send your feedback to lisahendey@gmail.com or connect with Lisa on social media @LisaHendey. Thanks for listening! Please consider sharing, bookmark my page for future episodes and subscribe at iTunes to catch every show. Please consider leaving a review or rating for the podcast to help us grow!