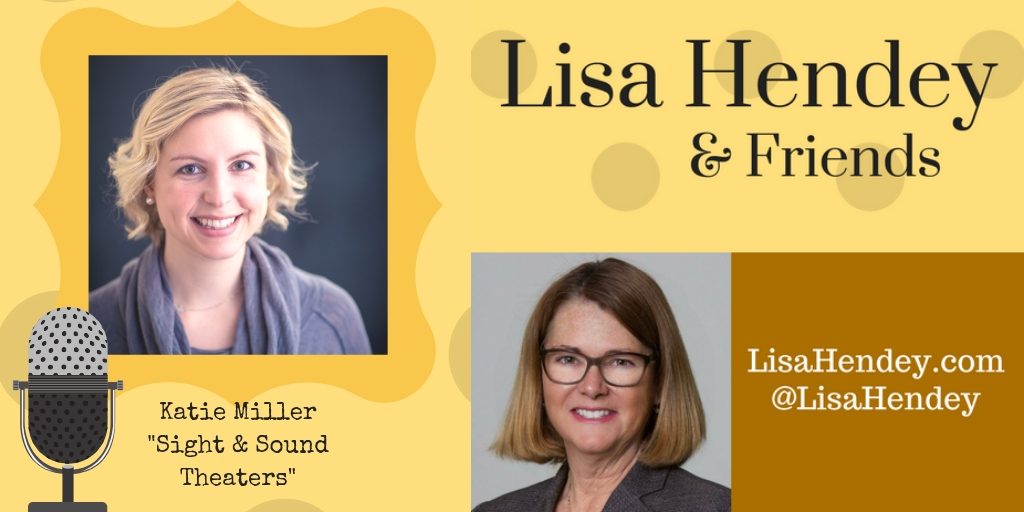 On this week's show, we visit with Katie Miller of Sight & Sound Theatres. For over forty years, Sight & Sound has been bringing the Bible to life on stage. Each year, Sight & Sound welcomes more than a million people from around the world who come to experience these amazing stories at their theaters in Branson, MO and Lancaster, PA.
As Corporate Communications Manager and a member of the founding family of Sight & Sound, Katie Miller works with the Leadership Team, Management Teams, and individual departments within the Lancaster and Branson locations to bring synergy, cohesion, and direction to internal and external communications.
Tune in for this week's @LisaHendey and friends podcast and meet Katie Miller of @BibleOnStage and learn about Sight & Sound Theatres, #WheretheBiblecomestolife!
Click To Tweet
Sight & Sound Theatres
Sight & Sound Theatres began more than 40 years ago in rural Pennsylvania where a dairy farmer went from producing milk to producing live entertainment with a purpose. Today that vision has expanded to two state-of-the art theaters in Lancaster, PA and Branson, MO, where stories from the Bible come to life on stage. Every production is an epic experience with massive sets, special effects and live animals. Still family-owned, Sight & Sound's nearly 650 staff members write, produce, design and build the original shows, drawing nearly 1.5 million audience members each year.
For More Information:
Listen to the Podcast
Listen to this week's podcast at Podbean, Libsyn, iHeart Radio or at your favorite podcast app
Check out all of our book and movie picks at Lisa's Amazon Page. For Lisa's speaking schedule visit www.LisaHendey.com. Send your feedback to lisahendey@gmail.com or connect with Lisa on social media @LisaHendey. Thanks for listening! Please consider sharing, bookmark my page for future episodes and subscribe at iTunes to catch every show. Please consider leaving a review or rating for the podcast to help us grow!