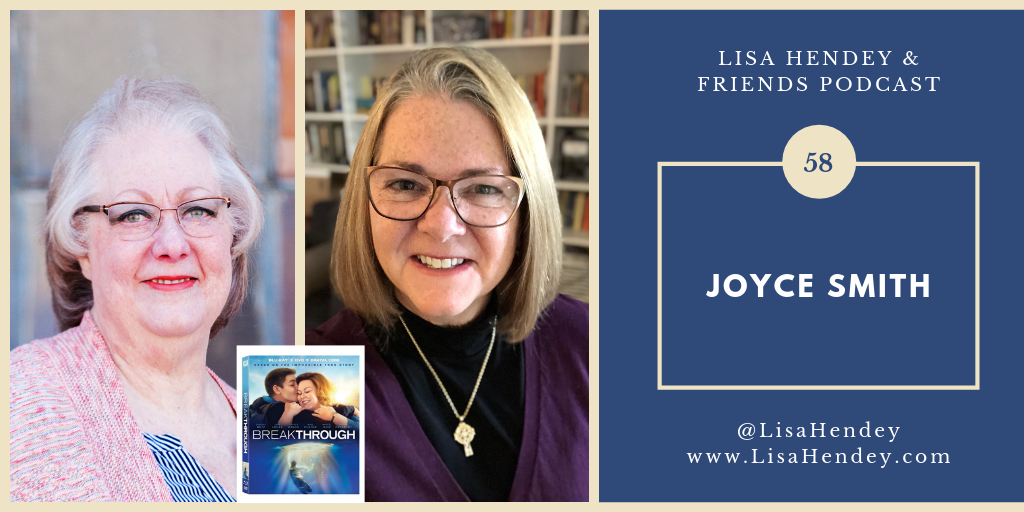 On this week's show, we welcome Joyce Smith, the author of Breakthrough: The Miraculous Story of a Mother's Love and Her Son's Resurrection on
which the film BREAKTHROUGH is based. The film is now available on all Digital streaming, Blu-Ray, 4K and DVD platforms.
Joyce Smith:
JOYCE SMITH was born in Wichita, Kansas, grew up in Ohio and lived in eight different states as well as Canada and Germany. She and her husband, Brian, now live in St. Charles, Missouri. In addition to John, they have three wonderful sons and five beloved grandchildren. Joyce is the author of The Impossible: The Miraculous Story of a Mother's Love and Her Son's Resurrection on which the film BREAKTHROUGH is based. She loves speaking to audiences about what God has done for her family . . . and continues to do.
Meet Joyce Smith, the author whose book inspired @SeeBreakthrough film and role portrayed by @ChrissyMetz on this week's @LisaHendey and Friends podcast on @breadboxmedia
Click To Tweet
Breakthrough:
Twentieth Century Fox Home Entertainment presents BREAKTHROUGH, available now on Digital July 2 and 4K Ultra HD, Blu-ray and DVD.
BREAKTHROUGH was the No. 3 film at the box office its opening weekend, eventually drawing more than $50 million worldwide, and continuing the trend of successful stories of faith being told on the big screen. With an A Cinemascore (one of the top nine films scored by audiences this year), Joyce Smith's story of faith resonated with families everywhere.
"BREAKTHROUGH's home entertainment release gives us an opportunity to showcase some of the incredible footage grabbed on set that we couldn't include in the theatrical experience," said DeVon Franklin, producer of BREAKTHROUGH and well-known to faith audiences for theatrical hits, including MIRACLES FROM HEAVEN and THE STAR. "We included deleted scenes and bonus features with never-before-seen footage with cast and crew shot during the film's production."
When Joyce Smith's (Chrissy Metz) adopted son John (Marcel Ruiz) falls through an icy Missouri lake, all hope seems lost as John lies lifeless. In the face of every bleak medical case history and dire scienti?c prediction, Joyce's unwavering belief inspires her community to pray for John's recovery. Based on the incredible true story, BREAKTHROUGH is an enthralling reminder that faith and love can create a mountain of hope, and sometimes even a miracle.
Along with producer DeVon Franklin (MIRACLES FROM HEAVEN), the film was adapted for the screen by Grant Nieporte (SEVEN POUNDS) from Joyce Smith's own book (The Impossible). BREAKTHROUGH stars Chrissy Metz (This is Us), Josh Lucas (Yellowstone, SWEET HOME ALABAMA), Topher Grace (SPIDER-MAN 3, That '70s Show), Mike Colter (Luke Cage), Marcel Ruiz (One Day at a Time), Sam Trammell (This is Us, True Blood), and Dennis Haysbert (24). BREAKTHROUGH is directed by Roxann Dawson (House of Cards, The Americans).  Awarded the Dove Seal of Approval for All Ages, BREAKTHROUGH's message of hope and community will inspire the whole family.
For More Information:
Listen to the Podcast:
Listen to this week's podcast at Podbean, Libsyn, iHeart Radio or at your favorite podcast app.
Check out all of our book and movie picks at Lisa's Amazon Page. For Lisa's speaking schedule visit www.LisaHendey.com. Send your feedback to lisahendey@gmail.com or connect with Lisa on social media @LisaHendey. Thanks for listening! Please consider sharing, bookmark my page for future episodes and subscribe at iTunes to catch every show. Please consider leaving a review or rating for the podcast to help us grow!