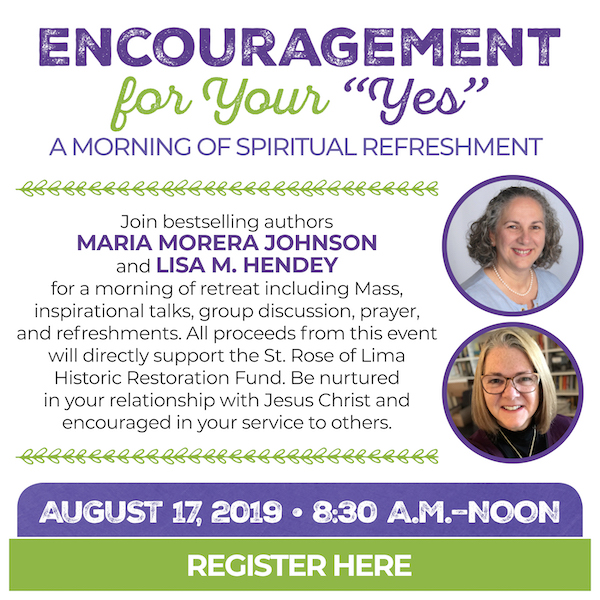 Friends, I'm so excited to share the big news about an upcoming event near Mobile, Alabama. For years, I've enjoyed a special friendship with author and speaker Maria Morera Johnson. Recently, over breakfast and a conversation about the challenges of caregiving, Maria and I decided to join forces for a morning retreat in her parish community. This event blossomed from our mutual interest in offering encouragement and spiritual "refreshment" for those who spend much of their time caring for others.
On August 17, 2019, we will come together to offer "Encouragement for Your Yes: A Morning of Spiritual Encouragement".
In truth, regardless of our age or situation in life, most of us are "caregivers" of some kind. Through our family relationships, our friendships, our careers and even in our volunteer commitments, we serve others. Our desire for this retreat is that it be uplifting, encouraging and fun! To make it even more special, the day will benefit a beautiful cause: the restoration of historic St. Rose of Lima parish in Coden, Alabama. I'll include the schedule, registration information and press release below. Please support this special event by sharing the information with a friend, and please keep us in your prayers. I hope you'll be able to join us!
Join @Bego and @LisaHendey for a morning retreat to encourage your spiritual YES and to benefit the historic preservation of an Alabama church, St. Rose of Lima on Mon Luis Island.
Click To Tweet
Encouragement for Your Yes: A Morning of Spiritual Refreshment
Date: August 17, 2019
Location: St. Rose of Lima Church and Parish Hall
2951 Durette Avenue, Coden Alabama 36523
Time: 8:30 am to 12:00 pm
Cost: $30 includes retreat materials and refreshments, proceeds to benefit St. Rose of Lima Historic Restoration Fund
Schedule:
8:30 am – Mass with Msgr. Leo Guadalquiver
9:00 am – Check-in
9:00 am – 9:20 Coffee and refreshments
9:20 am – Welcome – Maria Johnson
9:30 – 10:15 – Lisa Hendey: Self-Care and Gifts to Sustain Your "Yes"
10:15 – 10:45 – Small Group/Sharing
10:30 – 10:45 – Coffee Break
10:45 – 11:30 – Maria Johnson: Mary, Our Model of Love
11:35 – 11:50 – Maria Johnson: Teaching on St. Rose of Lima, History of St. Rose
11:50 – 12:00 – Lisa Hendey: Following Mary's Yes with the Angelus
12:00 – Dismissal, Book Signing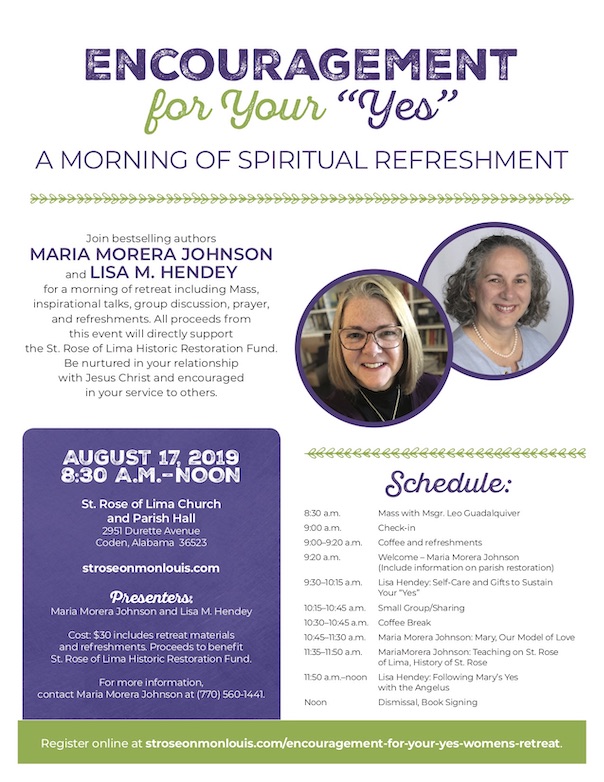 RETREAT TO BENEFIT MON LUIS ISLAND HISTORIC CHURCH RESTORATION
Bestselling authors unite for day of encouragement
CODEN, ALABAMA – Join bestselling authors Maria Morera Johnson and Lisa M. Hendey for Encouragement for Your "Yes": A Morning of Spiritual Refreshment, a retreat including Mass, inspirational talks, group discussion, prayer, and reflection. Lisa Hendey will speak on "Self-Care and Gifts to Sustain Your Yes" and Maria Morera Johnson will present on "Mary: Our Model of Love". The retreat, appropriate for men, women, and teens, is intended to provide uplifting support for your unique faith journey. Be nurtured in your relationship with Jesus Christ and encouraged in your service to others.
Along with encouraging attendees to take a moment of spiritual pause amidst life's busyness, the goal of this event is to raise needed funds for the restoration and preservation of historic St. Rose of Lima Church, which was originally established on Mon Luis Island in 1853.
The retreat will take place on Saturday, August 17, 2019 from 8:30 am to noon at St. Rose of Lima Church and Parish Hall at 2951 Durette Avenue, Coden, AL 36523. The cost of $30 includes retreat materials and refreshments. Proceeds from this event will directly support the St. Rose of Lima Historic Restoration Fund.
To register visit https://www.stroseonmonlouis.com/encouragement-for-your-yes-womens-retreat/. For additional information, contact Lisa Hendey at lisahendey@gmail.com.
About St. Rose of Lima Parish, Mon Louis Island
Mon Luis Island — sometimes referred to as "The Island of Saints" — became home to Maximilian Colins, who was born in France around 1801 and was probably in his twenties when he came to this area. Soon after arriving, he married a Creole woman from New Orleans. Together they built a family and a homestead.
Faithful Catholics, the growing Colins family gathered every morning and evening for prayer. Eventually, as the family grew through marriage and children, a larger space was needed and a chapel was built in 1853 to accommodate their needs. Priests would sometimes come to celebrate Mass for the growing community.
During the Civil War, the men on the island were drafted into the Confederate Army. The women would gather in the chapel to pray the rosary for their safe return. The community gathered in the chapel every night during the war and continued in thanksgiving well into the 1940s.
A hurricane destroyed the original chapel in 1906, even though the present structure, built circa 1900, survived.
Josephite Fathers served the St Rose community from 1905-1933. They were followed by Fathers of the Society of St Edmund, who served the community until 1988 when diocesan priests took over the spiritual care of the community.
The Angelus bells were always rung by family members, who would rise early and manually ring the bells at dawn, noon, and evening until an electric bellows was installed in 1999. The bells continue to call the faithful to this day.
The Historical Restoration committee aspires to restore St. Rose of Lima Church to her original beautiful appearance. The roof has been restored after a search for era-specific tiles to replace broken ones. The next phase of restoration includes removing plastic siding that has, as an unintended benefit, protected the original wood siding underneath. A final phase will include the restoration of the sanctuary. (Historical information courtesy of The History of St Rose Mission on Mon Louis Island by Rev. Joseph N. Couture, MA, SSE)
About Maria Morera Johnson
Maria Morera Johnson is an award-winning and best-selling author of Catholic inspirational non-fiction. She contributes to various online and print publications and is a featured panelist on several podcasts. Johnson speaks nationally and internationally on themes related to women, faith, and popular culture. Visit her at mariamjohnson.com to learn more.
About Lisa M. Hendey
Lisa M. Hendey is the founder of CatholicMom.com and a bestselling author of fiction and non-fiction for adults and children. A frequent media guest, her writing has been featured in multiple outlets. Hendey speaks internationally on faith, family, and technology topics. Visit her at www.LisaHendey.com or on social media @LisaHendey.