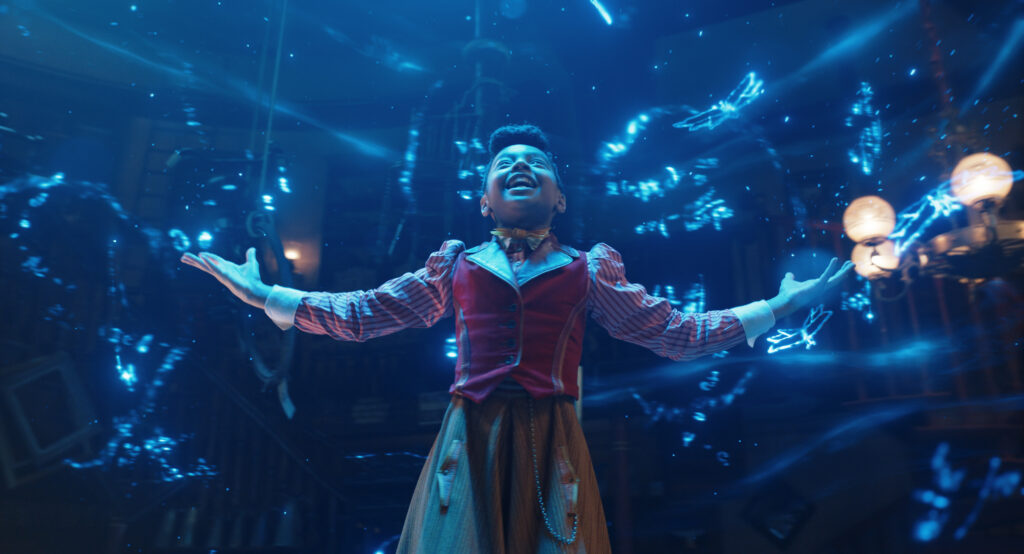 There's a simple yet magical line in the early moments of Netflix's incredible new original holiday film that offers a prescient glimpse into the power of what is about to unfold before us.
"I think it's time for a new story."
These words, offered with spirit by Phylicia Rashad as she gathers her beloved grandchildren before a roaring fire for storytime are a compelling hint at the magic behind Jingle Jangle: A Christmas Journey which opens in theaters today and on Netflix on November 13.
What follows over the next two hours is a gift to those of us looking for inspiration, motivation, and a really great tale to savor this holiday season. Although the "real" meaning of Christmas in the biblical sense is never discussed here, in a very real sense this is a film for this moment in time. Primary roles are entirely occupied by a diverse cast. Every attention has been paid to production excellence. The "feel good" vibe of Jingle Jangle is the perfect new tradition for a new generation of seekers.
But this film offers an inspirational message that truly should never be limited to just this time of year. Although Christmas is a season when generosity and family bonds are more readily on our minds, shouldn't they be something we seek all year long? As a fan of musicals like The Greatest Showman and La La Land, I'll be that someone who'll still be watching and belting (albeit offkey) along with Jingle Jangle in July. Unlike some musicals that seem to frame the story around really great songs, Writer/Director David Talbert manages to employ uplifting lyrics that drive forward the narrative with heart and style. But just because the singing and dancing is critical to the plot doesn't make it any less entrancing.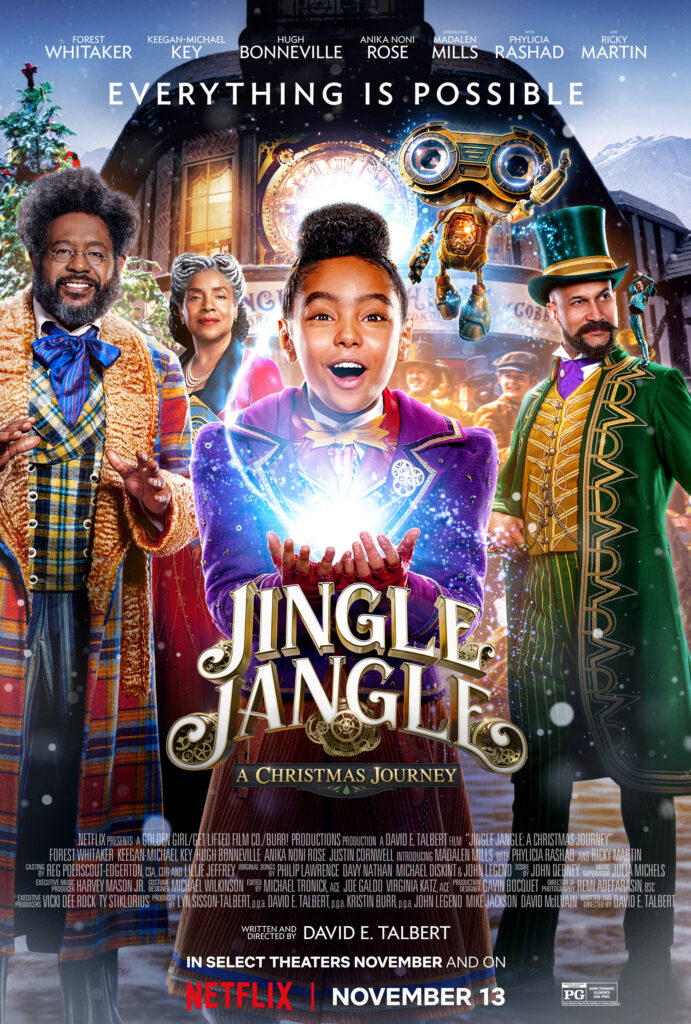 Synopsis:
A musical adventure and a visual spectacle for the ages, Jingle Jangle: A Christmas Journey is a wholly fresh and spirited family holiday event. Set in the gloriously vibrant town of Cobbleton, the film follows legendary toymaker Jeronicus Jangle (Academy Award winner Forest Whitaker) whose fanciful inventions burst with whimsy and wonder. But when his trusted apprentice (Emmy winner Keegan-Michael Key) steals his most prized creation, it's up to his equally bright and inventive granddaughter (newcomer Madalen Mills) — and a long-forgotten invention — to heal old wounds and reawaken the magic within. From the imagination of writer-director David E. Talbert and featuring original songs by John Legend, Philip Lawrence, and Davy Nathan, Jingle Jangle: A Christmas Journey reminds us of the strength of family and the power of possibility.

(Courtesy of Netflix)
Forest Whitaker is smashing as Jeronicus Jangle, a brilliant inventor whose life turns to loss after his greatest invention ever is stolen in a theft engineered by the toy itself and pulled off by his eventually evil apprentice Gustafson (Keegan-Michael Key). Ricky Martin is dashingly evil in his role as Don Juan Diego, the animated mechanical toy that ends up as Gustafson's master manipulator. Only when Jeronicus' long-lost granddaughter Journey, portrayed by the incredibly gifted Madalen Mills, shows up can wrongs be made right and rifts be mended. There are too many wonderful songs to describe here, but suffice it to say that "The Square Root of Possible" featuring Mills' unparalleled vocal talents will now be at the top of my "psych up" playlist all year long.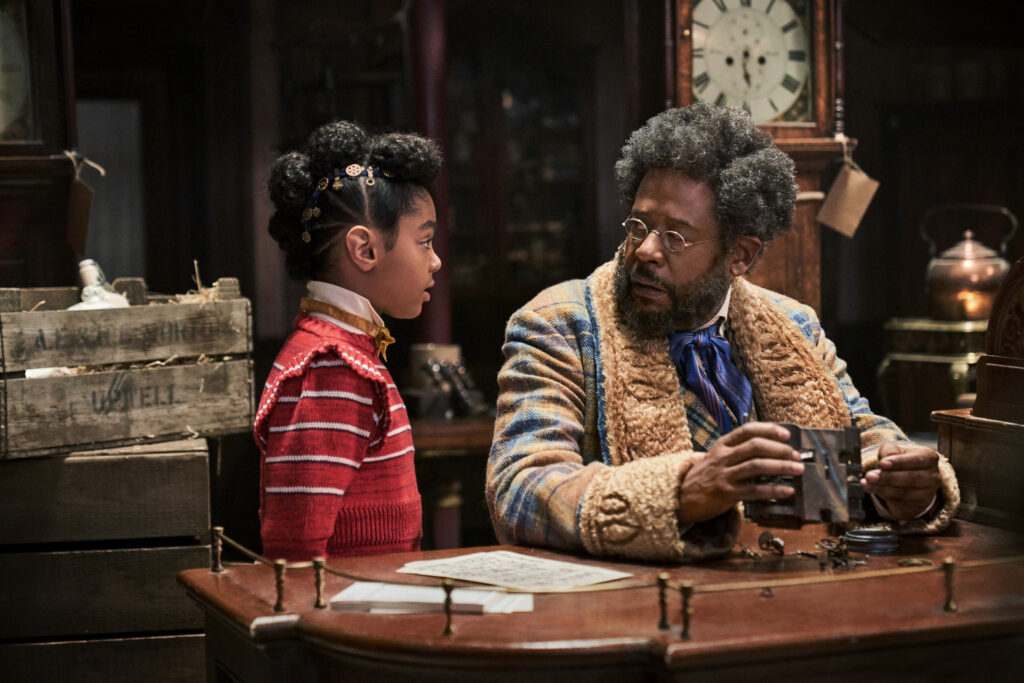 I can't wait for this wonderful, family-friendly feature to hit screens on November 13. Far from being just another feel-good story, Jingle Jangle is important both because it champions and highlights diverse talent and because it reminds us we each have a mission and the God-given talents to live our dreams and to better our world. Now more than ever, it's important that our children have exposure to media properties that are smart, inclusive, hopeful, and yes, fun.
Check out @LisaHendey's look at Jingle Jangle, the fantastic new holiday classic from @Netflix – Equal parts sensational musical, gripping crime caper, and family love story – see it! #JingleJangle
Click To Tweet
Equal parts sensational musical, gripping crime caper, and family love story, David Talbert's sweeping film combines an A list cast, an original score by Philip Lawrence and songs by John Legend and Usher, and top-notch whimsically steampunk-inspired costuming and set design. Jingle Jangle is eye candy, ear candy, and heart candy that feels like it will simply taste better with every bite.
Jingle Jangle is rated PG for some thematic elements and peril.