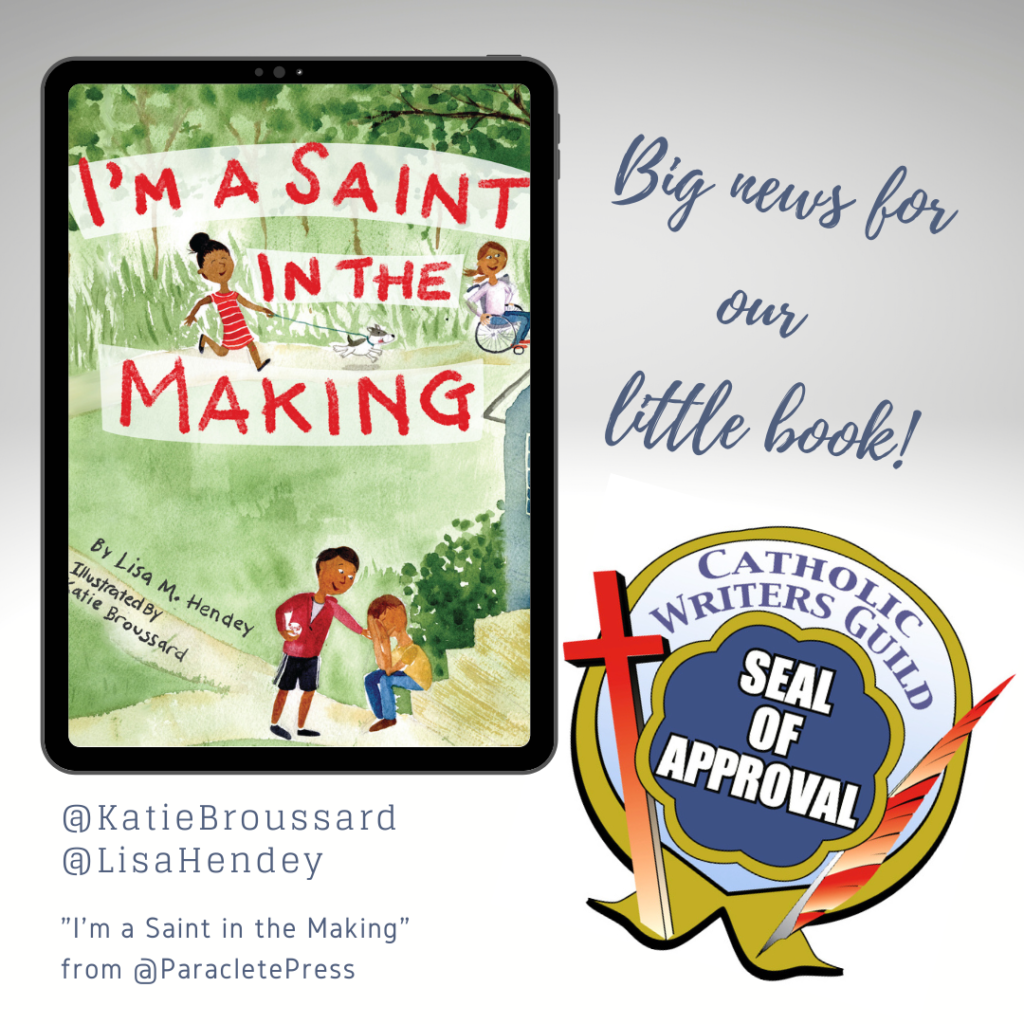 Launching a book at any time is challenging, but doing so during a pandemic can be especially trepidatious. When we released I'm a Saint in the Making in October, I really wasn't sure what to expect. I knew that I was personally in love with this book. With a message that is very close to my heart, the addition of my creative partner Katie Broussard's delightful illustrations helped convince me that we had a book that could lift up and encourage children and their families. Our team at Paraclete Press has been amazing in helping us get the word out!
Early reviews for the book were so supportive. We immediately began rolling it out to schools across the United States and Canada. My last few months have been packed with kind invitations to do live readings via Zoom in classrooms, parishes, and homeschool groups. The book came at a time when I personally needed to be reminded how much small acts of love and service for others truly can bless our world. Every time I read it aloud to students and see for myself how they connect so deeply with our shared mission to love and serve our world, I am reminded of the potential God gives each of us, regardless of how little we may be.
Children's book I'm a Saint in the Making from @ParacletePress @LisaHendey earns @CatholicWriters Seal of Approval. Check out it out for a special child in your life!
Click To Tweet
Today, I'm delighted to share that our little book has earned the "Seal of Approval" from the Catholic Writers Guild. This vote of confidence for the work we've created is another reminder of the blessing it's been to share our work with others. Katie and I are grateful to the team at the Guild for their time in evaluating our work. We also want to thank all of the parents, teachers, and catechists who have shared I'm a Saint in the Making with the children in their lives. If you would like to connect for a read-aloud or virtual author visit, please email me at lisahendey@gmail.com for more information.
If you've read the book, it would help us greatly if you'd leave an honest review at Amazon or Goodreads.
With sacrament season upon us, we hope that you'll consider "I'm a Saint in the Making" as a gift for someone special in your life. To order your copy of the book, visit your local bookstore, Paraclete Press, or Amazon.