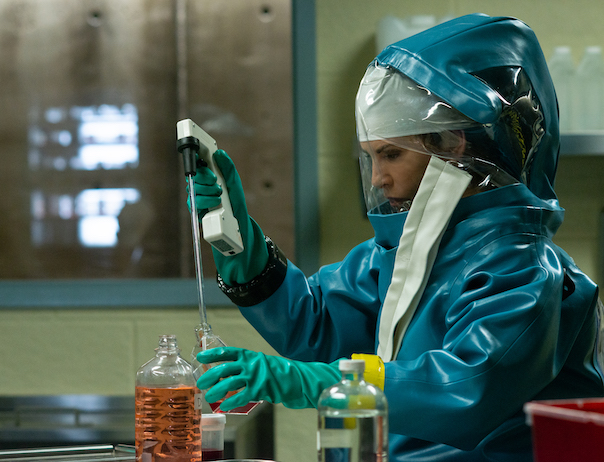 New out from National Geographic and premiering tonight, May 27 at 9/8c, THE HOT ZONE is edge-of-your-seat viewing inspired by the true events detailed in Richard Preston's international best-seller of the same name. The show will roll out in six binge-worthy segments over the next three nights. After viewing the first two installments, I have our DVR set for the rest of the series and our hand sanitizer and facemask supplies replenished.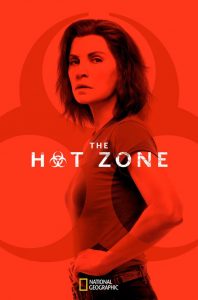 Synopsis:
THE HOT ZONE, starring Golden Globe and Emmy award winner Julianna Margulies as Dr. Nancy Jaax, is based on the eponymous international best-seller by Richard Preston. It is inspired by a true story about the origins of Ebola, a highly infectious and deadly virus from the central African rainforest and its arrival on US soil in 1989. When this killer suddenly appeared in monkeys in a scientific research lab in the suburbs of Washington, D.C., there was no known cure. A heroic U.S. Army scientist (Dr. Nancy Jaax) working with a secret military specialized team put her life on the line to head off the outbreak before it spread to the human population. THE HOT ZONE is a dramatic, high-stakes scientific thriller with a courageous, brilliant and determined heroine at its center. The limited series is produced by Fox 21 Television Studios, Lynda Obst Productions, Scott Free Productions, Kelly Soulders, Brian Peterson and Jeff Vintar.
I screened the first two episodes of THE HOT ZONE seated next to my ER doc husband. I share this fact because I always watch anything that has to do with health or medicine through the prism of his reactions. I'm happy to share that he was as hooked as I was by the series. It's important to remember that this miniseries is "inspired by" actual events, but that obvious dramatic liberties are taken for the sake of telling a great story. For further insight from the real Dr. Nancy Jaax, check out an interview with her here.
Set your DVR and don't miss the first 2 episodes of @NatGeoChannel The #HotZone airs tonight starting at 9/8c!
Click To Tweet
I'm not typically a germaphobe. I take normal precautions, but I've also traveled to some fairly obscure corners of the world where one takes normal steps to stay healthy but must also deal with different cuisine and cultural standards. What I enjoyed about THE HOT ZONE was its period drama look–complete with 80's hairstyles and dot matrix printers–at a compelling "almost" catastrophe that had me rethinking my laissez-faire attitude about things that could potentially cause danger.
THE HOT ZONE may not be completely factual, but the series prompted me to consider that there are no doubt many similar health crises that remain outside our collective knowledge. Perhaps more importantly, I was also reminded that countless families around the globe continue to struggle with substandard healthcare, nutrition and a desperate lack of clean drinking water and safe shelter. We who live in comfort can so easily forget that the safety we take for granted is far from universal.
I loved Julianna Margulies as Dr. Nancy Jaax and can't wait to tune in for the rest of the series.
THE HOT ZONE will premiere over three nights beginning Memorial Day, May 27, at 9/8c. Learn more here.