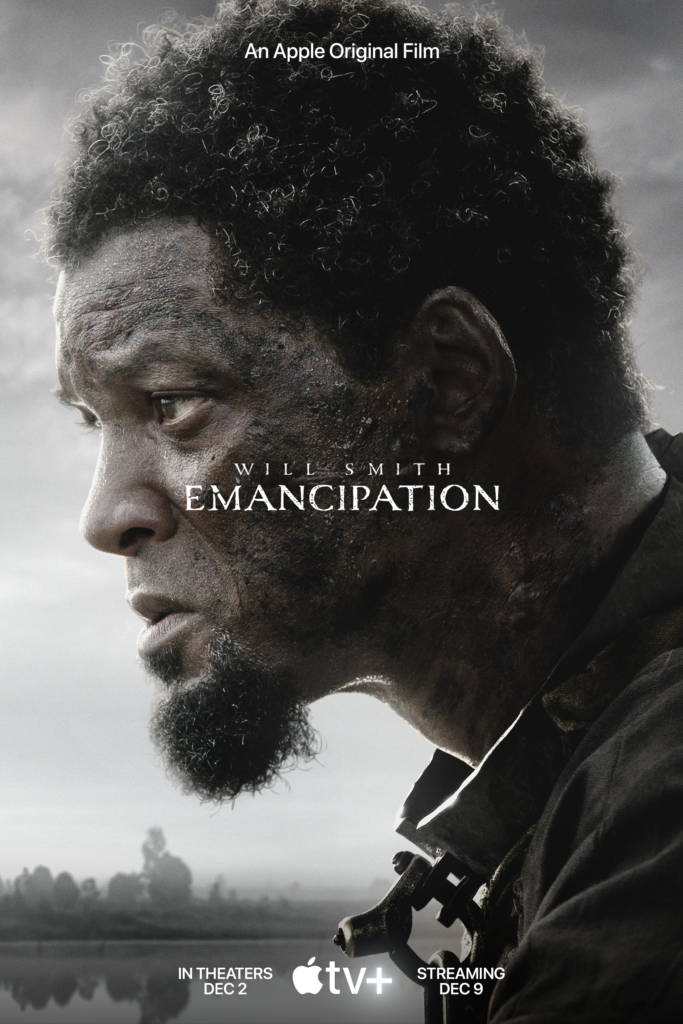 Now open in theaters and streaming nationwide, Emancipation may prove too painful for many viewers to watch. Littered with graphic racism and abhorrent violence, the film is loosely based upon the story of an enslaved man named Gordon or commonly referred to as "Whipped Peter". Because the film is so gruesome, I've decided to avoid showing still images here. But if you are interested in the backstory that inspired this film, there are multiple places online to read more about Gordon's life. If you decide to watch the film, be forewarned that this is not for everyone. The film solidly earns its R rating for Disturbing Images, Strong Racial Violence, and Language.
Synopsis:
"Emancipation" tells the triumphant story of Peter (Will Smith), a man who escapes from slavery, relying on his wits, unwavering faith and deep love for his family to evade cold-blooded hunters and the unforgiving swamps of Louisiana on his quest for freedom. The film is inspired by the 1863 photos of "Whipped Peter," taken during a Union Army medical examination, that first appeared in Harper's Weekly. One image, known as "The Scourged Back," which shows Peter's bare back mutilated by a whipping delivered by his enslavers, ultimately contributed to growing public opposition to slavery.

Source: Apple TV+
In Director Antoine Fuqua's version of the story, Will Smith returns to the screen starring as Peter, a faithful family man whose profound belief cannot be shaken even as he is literally hunted like prey. In the early moments of the film, Peter is brutally separated from his wife and children and the plantation owner who has enslaved them. He is removed from the Lyons family's Louisiana plantation and taken to work on a Confederate railroad. In that brutal setting, Peter learns that President Lincoln's Emancipation Proclamation has freed the enslaved people. Peter decides to put his life at risk by running and crossing swampy marshlands to attempt to gain freedom in Baton Rouge where the Union Army is amassed. He is inhumanely tracked every step of the way by Jim Fassel (Ben Foster), a wicked bounty hunter who will not rest until he captures Peter, his prize.
Join @LisaHendey for a look at the new @AppleTVPlus original #Emancipation starring Will Smith
Click To Tweet
Throughout the film, Fuqua makes cinematic choices that underscore the intense brutality faced on a daily basis by enslaved people. This is by far the most difficult film I've watched in recent years. And yet even as I squirmed, I sensed that what I was witnessing could still never touch the inhumanity that existed in real life. I found it important to screen this film to further educate myself on this period of history. I read the true story behind it and researched salient dates and names. Even armed with the facts, I found that I had to repeatedly turn off the film and breathe for a few moments. My tears flowed freely not only for families who are still owed reparations for what they have endured, but also for those who remain enslaved around our world.
All this being said, I am glad that I watched Emancipation. This is a film that emphasizes the power of faith to help us sustain ourselves in the midst of life's greatest battles. It underscores what we will do to protect and defend those we love most and offers a portrait of true courage and heroism. While only loosely based on the reality of one man's journey, Emancipation reminds us to learn the facts of what truly happened to so many so that we can work with every fiber of our being to see that it never happens again.
Emancipation is now in select theaters nationwide and streaming on Apple TV+