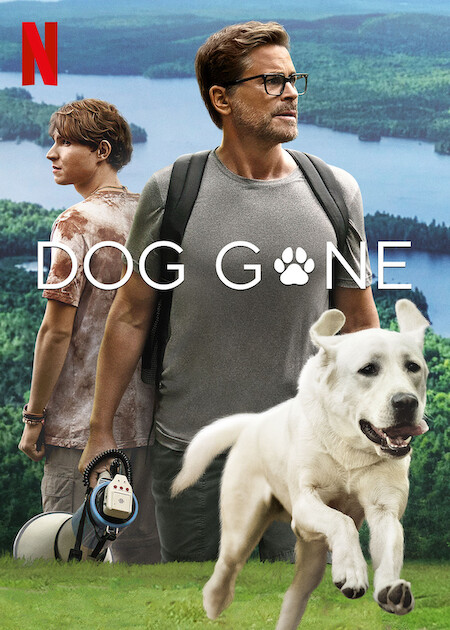 There's much to love about the newly released Netflix original Dog Gone, now streaming across the platform. I'll admit upfront to being biased in my review of this PG-rated, family-friendly dog drama. The main canine character "Gonker" not only steals the show but is also the spitting image of my grandpuppy Calvin. While Gonker doesn't appear to have a listing on the film's IMDB, the loveable yellow lab with an affinity for tricks and donuts really reminds us of the unconditional love of pets and their role in our families. Gonker shares the screen with human co-stars Rob Lowe and Johnny Berchtold, who portray the bickering father-son duo John and Fielding Marshall who must come together in an all-holds-bar search for Fielding's lost dog.
Synopsis:
After a young man and his beloved dog are separated on the Appalachian Trail, he and his father must begin a desperate search to find him before it's too late. Based on an incredible true story of humanity and everyday heroism.

Based on the book Dog Gone: A Lost Pet's Extraordinary Journey and the Family Who Brought Him Home by Pauls Toutonghi.

Source: Netflix
I enjoyed learning a little bit more about what actually happened in 1998 when Gonker (who was a retriever mix in real life) bolted into the woods and went missing, the story at the heart of Dog Gone: A Lost Pet's Extraordinary Journey and the Family Who Brought Him Home by Pauls Toutonghi. In the film version, Fielding decides to adopt Gonker after a breakup with his college girlfriend. The pup becomes his constant companion and provides a pathway to emotional healing. We're treated to lots of scenes of the besties bonding over off-leash quad jaunts and the learning of tricks involving donuts and carefully selected sticks.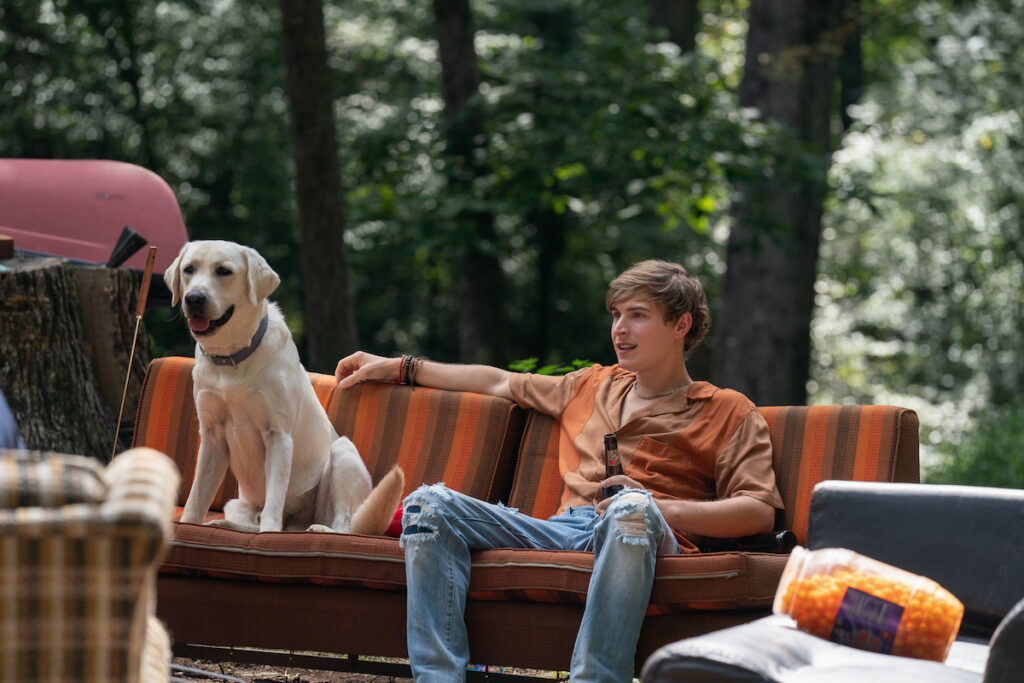 As his college years near their end, Fielding is surrounded by competent peers such as his math-loving, philosopher-quoting best (human) friend (Nick Peine). Everyone else seems to have their future plans all figured out. By comparison, Fielding is adrift, unsure about much more than his love for Gonker.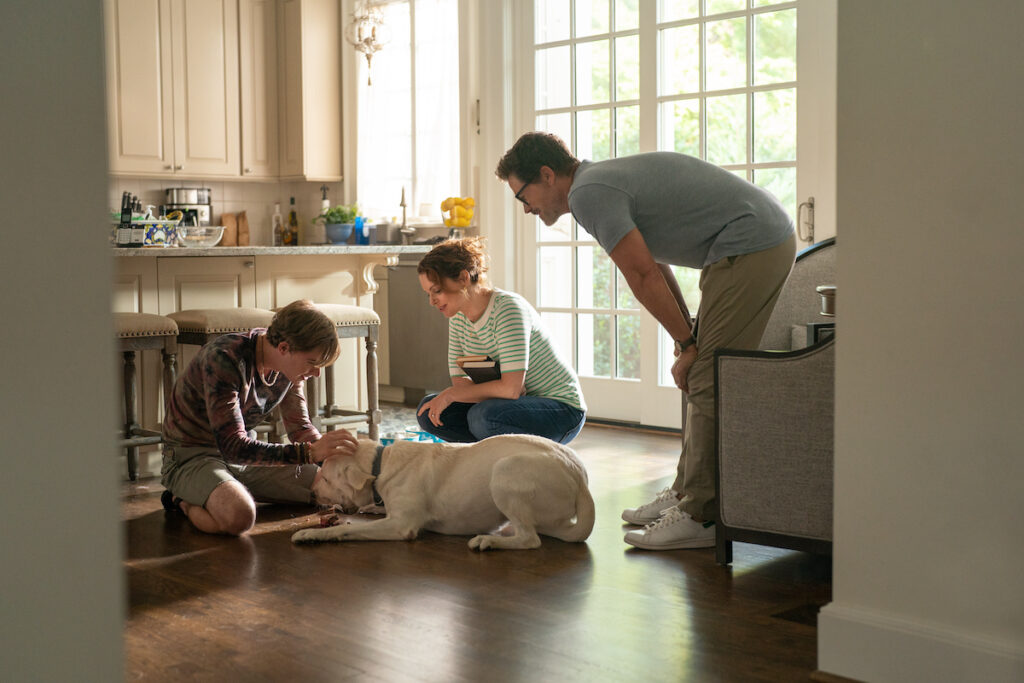 When Fielding's parents John (Rob Lowe) and Ginny (Kimberly Williams-Paisley) show up for the graduation ceremony that Fielding sleeps through, it's clear that healing needs to happen on Fielding's home front as well. Fielding settles back in at Mom and Dad's house, affording his initially reluctant parents the chance to fall in love with his furry friend. Through a series of emotional flashbacks, we find Ginny connecting with Gonker as she recalls her own dog Oji and his involvement in her abusive upbringing.
At the heart of Dog Gone is the family's search for Gonker, who goes missing on the Appalachian Trail. Ginny, a technological neophyte, gathers local yellow pages and creates a home command center while Fielding and John take to the trail to bring Gonker home. They are racing the clock. Gonker suffers from Addison's Disease and requires regular medication. Within a few days on the trail, it's clear that Fielding is suffering more than emotional hurt, but he hides his growing illness from his father. While Gonker's rescue brings father and son to a common purpose on the trail, Mom's back home learning to use social media and all kinds of technology to send Gonker's story viral.
While the search for Gonker drives Dog Gone, it's really the relationship between Fielding and his parents that stands out in the film. In my mind, Fielding represents new generations of young people who–unlike their parents–are coming of age in a world far less confined than the one we knew ourselves at their age. Their options in life are far more creative, fluid, and personalized than ours when we were writing our college resumes. I can easily watch Fielding's struggle and remember my own senior year. I recall looking around and thinking everyone but me had "being a grownup" all figured out. I wish I'd known then what I know now about how life's journey evolves over time.
As a parent and now grandmother, I loved Dog Gone for what it reminded me about loving and supporting my kids in their wildly unique and terrifically important callings. In an important scene in the film, Lowe's character gains important insights on how to support his son from a group of wanderers the duo meets along the trail. Somehow, their insights–which really were my favorite moment of the film–help John finally appreciate Fielding's remarkable gifts and dreams.
Dog Gone is a lovely tale of hope, acceptance, and true friendship. With great performances and lots of heart, this film reminds us that life's journey can take any number of paths and is best spent in the company of those we love.
Dog Gone is rated PG and is streaming on Netflix