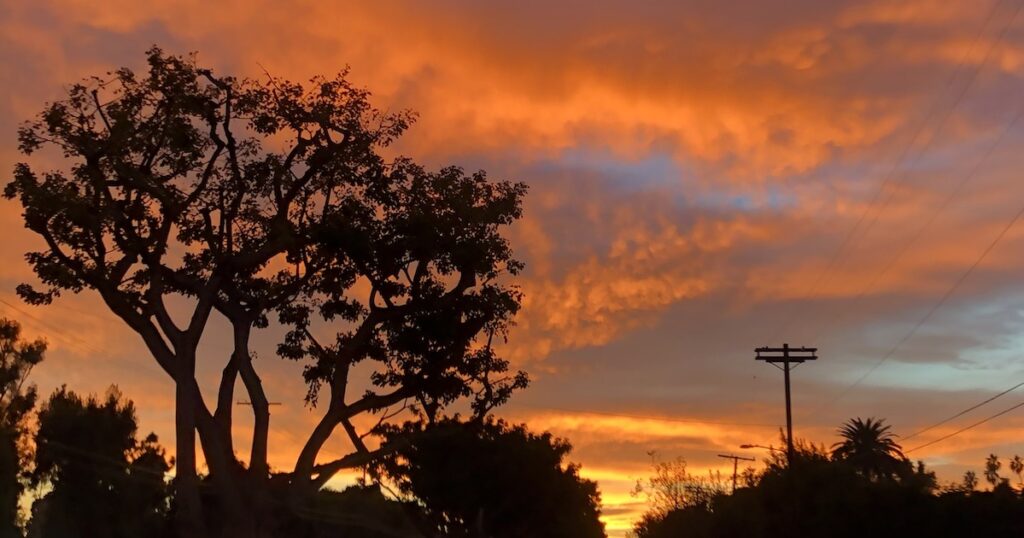 Most Sundays, I have the great blessing of "attending Mass" alongside my family in Chicago via the wonders of technology. Greg and I typically attend Saturday evening Mass outdoors at our parish, but these Sunday mornings with my Dad, my sister, and her family have become a precious part of my pandemic tradition. Still in PJs, I sit on our couch in front of our fireplace and call my sister's house on Alexa. There in her family room in Chicago, Erin points her device at their television as her family gathers to attend the Sunday Mass televised by the Mercy Home for Boys and Girls.
Although they were filmed in advance of the pandemic (and as such include unmasked persons and communion from the common cup), these liturgies always strike me as incredibly relevant and uplifting. It's an astonishing gift that even though the presiders and liturgical ministers could never have anticipated life as we now know it, the gift of the Mass they provide is always incredibly nourishing.
This morning, the homily for the Feast of Our Lord Jesus Christ, King of the Universe, was one of those needed "liturgical hugs" for me. I wanted to share with you some of the remarks of the presider, Very Rev. Greg Sakowicz, in his homily:
At times our lives feel confused, meaningless, hopeless. We feel everyone, including God may have abandoned us. Christ the King turns upside down our understanding of Jesus Christ. Let me come to a better understanding of this great feast from this angle. When we go shopping for clothes, home items, or Christmas gifts usually the first question we ask, once we begin looking at the different items is: how much does it cost? We usually look at the item and then immediately check out the price tag. We all know that nothing is free, everything costs something that's why we ask: what does it cost? The same holds true in our personal life beyond the price tag in the store. There's a price to be paid for our choices. There are consequences. This Feast of Christ the King brings us to the end of the liturgical church year and a fitting celebration. We celebrate the one who rules over us, not with power but rather with compassion and love. At times we suffer, hurt, our life is turned upside down. But Christ our King, servant who served, who suffered. And suffering can make us better or bitter and the choice is ours.

Very Rev. Greg Sakowicz, celebrant, Mercy Home for Boys and Girls
"And suffering can make us better or bitter and the choice is ours." These words have been echoing in my heart all morning since I first heard them. I've often found the gospel passage for this Sunday from Matthew 25 particularly challenging. Every time I ponder it, I ask myself "How can I help, Lord? Have I done enough?"
I prayed over the gospel three times this week: with my women's faith sharing group over Zoom, last night at Mass with Greg, and this morning with Erin and her family. Each time, my heart stuck on that line Jesus says to his disciples:
'Amen, I say to you, whatever you did for one of the least brothers of mine, you did for me.'
I know my answer well enough to know that I still have a lot of work to do to be even remotely ok when the sheep are separated from the goats. It wasn't until I heard this morning's homily from Father Sakowicz that I felt some consolation instead of the dread and guilt of not having "done enough". Father's words put into so much better context the suffering of these past several months.
Inspired by a homily for #ChristTheKing, @LisaHendey finds encouragement and consolation even amidst life's struggles. How are you choosing to be "better not bitter" even when things are most challenging?
Click To Tweet
This last week, like many before it, has been stressful for our family. And we're not unique. I watched on Facebook this week as three separate friends said goodbye to beloved parents who passed away far too soon. Another friend prepares to say goodbye to her husband, who has long suffered with a terminal disease and will likely be going to heaven soon. Friends are experiencing joblessness, loved ones struggling with addiction, marital issues, and tremendous anxiety. At times, the suffering feels too insurmountable to compute.
How can I help, Lord? Have I done enough?
Father's words this morning, that idea that "suffering can make us better or bitter", provided me with enough consolation that I really wanted to share this hope with you. In some small way, they helped me to see that simply by choosing to try to be better (and not bitter), I am helping. Most of us cannot resolve the world's issues of hunger, poverty, and strife on our own. But each of us, in our own daily lives, have the opportunity daily to minister to "the least of those" living right among us.
We can offer food and drink to the hungry amidst us, our children and spouses, but also nourish them with love and attention…
We can strive to be kind and loving to the strangers we encounter, especially those most in need…
We can go out of our way to care for the ill and imprisoned, especially our elders who struggle with both physical trials and the imprisonment of isolation and anxiety…
By ministering to those around us, we choose to be better, not bitter. In our moments of struggle, we are offered a way forward. We choose hope. We choose to have faith that Christ, the King who suffered for each of us, has taught us sufficiently to withstand the cost of what is mostly being asked of us. Jesus helps us renews our reserves so that even as we struggle, we never run low on the greatest resource needed for this moment:
Love.
A question for you: How can we choose to be "better" amidst our personal struggles? How are you challenged, especially in very little ways, to serve the world around you this week?