Devotion is a rare film that manages to tell a tale in a way that leaves you longing to dig into the original source material simply to spend more time with the characters you've grown to love. It's all the more remarkable because Director JD Dillard's blockbuster is based on a true story. In 2015, author Adam Makos released Devotion: An Epic Story of Heroism, Friendship, and Sacrifice about U.S. Navy's heroic aviation duo Lieutenant Tom Hudner and Ensign Jesse Brown. Dillard's film brings these heroes' actions in the Korean War and the ongoing search for justice to new generations for whom this period of history has been largely unknown. Perfectly timed for a Thanksgiving weekend theatrical release, Devotion reminds us to give gratitude and respect to so many fallen heroes and their families who gave their all to protect and defend so many.
Synopsis:
Devotion, an aerial war epic based on the bestselling book of the same name, tells the inspirational true story of two elite US Navy fighter pilots who helped turn the tide in the most brutal battle in the Korean War: Jesse Brown, the first Black aviator in Navy history and his fellow fighter pilot and friend, Tom Hudner. Their heroic sacrifices and enduring friendship would ultimately make them the Navy's most celebrated wingmen.

Source: Sony Pictures
I expected to love Devotion simply because it features Glen Powell as Hudner. Powell, who starred as "Hangman" in Top Gun: Maverick, managed to win over my skeptical heart and convince me that the remake of one of my favorite films transcended the original. He is solid here as a heroic aviator who puts his life on the line to save his friend.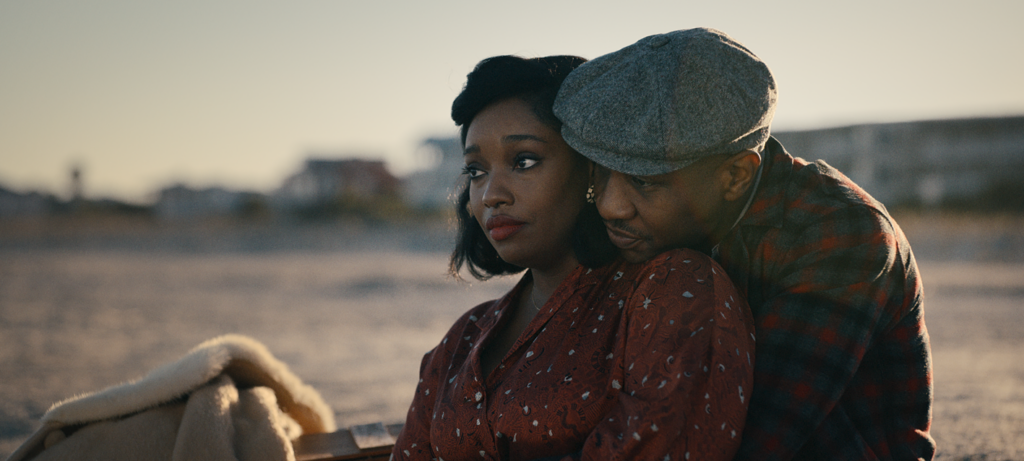 But truly, the shining stars of Devotion are Jonathan Majors and Christina Jackson who radiate brilliantly as Jesse and Daisy Brown. Jesse Brown is an expert pilot who has had to work infinitely harder to overcome racism and pursue his military career. Daisy is his supportive wife who seems to truly understand that her husband was born to fly. The chemistry between these two offers us a look at what so many military marriages must have faced in the days when communication was so difficult and the risks were so very high.
That the Brown and Hudner families remain close to one another and protective of these heroes' legacies offers a testament to the care taken to get this story right. Without spoiling the film, I want to point to the families' continuing fight to bring Jesse Brown home to the burial and recognition he so richly deserves. One can always hope that the attention brought to this yet-unfinished saga by the release of a movie might finally bring closure and healing.
If you loved Maverick, you'll be thrilled by the artwork of Oscar®-winning cinematographer Erik Messerschmidt, who was joined by aerial coordinator Kevin LaRosa Jr. and aerial DP Michael FitzMaurice to create such realistic footage in Devotion. The authentic F4U Corsairs that the characters of Tom Hudner and Jesse Brown fly as part of the Flying 32s, as well as the period MiGs, Bearcats, and Sikorsky helicopters were sourced for this production.
Join @LisaHendey for a look at the epic @JGDillard film @devotionmovie in theaters only November 23! Historically accurate, action-packed and heart-filled. @glenpowell @sonypictures
Click To Tweet
Devotion is an action-packed, heart-filled reminder of the heroism of our men and women in service. This epic film combines phenomenal performances, huge production values, and an "inspired by truth" story you'll never forget.
Devotion has been rated PG-13 by the Motion Picture Association for strong language, some war action/violence, and smoking. The film will be released in theaters nationwide on November 23, 2022.