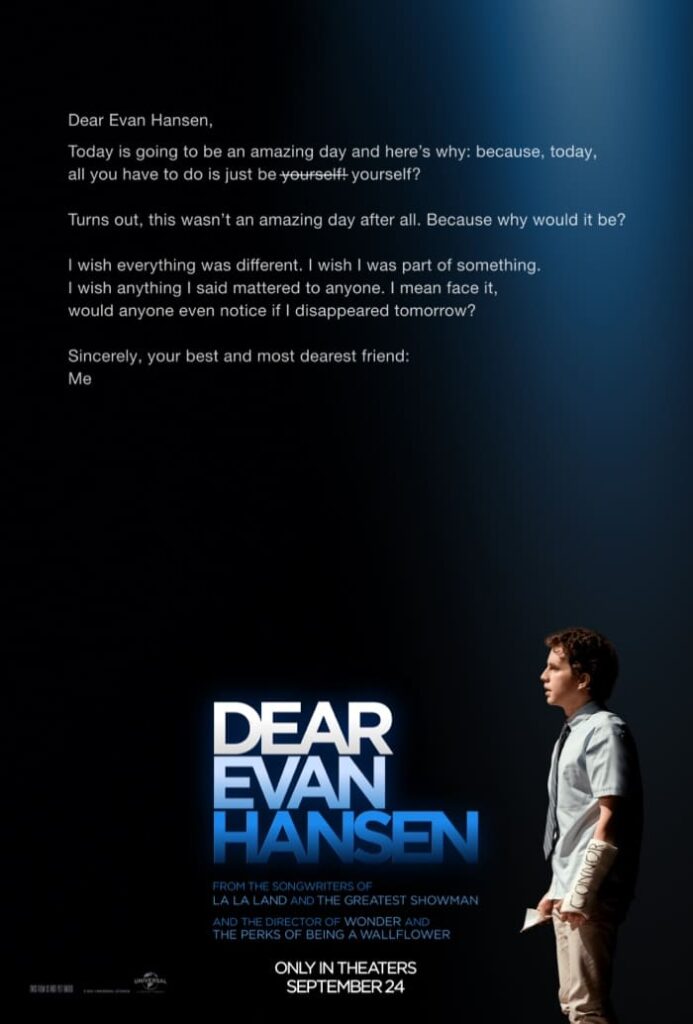 I walk into any film that examines the topic of suicide with great care. Such was the case when I sat to screen Dear Evan Hansen, which opens in theaters on September 24. I have not seen the source material, that wildly popular Broadway musical, so I had zero preconceived notions. But as frequent readers of this space might recall, I'm a sucker for any film that involves characters bursting into song. All this being said, I had a bit of trepidation that such sensitive source material might have a detrimental impact upon young viewers.
For this reason, I felt especially grateful to sit for an interview with talented director Stephen Chbosky and ask him the questions that were on my heart. In the following interview, you'll hear Stephen's thoughtful responses, as well as some love for Catholic moms!
I won't say that Dear Evan Hansen is a film for any viewer. Those with certain social anxiety disorders or those facing suicidal ideations may potentially be triggered by the film, despite best efforts made to work in close conjunction with mental health professionals. I do, however, believe that this film could prompt wonderful conversations between parents and teens, particularly with respect to issues related to social media, peer pressure, and the importance of reaching out to a trusted party in a moment of crisis or duress.
As I discussed with Stephen in our conversation, I was particularly moved by the two mothers in this film. Julianne Moore is remarkable as Heidi Hansen, the tough and resilient single mother of Evan. Amy Adams is heartbreakingly perfect as Cynthia Murphy, the mother of Connor who has died by suicide. My suspicion is that many women will find themselves like me, finding pieces of ourselves in both mothers and the way we interface with our children. I related both to Heidi's "I've got this!" tenacity and to Cynthia's "Let's try this!" method of searching for any possible way to make things right.
Check out @LisaHendey interview with @stephenchbosky, Director of #DearEvanHansenMovie – Dear Evan Hansen
Click To Tweet
Two young actresses, Kaitlyn Dever as Connor's sister Zoe and Amandla Stenberg as Alana Beck, an overachiever with secrets, balance a moving performance by Ben Platt. Much has been made in the press about Platt's casting as a teen. I found myself uncomfortably transfixed by not only his voice but by the physicality of his portrayal which was, in my mind, spot-on for those facing social anxiety disorders. Perhaps it's Ben's maturity that helped him to play a role with such complexity in such a nuanced fashion.
Dear Evan Hansen is not simply a look at Connor, a young man who loses his life, and Evan, who claims to have known him. I believe it's more importantly a lesson about Evan's victory in saving his own life ultimately when he decides to know the true story of the "friend" he fabricated. Watching this film reminded me to pay greater attention to the clues of those around me who may be struggling and to learn from their lives now, before it's too late.
Synopsis:
The breathtaking, generation-defining Broadway phenomenon becomes a soaring cinematic event as Tony, Grammy and Emmy Award winner Ben Platt reprises his role as an anxious, isolated high schooler aching for understanding and belonging amid the chaos and cruelty of the social-media age. Directed by acclaimed filmmaker Stephen Chbosky (The Perks of Being A Wallflower, Wonder), the film is written for the screen by the show's Tony winner Steven Levenson with music and lyrics by the show's Oscar®, Grammy and Tony-winning songwriting team of Benj Pasek & Justin Paul (La La Land, The Greatest Showman).

Source: Dear Evan Hansen
Dear Evan Hansen is rated PG-13 for thematic material involving suicide, brief strong language and some suggestive reference
Dear Evan Hansen opens only in theaters on September 24.